Kriti Sanon- an astrological study of her Destiny.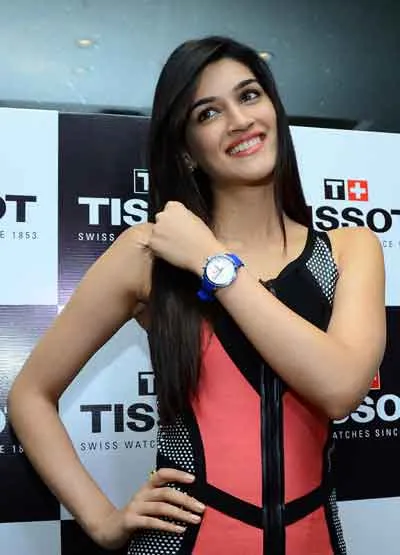 Kriti Sanon is an actress who always comes across as refreshing, bubbling and vivacious! She has that thousand watt infectious smile- which can charm anything, literally anything and a lot of magnetism and oodles of beauty! Kriti, born to a Chartered Accountant father and an Associate Professor mother, has had a good academic background. She studied in the Delhi Public School, R K Puram, New Delhi and holds a B.Tech degree in Electronics and Communication, from Jaypee Institute of Information Technology, Noida. So, she is surely a beauty with brains! The charming actress made her debut with Tiger Shroff in the much hyped and popular movie Heropanti for which she won the Filmfare Award for Best Female Debut! But, before that she also acted in Telugu films. Now, she is all charged up for her role in the high-voltage movie Dilwale- directed by Rohit Shetty, which has heavyweight entertainers like Shah Rukh Khan, Kajol and the stud with whom she is being paired with – Varun Dhawan. Ganesha finds out what her Planets indicate about her future and her journey in Bollywood. Let's read on to find out…
Kriti Sanon Birth Details
Date of Birth: 27th July 1990
Time of Birth: Not Known
Place of Birth: Delhi, India
---
Solar Chart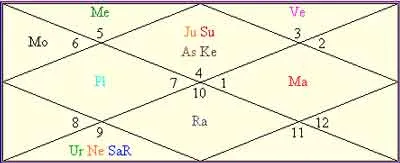 The Celebrity's details are based on Solar Horoscope (Surya Kundli) with the help of Birth date and place, as the Birth time is not available.
---
Astrological Observation
Currently Jupiter is transiting over the planets of 1st house of Kriti's Solar chart. It is aspecting the natal Rahu in the 7th house, till 14th July 2015.
After that, it will transit over Mercury through the sign of Leo. It will be aspecting the planets placed in the 6th and 10th House of her chart.
Retrograde Saturn is transiting through the 5th house and it is aspecting Mercury and Rahu of her chart, till 1st August 2015.
Rahu will be transiting over the Mercury and Ketu will be transiting through 8th house of the Solar chart, post January 2016.
---
Astrological Predictions
1) How will her outing in Dilwale- the super-anticipated film, directed by Rohit Shetty be?
Kriti's performance will get an appreciation for her role in the film Dilwale, as the transit of Jupiter over 1st house and its aspect on the 5th house of performance gives positive influence. Transiting Jupiter is also forming square with natal Mars.
2) Will Dilwale help her in concretely establishing herself in the Bollywood?
The film Dilwale will surely establish her as an actress in the Bollywood as the transit of Jupiter, post 14th July, 2015 through the Leo sign, aspecting the karak planet( planet responsible), Mars (the lord of 5th house of performance) of Solar Chart, is much supportive to her which will help her with the required firepower to succeed.
3) Is her popularity going to swell in the coming future? Are the planets conducive?
She will have much popularity as the Mars is swagruhi(in own house) in the 10th house and lord of the 9th house of fortune, Jupiter is exalted with the Sun in Solar Chart. The Jupiter is aspecting 5th and 9th house in her chart. All these planetary positions and combinations indicate that her future is very much bright in the Industry. And, she will be getting immense appreciation for her performance in the coming days, Ganesha feels.
Ganesha wishes a great time ahead to Kriti Sanon and hopes that Dilwale
Talk to an Astrologer Now, First Consultation with 100%
With Ganesha's Grace,
Rantidev A. Upadhyay
The GaneshaSpeaks Team
---
---
Get 100% Cashback On First Consultation