Kajol Horoscope – Fresh Career, Investment and Gains!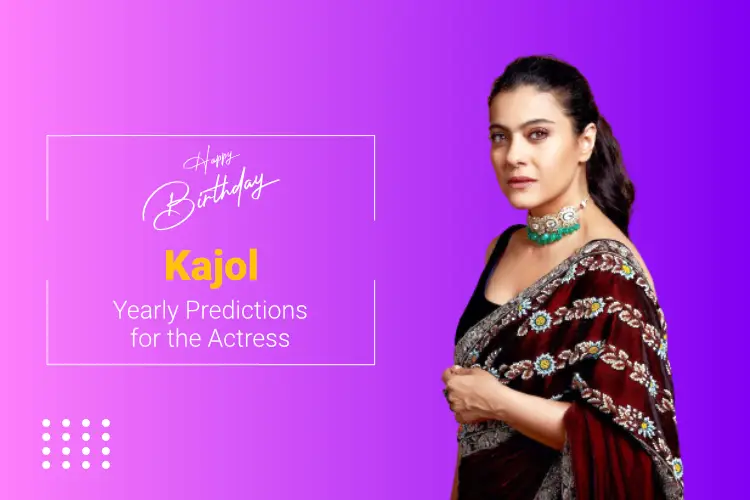 By doing just selective and challenging roles to become one of the most successful actresses in the history of Indian Cinema is never an easy task for anyone but this lady has done with her own performance. Yes, we are talking about Kajol Devgan – The Mystic Lioness of the Cine World. She has bagged six filmfare awards as well as being honored with the highest civilian award – Padma Shri award. Starting her career from "Baazigar" as a young girl and then becoming a romantic actress in "Yeh Dillagi" changed her career dramatically in the film industry. Soaring higher she did "Dilwale Dulhania Le Jayenge " (1995) which became the longest running film in the history of Indian Cinema and completed 1000 weeks too. In addition to it, "Kuch Kuch Hota hai " (1999) and "Kabhi Khushi Kabhi Gham" (2001) were the biggest blockbuster of the year and added the tag of successful actresses of all time. Apart from films she also works as a social activist for widows and children.
So what makes her so special, let's reveal with the help of vedic astrology.
---
Kajol Horoscope By Date of Birth
Date of Birth: 09 Aug,1974.
Time of Birth: Unknown.
Place of Birth: Mumbai.
Kajol Kundli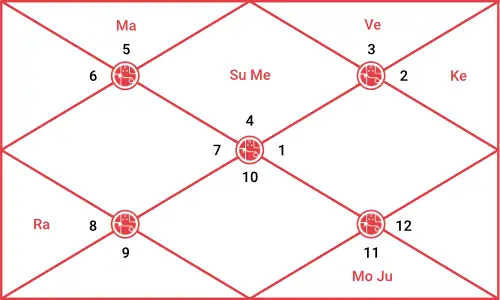 Kajol with zodiac sign Leo reflects most of Lioness traits. Moreover, she is born as Sun in Cancer and Sun is the true self-esteem of the soul which in Cancer makes her truly artistic and emotional person from inside. Mercury is also placed in the sign of Cancer which makes her a more intuitive and deep thinking person. This Mercury helps her to speak more emotionally which again enhances her acting talent. Not to mention here, both Sun and Mercury placed in the sign of Cancer creates an auspicious Budh Aditya yoga which again strengthens all results. She has been blessed with one of the most powerful raja yoga in vedic astrology known as Gaj kesari yoga. This yoga is blessed with charm, attractiveness and fun loving persona which really holds viewers towards her. Gaj kesari yoga blesses her daily life with joy, and this yoga really makes her special too, which increases her popularity. With fighter Mars placed in the sign of Leo, she possesses amazing leadership quality and is a fearless acting performer.
Want to know the real strength of the planets? Get premium janampatri and reveal all secrets of your life.
---
How Will 2023 For Kajol Devgn?
As per Kajol Devgan kundli, we can expect some new activity in the coming year. Saturn transit in Capricorn will surely help her to do more work now. This is the time where she will do more challenging roles. Jupiter transit in Aquarius over the natal Moon and Jupiter will mark a huge turning for her as this also enhances her luck. However, as she is going through Mercury mahadasha, which has just started, there may be some changes seen. Also, as Prince Mercury has been placed very powerfully in Kajol birth chart, so definitely when actual results of dasha activates she will again be busy and unstoppable.
---
Kajol's Health During Pandemic
As per Kajol Devgan kundli, health is not in favourable terms for this year. Transiting Rahu over natal Ketu is never good when it comes to health related matters. Sudden health complications may arise. Moreover, transiting Ketu over natal Rahu is also the reason for some health issues. This time Rahu and Ketu can create some mental stress. Minor injuries can be expected and she must stay alert. As she is going through Mercury mahadasha and Mercury antardasha so she can expect some relief from Prince Mercury. Jupiter transit in eight houses will reduce the ill effects of Rahu and Ketu as well. So, overall not a good year for health but extra precautions can save a big time.
How will Saturn transit affect you? Get 2023 saturn transit report
---
Big Changes In Acting Career
Good time for upcoming movies and projects as per the horoscope of Kajol. Taskmaster Saturn transit in Capricorn will really help her to do more serious and realistic roles this time. This is the time when she will do less entertaining roles and do more challenging roles. She might also take up roles which she never did previously. Benefic Jupiter will also add positive energy to be more creative and do new roles. Mars transit in Leo will again increase her courage to accept fearless roles on her birthday. Yes, Saturn transit in the seventh house also triggers new business or partnership as well. She will definitely invest in new ventures and want to establish some long lasting profits. Apparently, her career is on a growth trajectory.
Want your career to soar higher in 2023. Get personalized career astrology report 2023.
---
Wealth Prospects For Her
Even though 2023 may not be that good for her wealth, surely this year will be the start for her future wealth gains. Planet of restrictions Saturn transit will establish a new foundation for her future gains. She will go for a new partnership which again helps her to bring new monetary gains as well. Divine Jupiter transit in the eighth house of the natal chart will bring unexpected wealth this year for sure. As Mars and Venus conjunction in Leo is happening now so this will increase her desire to gain more materialistic gains. Kajol's Birthday, this year, will really be in her favour. Moreover, she is going through Mercury mahadasha, so this time she will be more active minded and looking for new investment for future gains.
---
New Ventures and Assignments
Yes, the 2023 year is very good for her new ventures. As she is going through Prince Mercury mahadasha, which always brings creativity, she may gain some artistic touch. We can expect from 2023 she will be more creative and active in communicating with others. Mercury is placed in Cancer in the first house so again it will impact her personally. Jupiter transit in Aquarius will make her more socially aware which again assists her to capture the detailing. Rahu is transiting through the eleventh house of gains so we can expect a new solid investment from her for future gains. Smoky Rahu will help her to see what others can't see, which suddenly gives her future profits.
So, overall a very good year for Kajol Devgan. She has been an amazing actress that we have seen and at this age where most of the actresses settled down and prefers family life,Kajol is an exception. She knows how to balance family life and professional life very well as her chart shows some significant combinations. Although 2023 may not be good for health, with extra care and alert, she can be all rocking. Besides, this year will mark a huge turnaround for her and we can expect more work and performances in upcoming times.
We wish Kajol Devgan – Happy Birthday and a good year ahead!
Want to Lead a Celebrity Life? Consult Our Top Astrologers Now!
With Ganesha's Grace,
Astrologers trained by Shri Bejan Daruwalla
The GaneshaSpeaks Team
---
---
Get 100% Cashback On First Consultation