Jupiter's transit in May 2012 may bring in better times for Jugal Hansraj, says Ganesha
Jugal Hansraj? You may have to strain your brain a little and make some effort to recall who he is. You may recall him as a hazel eyed child artist with an innocent smile. Eleven-year-old Jugal made his debut with Masoom in 1983. It was during his childhood days that he enjoyed his share of fame and films the most. He debuted as a hero in the mainstream cinemas in 1994 with Aa Gale Lag Jaa.
With the chocolaty looks, he was surely among one of the cutest faces in the industry. The song 'Ghar se nikalte hi' featuring Jugal became one of the most popular romantic numbers in Bollywood. And then came Mohabbatein wherein he worked with legends such as Amitabh Bachchan & Shahrukh Khan. In the decade that went by, he was seen doing cameos in Kabhie Khushi Kabhie Gham, Salaam Namaste and Aaja Nachle. He also served as the writer & director of the animated film ? 'Roadside Romeo'.
Unfortunately, both his directorial ventures 'Roadside Romeo' & 'Pyaar Impossible' failed to get rave reviews at the box office. And thus the actor director seems to have hung up his moccasins. As the actor celebrates his birthday on 26th July, Ganesha finds out if the starry alignment will bestow success upon him in the new year.
Jugal Hansraj
26th July, 1972
Jugal Hansraj Surya Kundli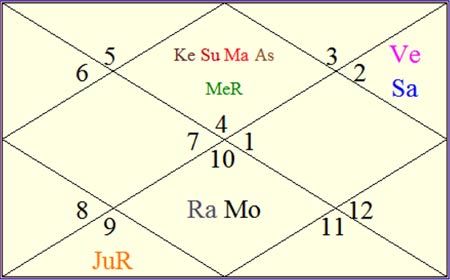 Astrological Observations
Jugal's date of birth is ruled by Saturn, as 26 i.e. 2+6 = 8, number 8 is ruled by Saturn.
His Moon is placed with Rahu.
Mars is deblitated.
Sun, Mars and retrograde Mercury are afflicted by Ketu.
Jupiter is Swagruhi, but retrograde.
Venus is Swagruhi and placed with Saturn.
Astrological Predictions
Although Jugal was a well-known child artist, he has not been very successful as an actor, except for few films.
Ganesha notes that during his Jupiter return period in 2008, Jugal made directorial debut with 'Roadside Romeo'. Script of the film was also written by him.
However, when Jupiter was transiting through 2nd House from Natal Moon, another film directed by Jugal 'Pyaar Impossible' did slightly better as compared to the previous one. However, both failed to impress the audience.
During the year ahead, Jugal may not be seen doing many films, feels Ganesha. But, post May 2012, he is surely going to see good times at the career front.
Jupiter's transit over Natal Saturn and Venus post May 2012 will surely give him an opportunity, if not as an actor, then surely as director.
In a nutshell, Ganesha feels that the year end may bear some fruits, but till then Jugal will have to keep looking for opportunities or do the groundwork on the next project. According to Ganesha, the time between May 2012 and May 2013 is likely to be good for his career.
Ganesha wishes Happy Birthday to Jugal Hansraj well in advance and also wishes him good luck for his career.
With Ganesha's Grace,
The GaneshaSpeaks Team