Juhi's entrepreneurial stars seem stronger than her acting stars, for now, says Ganesha…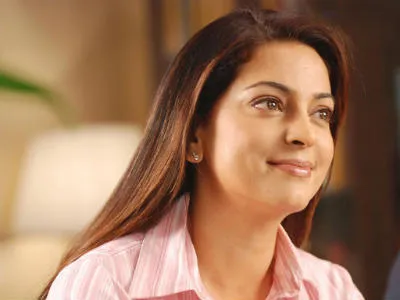 Juhi Chawla- when we think of her, the first thing that comes to our mind is that 1000-watt infectious smile which would instantly charm anyone, literally anyone! Naturally vivacious, amazingly attractive, a simple yet captivating beauty are some of the most famous adjectives that have always been most popularly associated with this Scorpio beauty, who was also a winner of the Miss India Beauty Contest, before she got the limelight for her acting prowess. Not many know that she has learnt the dance form – Kathak and that she is an accomplished classical singer! She was one of the reigning queens of Bollywood in the period of 1990-1999. Currently, she seems to be in great spirits following her Cricket team's (Trinidad and Tobago Red Steel) in the Caribbean Premier League. So Ganesha takes a look at her Solar Horoscope and predicts the way ahead for the pretty Actress-Entrepreneur…
Juhi Chawla- Bollywood Actress
Date of birth:  13th November, 1967
Birth Time:      Not known
Place of Birth: Ambala, Haryana,India
SOLAR CHART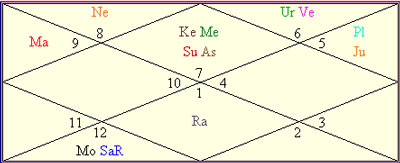 Owing to the unavailability of credible birth-time of the celebrity, the analysis and predictions have been done on the basis of the Solar Chart/Surya Kundli with the help of her birth-date and birth-place only.
---
Astrological Predictions :-
How will the year ahead be for Juhi – the Actress-Entrepreneur?
Jupiter will be  transiting through the Sign of Leo over her Jupiter in the 11th House from Sun, it will be aspecting her Mars and Rahu till 11th August, 2016.
Rahu will be transiting over her Venus and Ketu will be transiting over her natal Saturn till 30th January, 2016. In view of the same, she will have to be more careful in taking major decisions regarding her life till the said date. This may also include some major financial decisions, as she is one of the co-owners of the 2 Cricket Clubs.
Transiting Saturn will be aspecting her natal Jupiter till January 2017. This indicates that she will have to be more careful before investing money in any venture or even in ongoing ventures.
2) Will we get to see her in films in the coming year?
Chances of her getting new films in the nearer future are lesser due to Saturn and Rahu's unfavourable transit over key Planets. However, post January 2016, we may see her appearing in some movie(s). If any of her movie if at all releases before January 2016, it may not do well at box office, feels Ganesha.
Ganesha wishes good luck to Juhi Chawla, one of the owners of the Caribbean Cricket Team Trinidad and Tobago Red Steel and also Kolkata Knight Riders.
With Ganesha's Grace,
Rantidev A. Upadhyay
---
---
Get 100% Cashback On First Consultation