Juhi Chawla Birthday Horoscope: What 2021 has in Store for QSQT Actress?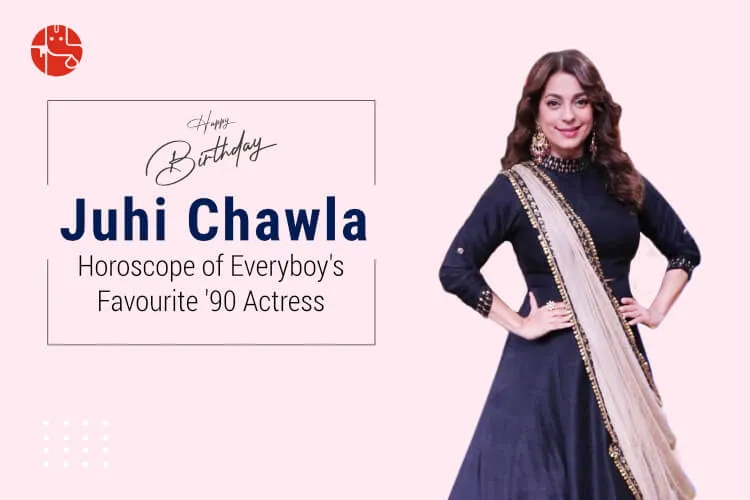 "Juhi Chawla with her passive but assertive demeanour was an early predecessor to the Bollywood heroines of today"
Said the lines of a review praising Juhi Chawla for her role in Qayamat Se Qayamat Tak. Not just QSQT, the light-hearted roles that she has played makes her one of the only few leading actresses in Hindi Cinema known for comic timings, alongside Sridevi. Her characters in '90s rom-coms were indeed stepping stones for many bubbly, starry-eyed female characters we are used to loving even today.
On the very extreme of that spectrum lay another side of her career, which she played in the 2000s and 2010s. Where people loved her in Ishq, Darr and Duplicate, they also saw her whole thespian range with serious movies like I am, My Brother Nikhil, 3 Deewarein, Chalk n Duster, and many more. Till date, this actress, producer, and entrepreneur can be seen evolving with time, leading the way for others.
Find out what planets have in store for you with your career in the upcoming year, with the 2023 Career Report made exclusively for you.
To our utter bewilderment, Juhi Chawla would be turning 53 on the 13th of November. The date of birth tells us that Juhi Chawla's Zodiac Sign is Scorpio. Let's see what more can we reveal about her personality and future with her birth chart. Now, since the time of birth is not available, we will be analysing Juhi Chawla's Surya Kundli, and that can tell us a lot about her future.
---
Juhi Chawla Birth Chart
Date of Birth: 13 November 1967
Time of Birth: Not Known
Place of Birth: Ambala, Punjab, India
---
Astrological Observations of Juhi Chawla's Kundli
In Juhi Chawla's Surya Kundli, Jupiter is going to transit over Mars the 3rd house of her chart. Saturn would aspect the planets Ketu, Mercury, and Sun in the Ascendant. Juhi Chawla will be under the influence of Mahadasha of the Sun and the sub-period (Antardasha) of Rahu which will end on 13th December 2020. After that, Antardasha of Jupiter will begin for her. What does this planetary position and transitions mean for her? Let's find out.
What do planets in your birth chart have to say about your life? Find out today with a personalised Janampatri, handwritten by our expert astrologers.
---
Juhi Chawla Horoscope: An Emotional Release Awaits
For Juhi Chawla, 2021 is awaiting an emotional release with late Rishi Kapoor. Before his demise in 2020, Kapoor had almost finished shooting for 'Sharmaji Namkeen' with Juhi Chawla. During this time, she will be under the influence of Mahadasha of Sun which is situated in her Ascendant. The sub-period of Jupiter would begin post 13th December 2020, which aspects the Mars in the 3rd house and Rahu in the 7th house. All of these combined indicate that Juhi Chawla is all set to prove her prowess once again and she is likely to impress the critics and audiences with her performance.
---
Her Fight for a Cause
Juhi Chawla is well-known for supporting biodegradable plastic and has actively backed Maharashtra Government's plans to ban plastic bags in the state. As we can see in her Birth Chart, the Moon, which is related to white and transparent things, is situated in the 6th house. Planets in her Ascendant and the Moon are having an aspect of the Yoga Karaka Saturn, which is also transiting from the 4th house. This combination creates a very conducive and positive environment for her, in fighting the cause for banning the plastic.
How will planetary positioning of Planets and their transits affect you in the upcoming year? Know what 2021 has in store for you with a 2023 Highlights Report, handwritten for you by our expert astrologers.
---
The Entrepreneurial Adventure and Endorsements
Apart from being a successful actress, Juhi has also been a Producer and an Entrepreneur. She is the co-owner of IPL Franchise Kolkata Knight Riders with her husband Jay Mehta and co-star Shah Rukh Khan, who will be celebrating his 55th Birthday on 02nd November 2020. See what astrology predicts for him through his iconic dialogues, with SRK Birthday Prediction.
The personal healthcare giant of India, Emami is also one of the many brands that Juhi Chawla endorses. With Moon's favourable placement mentioned above, it can be safely said that Juhi is likely to excel in this brand ambassador role also. She may create a long-lasting impact on people's minds with the brands she endorses.
---
Happy Birthday, Juhi Chawla!
We wish Juhi Chawla all the best for a year that looks very bright and promising in all aspects. May we get to see more of her iconic characters on the screen for many years to come!
To Get Your Personalized Solutions, Talk To An Astrologer Now!
With Ganesha's Grace,
GaneshaSpeaks.com
---
---
Get 100% Cashback On First Consultation