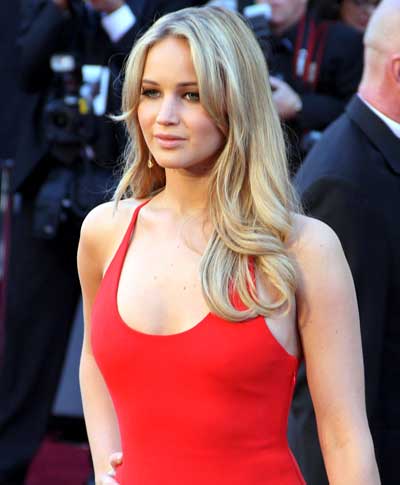 Jennifer Shrader Lawrence is one of the most captivating and enchanting beauties amongst the contemporary Hollywood actresses! She is one of the most talked about celebrities currently and she effortlessly manages to charm and win the hearts of her fans and admirers. Having appeared in the independent dramas The Burning Plainand Winter's Bone, Jennifer has made it big! Most famously known for her performance in the superhero film X Men: First Class, Jennifer later gained international fame for playing heroine Katniss Everdeen in the Hunger Games film series (2012–15), which established her as the highest-grossing action heroine as of 2015! The actress celebrates her birthday on August 14, so Ganesha wishes her a great birthday and also predicts the way ahead for her. Read on...


Jennifer Lawrence - Hollywood Actress
Date of Birth :- 15th August, 1990
Time of Birth :- Not Known
Place of Birth :- Louisville, Kentucky, USA

SOLAR CHART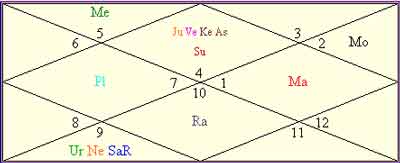 [Owing to the unavailability of credible birth-time of the celebrity, the analysis and predictions have been done on the basis of the Solar Chart/Surya Kundli with the help of her birth-date and birth-place only.]
Astrological Predictions:-
During the year ahead, Jupiter will be transiting over her Solar Chart's Mercury. This will enhance her logical power, decision-making abilities, intellligence and alertness. So, she will take decisions based on logic and will not be carried away by emotions, which will definitely work in her favour.
She will be appreciated for her performance and dialogues in the films.
As transiting Jupiter will be aspecting her Saturn, she may do some noble deeds or may contribute to charity or fund-raising events during this year.
After January 2016, her health may require attention.
Transiting Saturn's square with Mercury indicates that she will remain a bit choosy and skeptical, when it will come to selecting roles/characters in the movie. She will pay more attention to quality rather than quantity. Her performance will become much more refined during the year ahead and he may mature greatly as an actress, says Ganesha.
One thing which is very noticeable in her horoscope is Venus Ketu conjunction. This indicates that she will keep facing ups and downs in relationship and it will take her some more years to get stabilized in a relationship. The same Venus-Ketu may even make her an actress with a difference!
Ganesha wishes a great time ahead to Jennifer Lawrence on her birthday.

With Ganesha's Grace,
Rantidev A. Upadhyay
The GaneshaSpeaks.com Team