Javed Jaffrey- Birthday bumps from Ganesha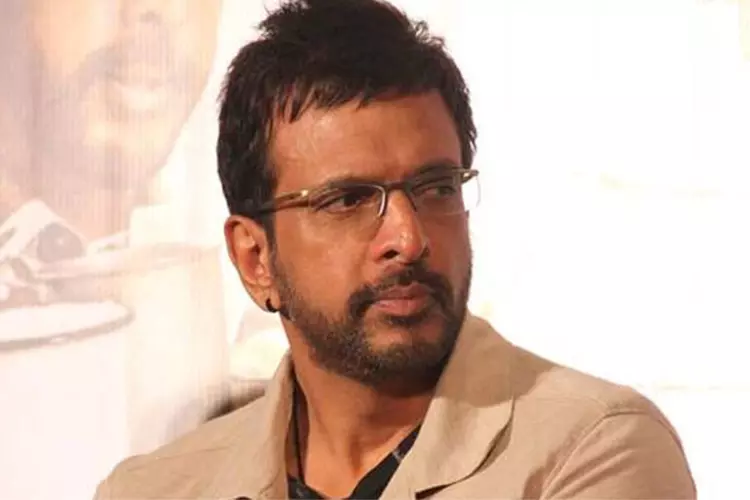 Javed Jaffrey, a great comedian and son of veteran Jagdeep, has played roles in various Hindi movies and serials. He has tickled the audience with his sense of humour and great comic timing. Ganesha wishes him on his birthday and examines his horoscope to predict his future in serials and films.
Javed Jaffery's Moon Chart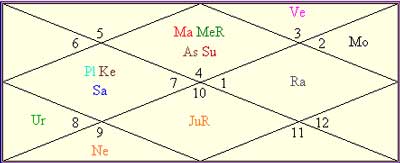 He was born on 4th December 1963 in Mumbai. His moon sign is cancer. Saturn is in it's own sign and Rahu and Ketu are exalted. Sun is in trine with benefic Jupiter. Thus, He is famous. He is an Indian comedian, who has acted in various Hindi movies and serials.
---
Javed Jaffrey
He is a self-restrained individual. He has good self-control; this can lead to a one-sided view of life, with an over-balance in career. He is steady and has advancement in life. Presently, he has been making different kind of comedy serials based on his own efforts. There is trine aspect between Moon and Jupiter. Because of this aspect, he got tremendous fame from his serials. Moon is in Cancer and hence he has a large potential to be able to get in touch with the feelings and moods of others. Venus denotes fame from media. In his chart, Venus and Moon are in same sign. Because of the powerful Moon, he has been making his career powerful. Saturn is placed in seventh house from the Moon, which shows good health and wealth. He got many award most of in the comedy serials. He won his first IIFA award for best comic role for Salaam Namaste in 2006.
Because of powerful Jupiter he is ready to laugh, quick to forgive, and warm-hearted. Sun conjunct Jupiter in his chart gives him enthusiasm and optimism. He truly expects the best-from others, and from life. He may prefer to see the good in the world. Ganesha has visions that in next year, he is likely to get more benefit from comedy serials. Ganesha feels that his coming year would be favourable for him by all manners and means. All in all, his future is bright in serials as well as filmmaking. During next year, he will get pleasure from the real life fame, which he really deserves.
Ganesha wishes him all the success and glory this birthday and foresees more success for him in the coming days and wishes the best for him.
With Ganesha's Grace,
Talk To Ganesha Expert Astrologers
www.GaneshaSpeaks.com
---
---
Get 100% Cashback On First Consultation