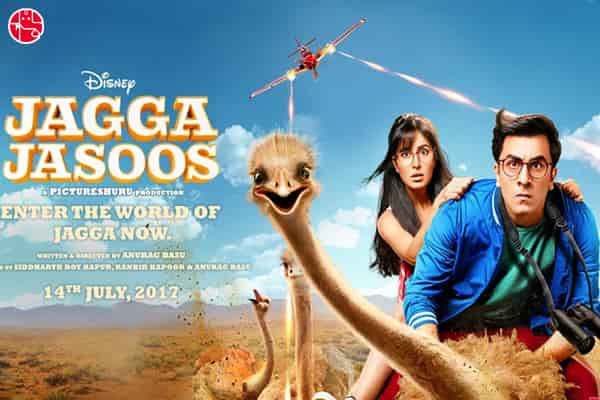 (Image Source: Internet)
At one time, the breakup of Ranbir Kapoor and Katrina Kaif was highly discussed in Bollywood. Now after a long time, we will again see them together. However, instead of real life, their romance will be on the screen. Anuraag Basu who directed films like Murder, Barfi, Gangster and Life in a Metro, will now present the pair of Ranbir Kapoor and Katrina Kaif on the silver screen in "Jagga Jasoos". Anuraag has also written this musical adventure, romantic film, wherein Adah Sharma has also played a significant role. Jagga Jasoos may or may not do good business. But what about your business prospects? Find it out with 2017 Business Report.
Jagga Jasoos displays the circumstances and experiences of a teenage detective who is searching his missing father. After a long time, we will see comedy hero Govinda as a supporting actor in Jagga Jasoos. However, currently this film was in news, as Govinda expressed his disappointment towards the film's team. Based on planetary positions at release time of Jagga Jasoos, we have predicted the future of this film from the astrological perspective.
Jagga Jasoos
Date of Release: 14th July, 2017
Release Time: 9.00 am
Place of Release: Mumbai, India
Surya Kundali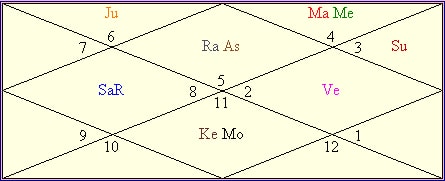 Planetary Position And Its Effect
As per release time chart of Jagga Jasoos, it has Leo Ascendant. The Ascendant Lord, Sun is posited in the 11th house of gains and friendly sign Gemini. Hence, Jagga Jasoos will get a good response from the audience. The 2nd, 9th and 11th house are related to income. Here, the Lord of 5th and 8th house, Jupiter is posited in 2nd house of wealth, which is good. But, as Jupiter is also 8th house Lord, the results will be less than expected. Jagga Jasoos will earn money, but we cannot expect high returns as it shall not be a box-office block buster. Moreover, Lord of 9th house of fortune, Mars is posited in house of expenses, which is less favourable. Earning money is important for movies. So, it is for individuals.
If you want to know the future of your financial situation, get the Free 2017 Finance Report
.
Rahu In Ascendant & Ketu In 7th House
The most negative factor of the release time chart of Jagga Jasoos is that Rahu is posited in the Ascendant and Ketu is posited in house of partnership. Consequently, it may cause some problems regarding income distribution between the distributors and financial partners, or some team member may feel dissatisfied.

Performance Of Actors Will Be Appreciated
As swagruhi Venus is posited in 10th house, it will be evident that the actors have worked hard to give an excellent performance. But, Saturn is posited in 4th house and directly aspects Venus in 10th house. Hence, although the actors will perform very well, it shall not get transformed into income, which may be due to the film's screenplay. Besides, as Sun aspects the 5th house, Ranbir, Katrina and Adah will perform well. Especially, the performance of Ranbir and Katrina in this movie will lay a new path for their career. The critics shall also appreciate their performance.
With Ganesha's Grace,
Prakash Pandya