Harry Potter and the Half-Blood Prince will stupefy audiences, says Ganesha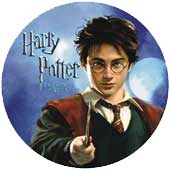 The sixth and the darkest version yet of the Harry Potter franchise, Harry Potter and the Half-Blood Prince is ready, like its predecessors, to set the cinema screens across the globe on fire. Deemed by the critics as the best film-adaptation so far of JK Rowling's much-loved book series, the film is hardly for the 10-somethings any more. The plot revolves around death, gore, and adolescent love brewing among its lead characters.
At the cusp of teens and adulthood, the Chosen One, Harry Potter (Daniel Radcliff) is stupefied by Ginny, the younger sister of Ron Weasley (Rupert Grint), who is Potter's best friend and partner in fight against Lord Voldemort. Ron and Hermione Granger (Emma Watson) too are seen stirring the love potion.
Despite its grim settings, the film has reportedly got a thumbs up from the Pope himself. Ganesha finds out whether the stars also favour the latest Potter flick.
Harry Potter and the Half-Blood Prince's Release Time Chart in India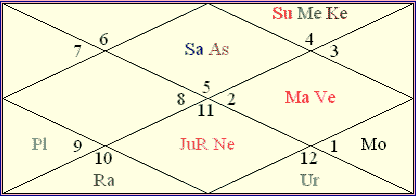 Astrological Points
Venus the significator of arts in its own sign in the 10th House of success
Ascendant is in Venus's constellation, Purvaphalguni
Moon is placed in Bharani constellation, which is ruled by Venus
Ascendant Lord and 12th House Lord are in sextile aspect
Saturn is in the Ascendant, aspecting the 10th House
Rahu in the 6th House
7th House Lord aspecting the 7th House
Predictions on Harry Potter and the Half-Blood Prince
As there are many factors involving Venus, like Venus is swagruhi, Ascendant's constellation Lord is Venus and Moon is also in Bharani (ruled by Venus) nakshatra. Hence, Ganesha feels that this film is destined to succeed.
Two fast-moving planets in the 10th House indicate good first-week and first-weekend business.
Rahu in the 6th House indicates that this film will be able to beat its competitors.
Though Saturn's aspect on the 10th House of success is unfriendly in the first glance, it indicates a steady success for the film.
Mercury, the 2nd House of the Lord of finances in the 12th House, is afflicted by Ketu, and the Sun, which is the Ascendant Lord, is also afflicted. This indicates that despite good business, producers or distributors may feel that this film could have done better at the box office.
The film's business may also face some decline due to some unforeseen situation with Solar Eclipse falling in the 12th House of the release time chart.
However, the Harry Potter film will cast its spell on the box office, says Ganesha
May Lord Ganesha bless Harry Potter and the Half-Blood Prince with success.
With Ganesha's Grace,
Dharmeshh Joshi,
www.GaneshaSpeaks.com