Challenges galore, yet the good times may just be round the corner for Neha Dhupia, says Ganesha.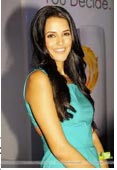 Soon to turn 32, the ex-Miss India, Neha Dhupia is a well-known face in the Indian film industry. The tall and athletic Punjabi actress, who hails from an armed forces background, joined the film industry post her stupendous win in the famed beauty contest Femina Miss India in the year 2002. Among the top 10 contestants at the same year's Miss Universe Pageant, Neha had initially started her acting career with theatre and a television series Rajdhani.
Neha, till date, has featured in quite a few films including some in South Indian languages. To her credit, despite starting her career with a sex-symbol tag, Ms. Dhupia has worked in a variety of roles with myriad shades. However, ultimate success and critical acclaim have, more or less, evaded her. Today, she is followed by many for her excellent sartorial sense and style, and her glam pictures regularly feature in all high-end glossies. Lately, the news that she may soon appear in the sequel of her own first film Julie has been doing rounds. What lies ahead for this stunner? Will she be able to return to the mainstream roles in meatier roles? As she celebrates her birthday on 27th August, Ganesha looks at her Natal chart to predict what lies ahead for the radiant Neha. Read on.
Neha Dhupia
Date of birth:- 27th August 1980
Neha Dhupia Surya Kundli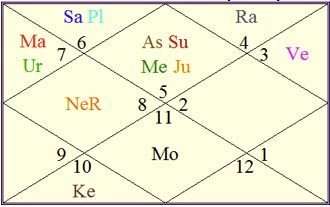 Astrological Observations
Ganesha observes that Ketu will be transiting through the 10th House from Natal Sun in Neha Dhupia's chart, till third week of December 2012.
Post December 2012, Rahu will be transiting over her Natal Mars.
Jupiter will be transiting through the 10th House from Sun, till May 2013.
Saturn will be transiting over her Natal Mars.
Rahu will be transiting over retrograde Neptune in her Natal chart.
Astrological Predictions
Quite a few tough transiting aspects are taking place in Neha Dhupia's Natal chart, sees Ganesha. Thus, the year ahead may turn out to be challenging for her.
However, Jupiter's transit through the 10th House should be giving her some advantage.
Transiting Jupiter will be retrograde in October 2012, and will be forming degreecal square with her Natal Jupiter. This indicates that she may have very high hopes from one of her major movies releasing during this period. But, as Jupiter is retrograde, she may not receive the desired attention. On the positive side, April 2013 looks set to be relatively very good for her, while the transiting Jupiter forms degreecal Square with Natal Jupiter. Neha may again be under the spotlight during that month.
Ganesha feels that the time after May 2013 will be much better for her, as Jupiter will be transiting over Natal Venus during that period.
Her love life or relationship may take a positive turn after May 2013, feels Ganesha.
Summarily, Ganesha opines that the second half of the year ahead shall turn out to be better for Neha Dhupia than the former half of the year. Ganesha wishes her good luck for her forthcoming films.
Ganesha's Grace,
The GaneshaSpeaks Team