Ganesha says Rakhi Ka Swayamwar will grab eyeballs

Rakhi Sawant likes it big. No, we are not talking about her big mouth. Our reference to her affinity for all-things-grand is about her new avatar on the idiot box: A reality show, Rakhi Ka Swayamvar, in which she is on a quest to find her perfect mate.The show, which started on 29th June, 2009, has 16 'well-endowed' men fighting it out for the woman of their dreams. The saga of romance, heartbreak and, finally, marital bliss has unravelled in the splendid Fatehgarh Palace in Udaipur.
Ganesha analyses whether this show will be as sensational as Rakhi Sawant or will the modern-day Draupadi attract public ridicule?
Chart of the first episode of Rakhi Ka Swayamvar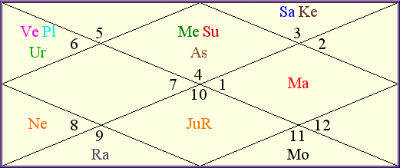 Astrological points
Capricorn Ascendant with Rahu in the Ascendant
Venus and Mars conjunct and Venus aspects its own sign in the 10th House of success
Mars, Lord of 11th House of gains, is associated with 10th House of karma and success
Mercury trine Rahu and square retrograde Jupiter and direct Neptune
Saturn is in the 8th House of longevity
Astrological forecasts
Rahu in the ascendant indicates that this show is unconventional and unprecedented
Venus aspecting 10th House with Mars indicates that the show will be successful, but can get embroiled in a lot of controversies
There may be some foul language or gestures in the show that can lead to a debate on the morality of such shows. Mars is in the sign of aggression and Aries, and Jupiter, the significator of morals, is retrograde, forming sextile aspect with the 4th House of society and cultural roots
As a result of this show, unconventional love relationships may intensify because Mars and Venus are placed in the 4th House
Despite these things, Rakhi Ka Swayamvar will be popular
An abrupt end of the show is unlikely because Saturn is placed in the 8th House, and the reality show may grab TRPs. But if not handled carefully, it may gain notoriety.
Ganesha wishes good luck to Rakhi Sawant and the show.
With Ganesha's Grace,
Bhavesh N. Pattni
www.GaneshaSpeaks.com