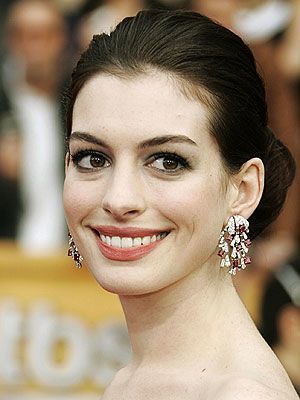 As she celebrates her 29th birthday today, Hollywood actress Anne Hathaway is just one year short of hitting the thirties. However, the lovely lady has no qualms about her growing age, as she has her pockets full at this young age itself. She started off as a child stage artist and took up films at the age of 20, the first being 'The Princess Diaries'. The pretty girl immediately hit it off with the audience, and there's no looking back since then. She gained popularity through her dramatic roles in films like Havoc, Brokeback Mountain, and Alice in Wonderland. Known for her innocent face, her name even features in list of world's '50 most beautiful people'. Soon she will be seen in 'Love and other Drugs'. The film has a lot of controversies, and perhaps that's the reason why Anne is likely to be in the limelight in the coming year.

Despite her flourishing career, she desires to take a long break from her acting career to complete her education. Will she be able to fulfil her desire? What's in store for her in the coming year? Ganesha finds out with the help of Vedic Astrology.

Anne Hathaway
12th November, 1982
9 A.M.
Brooklyn, NY, U.S.A.

Anne Hathaway's Horoscope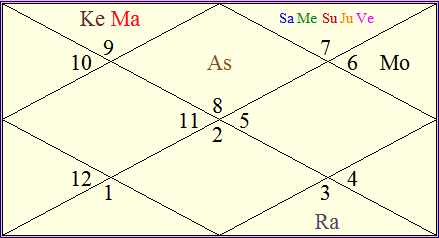 Astrological Observations


Ganesha observes that Anne is born with Swagruhi Venus (Venus placed in it's own sign Libra) in the 12th House. Moreover, Venus and Saturn are in the same sign. Both the configurations are very promising for an artist.
The Lord of the 7th House is placed in the 12th House.
Currently Anne is under the influence of Venus Return.
She will be under the influence of Jupiter major period and Sub period of Jupiter till her next birthday.
Currently, she is under the influence of Shani's Sade Sati Panoti's second phase.

Astrological Predictions


Due to Shani's Sade Sati, Anne seems to be facing struggle at the career front. This might also make her a bit choosy about films, but the flip side of the matter is that she may not receive as many offers as she received few years back.
Ganesha feels that she may remain in the limelight during the next three months.
March to May 2011 may be a slack period for her career. She wouldn't be able to get very good projects in this phase.
June to September is again a favourable period. During this phase she will come across some very good opportunities.
Last quarter of 2011 seems very bright for Anne's film career and other activities that she may be involved in.
Ganesha strongly feels that during next year she may also be involved in other creative or art oriented activities including small screen appearances.
Anne's personal life doesn't seem to be taking any interesting turn in next one year. However, post November 2011, she may think of getting into a committed relationship.
In a nutshell, during the next year, Anne will be in the limelight in various media, but her focus will be on her acting career.

Happy Birthday Anne, wishes Ganesha.

Ganesha's Grace,
The GaneshaSpeaks Team