For Hadippa, Aditya will thank Rani's stars: Ganesha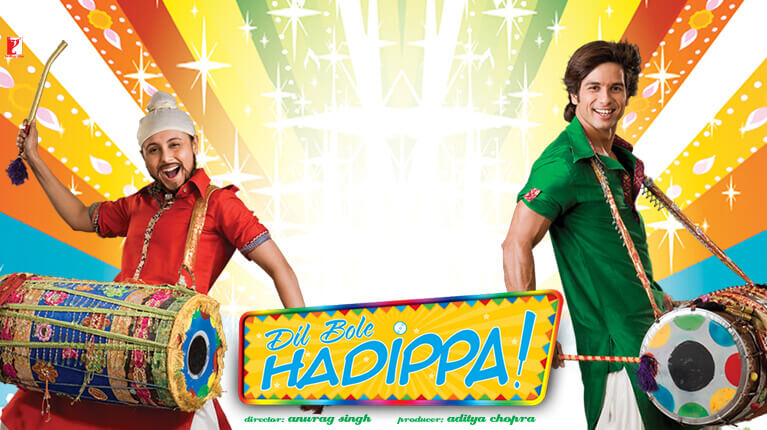 For the past two years, the stars haven't been too kind to Rani Mukherjee. The actor has been under a prolonged ill-effect of Saturn, and her beau and director Aditya Chopra has decided to put her comeback film, Dil Bole Hadippa, on hold till her planets get favourably placed.
After a string of flops, followed by a sabbatical from the tinsel town, most of Rani's fans had apparently given up on the hope that the Queen B (read: Queen of Bollywood) will ever return to stake claim to her throne. The likes of Katrina Kaif and Priyanka Chopra seemed to have comfortably taken over their fantasies. But how wrong they were: the Bong babe is back with a bang, and a new avatar, in Hadippa.
Though she is restricted to Aditya Chopra's production house, Rani's new avatar is smoking hot. Sharing screen space with hotties like Rakhi Sawant and Sherlyn Chopra, Rani in a two-piece bikini is raring to give them a run for their money. Previously scheduled for release on September 9, the Shahid Kapoor starrer will now be released on September 18.
Ganesha explains why, according to Vedic Astrology, Rani's rashi is crucial for determining the film's fate:
Rani Mukherjee's time of birth
On Rani's date of birth, Moon was in Cancer till about 7 pm and later it entered Leo. Ganesha feels that her Moon sign is Cancer and not Leo. Because had she been born with Moon sign Leo, her Moon would be conjunct retrograde Saturn, and she wouldn't have been as expressive and creative. That's why it seems that she is born with Moon sign Cancer, in which case Moon will conjunct Mars and will create Laxmi Yoga. Moon sign Cancer makes her more creative, expressive and emotional, sometimes even aggressive as a debilitated Mars with Moon in Cancer indicates suppressed aggression or rage.
Rani Mukherjee
Date of birth: 21st March, 1978
Time of birth: Unavailable
Place of birth: Kolkata
Rani Mukherjee's Surya Kundli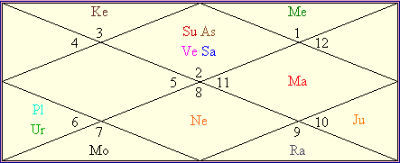 Influence of Shani's sade sati
On 9th September, 2009, Rani will be out of the last phase of Shani's sade sati, as Saturn will move out from Leo and enter Virgo. In other words, bad luck is going to tone down from here on. So, any date after 9th September 2009 is good for Rani and hence the film. Astrologically, releasing Hadippa at this time is a correct decision to make. This will have a positive influence on Box Office collections. However, a lot depends on the date that's chosen for the release.
Dil Bole Hadippa's Release Time Chart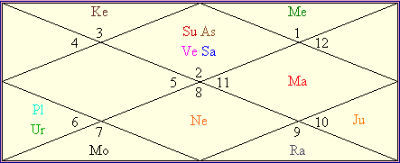 Dil Bole Hadippa's Release Date
Dil Bole Hadippa's release date has been announced as 18th September, 2009. Ganesha notes that on this date, transiting Moon, the prime significator of creativity, will conjunct transiting Venus, the prime significator of art. So, as per the principles of Electional Astrology, the date seems to be favourable for this film.
Will the change in date of release help achieve desired results?
Aditya Chopra has taken a wise decision regarding Dil Bole Hadippa's release date as this will keep the film miles away from failure. The film may not be a blockbuster, but it is likely to do good business. Performance of all the actors, including Rani, will be appreciated, but Hadippa still may not have the desired results. Business for the first week and first weekend may be good, but there will be a slump from second week onwards.
Good luck and may Lord Ganesha bless Dil Bole Hadippa with success.
With Ganesha's Grace,
Bhavesh N. Pattni
www.GaneshaSpeaks.com