Famous Amitabh Bachchan Dialogues And His Kundali Prediction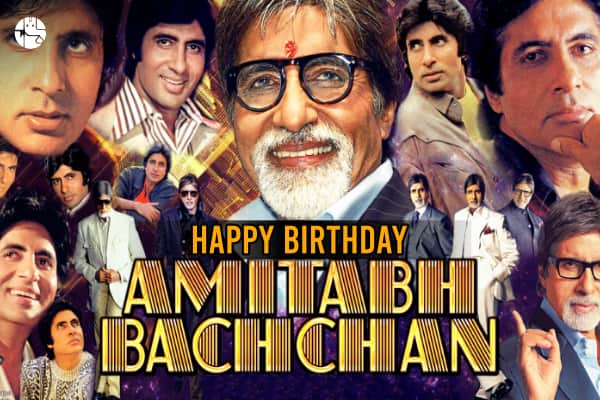 On October 11th, Bollywood megastar Big B Amitabh Bachchan will celebrate his 78th birthday. In this age-old phase, when most of Amitabh's co-stars are either away from work for a long time or are taking rest due to lack of proper work, Amitabh Bachchan is busy shooting for his famous quiz show Kaun Banega Crore Pati 12. are busy.
Known for his powerful voice and scintillating dialogue delivery, this stage of age seems to be just a number for Amitabh. Even after being 75 plus, there has been no shortage in Amitabh's stardom, he still competes with many young actors and actresses of Bollywood in terms of earnings. What is it that keeps Amitabh so dedicated to his work even today? In an effort to find out, we went through Amitabh's horoscope and found that his horoscope best defines every phase of his life with some of his famous dialogues. So let's start without delay.
Amitabh bachchan birth chart
Full Name – Amitabh Harivansh Rai Bachchan
Age – (78 years)
Date of Birth – 11 October 1942
Place of Birth – Allahabad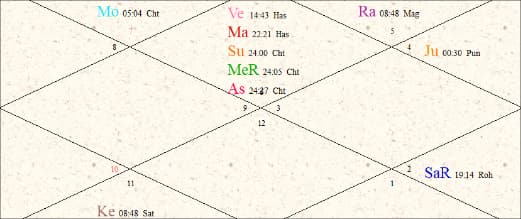 Today I have bungalow, car, bank balance! What do you have? – (Wall)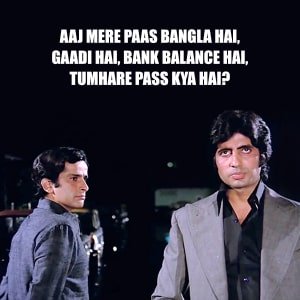 This is the dialogue from the movie Deewar which best defines the material possessions of Amitabh Bachchan in the present era. Behind this, in Amitabh's birth chart, there is Shani in his friend's zodiac, which is working to give him material happiness. The presence of Saturn in the earth element Taurus is also an indicator that Amitabh will continue to get all kinds of luxury, comfort and facilities in his life on time. In return, Shani demands only hard work from him, which Amitabh Bachchan never backed down in doing.
Increase the salary.. in fifteen hundred rupees the house does not run, how brother-in-law will believe – (The path of fire)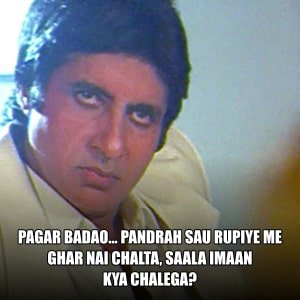 The most striking thing in Amitabh's birth chart is the wonderful combination or combination of the four important planets in his Ascendant. These four planets sitting in the Ascendant give Amitabh the ability to achieve fame and success in the field of his choice. Due to this combination of four planets present in Amitabh's horoscope, he is still the most charged actor in Bollywood. The wonderful combination of Venus, Mercury, Sun and Mars has also worked to provide him fame, fame and financial stability. The wonderful combination of four important planets in the birth chart will continue to benefit Amitabh in the years to come.
In a relationship, we are like your father, the name is Shahenshah (Shahenshah)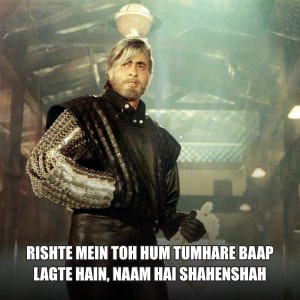 Amitabh has mentioned in many of his interviews that the end of 90 and the beginning of 2000 were the most difficult phase of his life. Kaun Banega Crorepati proved to be no less than a lifesaver for Amitabh, who was in crores of debt after several consecutive flop films and the closure of his company ABCL. His planets also played an important role behind this show he got in his worst phase. On seeing the planetary positions in Amitabh's horoscope, it is known that there is a successful combination of Mercury and Sun in his horoscope. In Vedic astrology, this wonderful combination of Mercury and Sun is known as Budh Aditya Yoga. This yoga of Mercury and Sun has the ability to change the luck and they have the ability to change the life of the person positively. Kaun Banega Crorepati once worked to take Amitabh from floor to floor, after which he never looked back and even today he is counted among the superstars of Bollywood. Amitabh's famous dialogue for this era in Rishtey Mein Toh Hum Tumke Baap Lagte Hain fits perfectly.
It is also my job to think about the work for which you have hired me, how it will be done. (shahenshah)
Many well-known producers and directors of Bollywood prove that Amitabh Bachchan does not have to understand his work, but he himself knows his work very well. If we look at Amitabh's horoscope, Venus and Mars sitting together at the Ascendant work to make him dedicated and hardworking for his work. Venus and Mars make them passionate and diligent in their work. In the coming year also, the combination of Venus and Mars will continue to benefit Amitabh in the same way.
Since childhood, the hand of Allah is on the head, and Allah is with me (coolie)
Amitabh and his fans can never forget that period of the film Coolie when Amitabh got injured while shooting an action shot. It was the period in and around 1983, when the transit of some negative planets caused Amitabh to face several accidents and health problems one after the other. But that era has passed and recently he has also defeated a dangerous disease like Kovid-19. On the basis of the existing planetary constellations, it would not be wrong to say that the coming year is going to be a bit difficult for Amitabh's health. During this time, they need to be more conscious about their health.
The police of 11 countries are waiting for Don, but catching Don is not only difficult, it is impossible. (Don)
It has not been possible for anyone till now to reach Amitabh Bachchan, the beloved of name, money, fame, immense talent and fans. Not only this, it is going to be even more difficult to reach their level after Guru Transit 2020 in the coming time. Yes, you read it right, the coming year will be full of name, fame, publicity and admiration for Amitabh. During this transit Guru will be sitting in the house just opposite to his birth Guru. With this, this year will be going to get many kinds of fame for Amitabh.
The line starts where we stand (Kalia)
When Amitabh Bachchan's character Kallu aka Kalia in the film tells his imprisoned fellow actor Bob Christo's character, "Where we stand, the line starts from there… You can see this dialogue from the perspective of Bollywood." Will fit in well with the current status of According to the American magazine Forbes' annual Top 10 Celebs 2019 Indian list, Amitabh Bachchan still remained at the fourth place after Virat, Akshay and Salman. Forbes has not yet released the annual Top 10 Celebs 2020 Indian list due to the corona virus pandemic, that is why Amitabh Bachchan, who is going to turn 78 on October 11, 2020, has the right to say to Bollywood and Indian celebs, where we stand Yes, the line starts from there. The coming year is also going to bring a better future for Big B.
With the blessings of Ganeshji,
Ganeshspeaks.com