The Eclipse will NOT eclipse Shahrukh's popularity, says Ganesha.
This man needs no introduction, or shall we say in his own screen words, "Naam to suna hoga?" – Shahrukk Khan – the Badshah of the Indian cinema. Full of zest, wit, humour and style, Shahrukh Khan is one of the biggest super-stars of the Indian cinematic history. It's like, if you talk about the Indian main-stream cinema, you have to talk about Shahrukh Khan. His block-busters including Dilwale Dulahniya Le Jayenge and Kuch Kuch Hota Hai and the brand SRK are known to almost everyone. In an industry that purely functions on looks, glamour and freshness, the originally middle-class, ordinary Delhi boy, Shahrukh, at 46, gets to play the roles written specially for him. Known for creating an amazing chemistry with his reel-life ladies, Shahrukh, no wonder, is an enigma.
Shahrukh has tried his hands at film production, and is also a co-owner of an IPL cricket team. Truth is, whatever he does, he does it wholeheartedly, inspiring, in turns, others to put in their best. In fact, those who have worked with him can go on and on about how charismatic and enthusiastic he is. And every time the King Khan makes a public appearance, we know why they call him a live wire!
King Khan turns 47 on the November 2, 2012. And, with another of his mega romantic film under YRF banner close to release, the air is ripe with speculation about SRK's fate. Will SRK continue to rule the hearts? Will his films do as well as they have done in the past? Ganesha goes through Shahrukh's Birth Chart to find out the answers, and foretell how the year ahead shall turn out for him.
Shahrukh Khan
Date of birth:- 2nd November 1965
Time of birth:- 2 hours 30 min.
Place of birth:- New Delhi, India
Shahrukh Khan Horoscope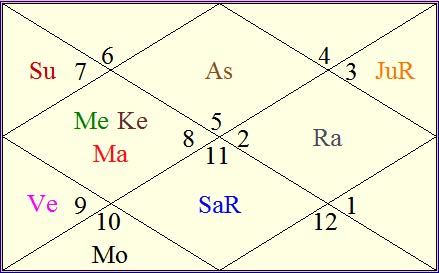 Astrological Observations
Ganesha observes that till December 2012, the transiting Rahu Ketu will be operating on the 10th House 4th House axis of Shah Rukh Khan's chart.
Rahu will be transiting over his Natal Sun, post the last week of December 2012.
Jupiter will be transiting over Shah Rukh's Natal Rahu till May 2013.
Ganesha observes that, post May 2013 SRK will be under the influence of Jupiter return phase.
Astrological Predictions
Ganesha feels that during the year ahead Shah Rukh Khan is going to continue his journey as King Khan at a slower and steadier pace.
Eclipse falling on his Natal Sun on 14th November 2012 is going to bring him back to limelight again. Despite the popular belief that 'eclipses are negative' – Ganesha is saying so because – this eclipse is going to bring a positive turning point in his career.
Ganesha feels that the first half of 2013 is going to be slightly uneventful or say less eventful as far as King Khan's film career is concerned.
However, as soon as Jupiter return begins in June 2013, Shah Rukh Khan will start achieving new heights in his career.
As far as his investments are concerned, they are going to pay him good returns once the Jupiter return begins.
If SRK has been facing any domestic issues, they will be sorted out in 2013.
However, Ganesha strongly feels that Shah Rukh Khan must take a good care of his health, during the year ahead.
Ganesha wishes a very Happy Birthday to Shahrukh Khan, and wishes that his year ahead be great.
With Ganesha's Grace,
The GaneshaSpeaks Team