Dharam Paaji, Like his On-screen Self, Is a Perfect Mix of the Venusian Grace and Martian Muscle!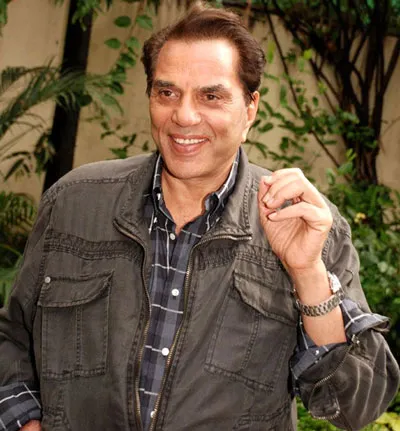 Paaji should be careful of his health in 2016; Possibilities of another Deol Extravaganza cannot be denied!
Dharmendra – the He Man of Indian Film Industry (the mantle which is supposed to have been passed onto him by Dara Singh), was one real charmer of an actor! With that great charm and good looks as refreshing as those fresh flowers plucked out of a garden, Dharmendra had an inimitable style of acting and enjoyed tremendous popularity and commanded great fan-following. He was considered to be a perfect mix of masculine brawn and charismatic grace and his good-boyish looks and style got us all awestruck, especially in films like Satyakam, Phool Aur Patthar, Mera Gaon Mera Desh amongst many others! Being a true-blue Punjabi, Dharmendra, lovingly called by all as Dharam Paaji, has been known to enjoy life to the hilt and is one of the most free-spirited actors of Bollywood, and here age doesn't matter at all, the forever young-at-heart star that Paaji is! His sons, Sunny and Bobby have also created their own niche in the Film Industry, with the action-packed performances and hard-hitting dialogues, à la their father! These three robust and happening men make for one of the most powerful and famous father-sons troika and yes, they rocked together on-screen as well, apart from their in-house bonhomie! But, how will the year ahead unfold for them? What makes Dharmendra one of the most-loved actors of all-time and what do the planets have in store for him? Will junior Deol – Bobby be able to bounce back? Let's find out the answers with some help from the stars…
---
Dharmendra Date of Birth
08th December, 1935
Time of Birth:- 06.00 A.M.
Place of Birth:- Ludhiana, Punjab, India
---
The Starry Highlights:
A Powerful Sign – Scorpio Rising…
Dharmendra was born with Scorpio Ascendant and the lord of the Ascendant Mars is exalted and placed in the 3rd House in his Natal Chart.
The Troika of Sun, Mercury and Jupiter!
The Sun, Mercury conjunct with Jupiter in the Ascendant blessed him with a dignified and bright personality. This wonderful placement in the Ascendant itself renders a lot of power to the Horoscope and makes Dharam Paaji an extraordinarily fortunate person! This very same combination of planets even blessed him with great versatility and variety, and having played romantic as well as action hero parts, he began to be called a versatile actor. This trio in the Ascendant is one of the contributory factors for his brilliant acting skills, as Mercury represents the power of the word and thinking and its union with the Sun gave him great depth of thought and a sense of originality and to top it all, the expansive Jupiter catalysed the power being generated by the other planets.
Moon-Venus – the Cosmic Masters of Creativity in Opposition…
Opposition of Moon and Venus strongly favored Dharmendra and his acting skills-creativity and also ensured that he gained fame and recognition because of them. This very same configuration also gave him the enormous public response and mass appeal. These two planets when in harmonious association with each other bless a native with amazing grace, great aesthetic sense, artistic flourish and charm. The natives with an association between these two planets will also be blessed with good looks and charisma. No wonder Dharmendra was so handsome and good-looking. Speaking on an occasion, Dilip Kumar commented, "Whenever I get to meet God Almighty I will set before Him my only complaint – why did you not make me as handsome as Dharmendra?!".
The Specific Role of Venus…
Venus is the prime significator of arts and creativity and in Dharam Paaji's case, Venus is placed in its own Sign in the 12th House. The placement of Venus in the 12th House is considered to be a good one, as it blesses a person with the best comforts, luxuries and material happiness. This also rendered a whole lot of artistic calibre and creative excellence apart from the Moon-Venus opposition.
Saturn blessing Him With Wonderful Luxuries?
Apart from other magnificent aspects, the placement of Saturn is a bright highlight in the case of Dharam Paaji. Being placed in its own Sign Aquarius and in the 4th House of luxuries, vehicles, conveyances and happiness, Saturn has proved to be highly beneficial for him. It is also to be noted that the Venus and Saturn are in Trines from each other, so this also makes for a beautiful picture.
The 'HE MAN' of Hindi Cinema!
The planet of courage, strength and force – Mars, who happens to be the Ascendant Lord, is placed in the House which goes in sync with the qualities and natural attributes of Mars, and that is the 3rd House. Not only does Mars become powerful by its placement in the 3rd House, but the highlight here is its placement in its exaltation Sign – Capricorn. This placement gave him a very well-built, sturdy and solid physique. This can be considered one of the key aspects which gave him great power to deliver action scenes with style!
Awards and Recognition…
The variety of astrological spectacles that are present in Dharmendra's Horoscope made him the star that he is and have blessed him with extraordinary fame. Due to the Grace of the Almighty in form of the excellent planetary configurations, he went on to win the Filmfare Lifetime Achievement Award for his contribution to Hindi cinema. He was also honoured with India's third highest civilian honour – Padma Bhushan by the Government of India.
---
The Path Ahead for Dharam Paaji:
Saturn will be transiting over his Natal Sun, Mercury and Jupiter. This will create some difficulties for him and Dharmendra will have to take good care of his health till 26th January, 2017.
He will have to plan his financial investments very carefully during next five years.
Slow and steady progress in his film career is envisaged due to Saturn's transit over Stellium of planets in Scorpio sign.
Post August 2016, when transiting Jupiter forms Trine with Natal Mars in his Chart, we will see him coming up with something new and different. Something of his kind.
With Ganesha's Grace,
Kashyap Rawal
The GaneshaSpeaks Team
Talk to our Astrologers First Consulation with 100% Cashback.
---
---
Get 100% Cashback On First Consultation