Will stars whip up a successful recipe for Daawat-E-Ishq? Finds out Ganesha.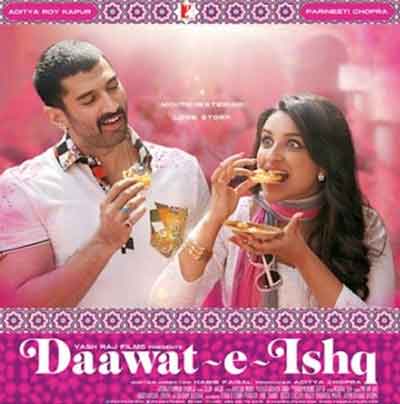 Slated to release worldwide on 19th September 2014, the film Daawat-E-Ishq is a Bollywood comedy drama starring vivacious Parineeti Chopra and handsome hunk Aditya Roy Kapoor. Known best for his role of a singing sensation gone astray in his first lead film role in Aashiqi 2, Aditya Roy Kapoor will be seen in an entirely different look and character as a Lucknowi cook and lover in this supposedly spicy love story of the opposites. Produced under Yash Raj banner and directed by Habib Faisal of the Ishqzade fame, the film promises to take the audiences on a tasteful journey of love, laughter and foody aromas.

Daawat-E-Ishq when literally translated in English reads as Feast of Love. Will this film really turn out to be a feast for senses? Ganesha looks at the Release Time Chart of this film to predict the way ahead.


Daawat-e-Ishq Release Time Chart for Bollywood's major territory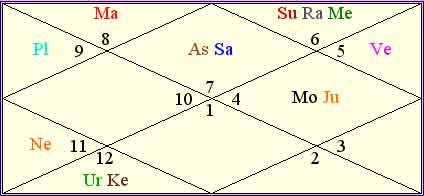 Astrological Observations
The film Daawat-E-Ishq will be releasing with a Libra Ascendant with the planet of Saturn posited in the Ascendant.
The Ascendant Lord Venus, however, is placed in the 11th House of Gains in the Release Chart. While, the Lord of the 11th House of Gains i.e. the Sun is placed in the 12th House of Losses.
Jupiter and Moon are creating the Gaj Kesri Yoga in the Time Chart's 10th House.
Mars is Swagruhi in the 2nd House of Finances.
Bhagya Bhuvan Lord Mercury is placed in the 12th House with Rahu and Sun.
Astrological Predictions
At the first glance, the Release Time Chart of the film looks good, indicating a possibility of a good start for the movie. However, on dwelling deeply on it, Ganesha feels that Saturn aspects the 10th House by a 10th aspect. Moreover, the 11th House of Gains' Lord Sun is in the 12th House. Both these factors indicate that even if the movie opens well, overall it won't manage to do very good business at the box office.
The film will have average start, and may do only average business.
The film does not look set to do very good business during the first weekend or in the first week of its release too. It may, however, do well abroad, because Mercury is exalted in the film's 12th House.
Saturn's influence on the angles of the Release Time Chart will have dampening effect on the film's overall business.
In short, Ganesha does not find this film to be blockbuster material. The stars also do not suggest that film will do a great business at box office. All in all, Daawat-E-Ishq will be remembered as a movie that did 'average business'.
The performances and direction of the movie will, however, be appreciated, says Ganesha

Ganesha wishes good luck for the film's good prospects.

You may also get your horoscope analysed by expert astrologers! Avail 100% personalised Your Horoscope Analysis report NOW!

Ganesha's Grace,
Bhavesh N. Pattni
The GaneshaSpeaks Team

Your may also like to read: