Chiranjeevi Horoscope – Reinvention & Health With Wealth!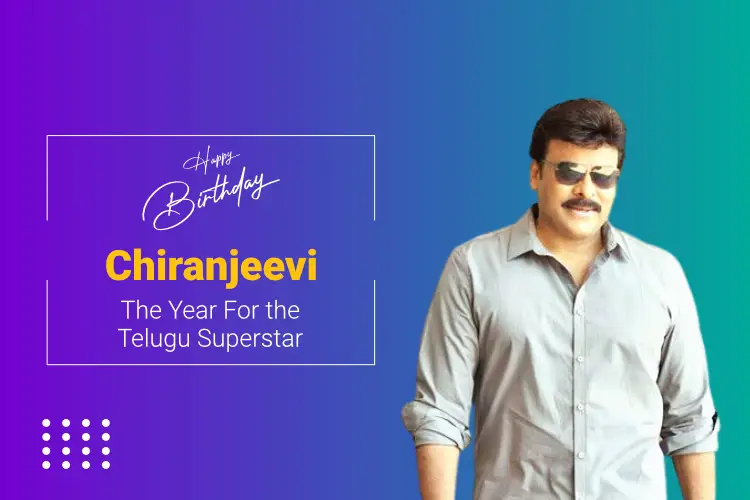 One of the most popular actors in the Indian cinema history and at the same time got the tag of Global Icon none other than Chiranjeevi. His career as an actor is amazing but this man also made an entry into politics and succeeded as well. This kind of thing is very rare to find. Started career in 1978 with "Pranam Khareedu" and then cracked box office records which ultimately resulted as highest paid actor in India including bollywood in the year 1993. Some of the successful films include Khaidi, Mantri Gari Viyyankudu, Goonda, Hero, Doonga etc. He was honoured with Padma Bhushan, in the year 2006. He is the first Indian actor who started a personal website on the internet. In politics he was the Minister of Tourism for the Government of India for two years.
So what makes him so special, let's reveal with the help of Vedic Astrology.
---
Chiranjeevi Horoscope By Date of Birth
Chiranjeevi Date of Birth: Aug 22, 1955.
Time of Birth: Unknown.
Place of Birth: Narasapur.
---
Chiranjeevi Kundli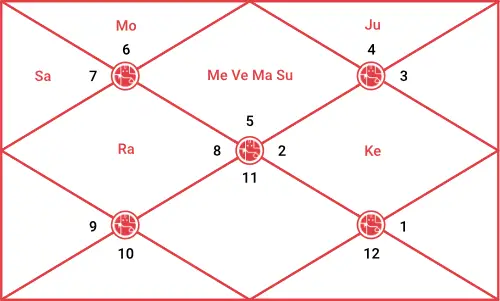 As Sun is placed in the sign of Leo which makes him a very bright and valorous person from the inside. Strong Sun blessed him with purity and good human qualities as well. Leo Sun is very beneficial to achieve the powerful position and authority which he got when he entered into politics. Venus is placed in the sign of Leo again makes him a very creative and performing actor. Leo rules entertainment and artistic Venus blesses him with acting talent. What else do you require to rule the cinema industry? Moreover, Fighter Mars is also placed in the sign of Leo which gives dynamic leadership quality and makes him a bold and courageous person from inside. Mercury is also placed in the sign of Leo which makes him a very impactful speaker and Mercury Leo gives a unique way of talking which also adds another strength in cinematic career. So in all he has been blessed with Sun, Mars, venus and Mercury in Leo sign and hence this conjunction gave him tremendous success in cinema and politics.
Know the real strength of the planets. Get Premium Janampatri and reveal all secrets of your horoscope.
---
What The 2023 Year Brings For Him?
As per Chiranjeevi horoscope, his daily life will be very busy this year. He will do many changes in his day to day activities with the blessing of Saturn transit in Capricorn. Taskmaster Saturn will be very beneficial for him to do necessary career changes and he might follow a different life pattern this time. Beneficial Jupiter transit will surely bless with good morality to lead masses. He will be more involved in family life this time. As he is going through Mercury mahadasha and Mars antardasha which will help him to achieve more success in political career as well. We can expect more growth for him in 2023 because 2023 will be very different from 2022. Be ready for change!
---
Mega Star Health In Pandemic
As per Chiranjeevi astrology, his health will be good this year. Saturn transit in Capricorn will be very beneficial in health related matters. He might make some serious decisions to plan for his health. He will definitely invest a lot of time in the gym and exercise. Fitness will be his priority and changes for sure. As Mars will transit over natal Leo Mars during birthday, this time can trigger some of the bold decisions for health related issues as well. Rahu transit in Taurus will also increase his desire to look best and in the best possible way. As per dasha analysis, Mercury mahadasha and Mars antardasha will also bring fruitful results for health concerns. He must make the maximum use of it for health. Go ahead and don't stop!
How will Jupiter transit affect you personally? Get 2023 Jupiter Transit Report
---
Upcoming Movies
As per horoscope of Chiranjeevi, this year he will select projects which will bring success later on. As per his chart, we can expect his choice of films will be very selective this time. Saturn transit in the sixth house of the horoscope forces him to take roles which will be very easy to follow. He will try to connect with the audience more. Divine Jupiter transit in Aquarius will bring some of the good roles for humanity which again help him to lead the masses. Yes "Acharya" is an upcoming action drama movie and his character relates to politics, so we can expect a success for him. Venus transit throughout the natal chart will create a huge impact in his career to select roles and birthday transit Venus in Leo will trigger it. As he is going through Mercury dasha but 2022 will be different for him on success level but this year will make him choices for future benefits. Keep it up and move ahead!
What will be favorable for your Job or Business? Get career astrology report and know what will bring you success.
---
Wealth For Mega Star
This year he will take more initiative to establish a business to earn more profits as per Chiranjeevi natal chart. Teacher Jupiter transit in Aquarius will surely help him to invest more. His wealth prospects will improve in the second of 2023 as Saturn and Jupiter both end retrogression. Some transits will be very favorable such as Mars and Venus which will activate dhan bhav of the natal chart. Moreover, he is going through Mercury dasha and Mars antardasha so some crucial steps to be rich will be more this time. Hemight work on new ideas which he desires. Smoky Rahu transit in Taurus will surely increase his passion for wealth and crucial steps might be the turning point for him. Just plan and grab it!
---
New Ventures and Businesses
Yes, this year he will be more busy in domestic projects as per the dasha analysis. He will be more involved in new ventures which will bring profits domestically but 2023 will bring foreingn connections in business too. He might think about international connections this year and implement them next year. Divine Jupiter transit will also indicate a new partnership as well. He might start a new business as well. Satru transit in Capricorn will make him more realistic and this year he will start new ventures which might be helpful in future for foreign connections too. Don't hurry and feel change!
So overall Yes a very good time for him and we can expect a lot many things from him in future. He has achieved many things in his life and this Mega Star has no boundaries. In the coming time he will be more philosophical and we can expect a lot many good things from him in political career too. The 2022 second half will bring many positivity in his life because 2023 will bring many unexpected changes for him. When it comes to cinema, Mega Star will again rule and it's time to reinvent himself and rule again.
We wish Chiranjeevi – Happy Birthday and good year ahead!
Want to Lead a Celebrity Life? Talk to an Astrologer Now, First Consultation with 100%
With Ganesha's Grace,
Astrologers trained by Shri Bejan Daruwalla
The GaneshaSpeaks Team
---
---
Get 100% Cashback On First Consultation