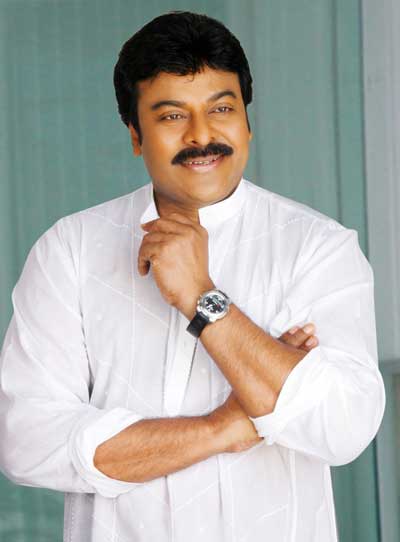 One of the most legendary and iconic names in the Southern Film Industry - Chiranjeevi, was born as Konidela Siva Sankara Vara Prasad. Those wondering how he got the name 'Chiranjeevi' would like to know that his family members were worshipers of the Hindu deity Lord Hanuman and this name was suggested by his mother to him, to be used as a screen-name. 'The one who lives forever' is the meaning of the name and indeed, the fame of Chiranjeevi shall last till eternity! Very few know that the stalwart actor was an NCC cadet and has also participated in the Republic Day parade in the 1970s! Being interested in acting from a very young age, he got a graduation degree in commerce and moved to Chennai and joined the Madras Film Institute in 1976.


Chiranjeevi started his film career in Punadhirallu, but the first released film of his was Pranam Khareedu. Since then, there's been no looking back for the Leo lion and he has since then, worked with various famous and established film-makers like K. Balachander, K. Viswanath and music greats like Ilaiyaraja and S. P. Balasubrahmanyam rendered their musical magic to his films. His film Rudraveena (1988) won the Nargis Dutt Award for Best Feature Film on National Integration and also the Nandi Special Jury Award. Various film-critics and the media even called him "Boss of Telugu Cinema". People were unable to resist the wonder and magic of Chiranjeevi and his films started getting a lot of appreciation. He was conferred upon the Padma Bhushan by the Government of India in 2006. He was awarded the Filmfare Lifetime Achievement Award – South at the 58th Filmfare Awards South in 2011 for his contributions to the film industry. In 2008, he started a political party called the Praja Rajyam Party and was later elected a Member of the State Assembly from Tirupati. He had even founded the Chiranjeevi Charitable Trust (CCT) in 1998, which includes Chiranjeevi Blood and Eye Banks.



He married Surekha Konidela in 1980 and has two daughters – Sushmita and Sreeja and his son Ram Charan Teja is a popular actor in the Tollywood.



He has been a true-blue Leo and has always been in the limelight, be it for anything! He surely seems to have the grace of the Almighty as well as of the 9 agents of the Almighty, that is the 9 planets! What would be the astrological picture of the man who has achieved such a tremendously huge stature? Check out the astrological explanation of the southern heavyweight by Ganesha.

Chiranjeevi
Date of Birth:- August 22, 1955
Time:- Unknown
Place:- Narsapuram, Andhra Pradesh, India


Chiranjeevi Surya Kundli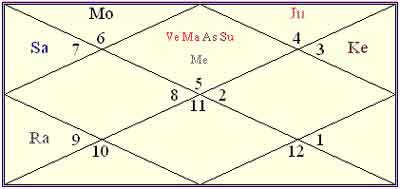 What makes Chiranjeevi a balanced, accomplished and successful individual?


Ganesha observes that Chiranjeevi is born with a Stellium of planets in the the Sign of Leo. Due to this, the inherent qualities of the sign of Leo get magnified and amplified further. This makes him highly energetic, powerful, charismatic, magnetic and majestic. A Stellium of planets in the Sign of Leo indicates that he would be very creative and is a born artist. But, he should avoid getting into ego clashes with others. The same Stellium also gives him very impressive personality. He will generally remain in the limelight due to one or the other reasons.


Sun: The planet of power, fame and authority in its own Sign
Sun in Leo blesses him with a heart of Gold. He would be very selfless and magnanimous. He will always be ready to help those who are in need. Sun placed in Leo also indicates that he would be very loyal towards his family and he will generally give priority to the need of the family members. He may be sincere and faithful towards the ones that he is closely connected with.


Venus: Bright planet in a bright Sign: Creative flourish!
Venus in Leo shows that he would like to remain under the spotlight. He is blessed with a natural ability to charm people and to grab the attention of the masses. Venus in Leo gives him a good personality. In matters of love he would be attention seeking and also possessive and would love to be pampered. He would be very loyal as a lover. He is a good performer due to Venus' position in Leo. Venus stands for acting, entertainment, film industry and drama and Leo happens to be a sign, which has some attributes like dramatics, theatrics and histrionics attached to it. So this planetary configuration in Leo augurs very well for Chiranjeevi and is one of the major contributory factors astrologically that has propelled him to such a high pedestal.


Mars in the fiery Leo: The blessed action-star!
Mars in the fiery Sign Leo gives him great energy, fighting spirit, vigour and stamina. He will not be tired even if he works for long hours. The Sun and Mars conjunction makes him a bit aggressive, but it also gives him a strong built and physique.


Exalted Jupiter: Adding more sheen and benevolence...
Exalted Jupiter blesses him with great wisdom and an expansive mindset. As Jupiter exalts in the watery sign Cancer, he may be compassionate and sympathetic. He will possess great wisdom, intelligence and a proper understanding. He has the power to convince others about his opinion or point of view. He would be a good guide and even a counselor to others. He will generally take well thought decisions. He may also be a bit diplomatic.


Saturn in its Sign of Exaltation: The taskmaster to shower its blessings!
Exalted Saturn blesses him with due patience and the power of endurance. Such a strong Saturn blesses him with the ability to connect with the masses easily and to achieve great fame. A very strong Saturn, in various cases, blesses the natives with ever-lasting fame. He would be emotional, but due to the Saturn effect, he will not let emotions get the better of him and he would be able to deal with situations even in a pragmatic manner. He should, however, avoid delaying important tasks because sometimes due to lack of strong drive, people with exalted Saturn tend to delay the matters.


What lies ahead for him? His health and overall life, post 60:


150th movie – Auto Johnny – to be or not to be?
The wait for the senior actor's 150th movie, tentatively titled Auto Johnny has been endless. Earlier the movie had been scheduled to hit theatres in January, 2016. However, going by the delays and controversies surrounding the movie and its crew, audiences and trade circuits have their own doubts.

Ganesha looked at the general planetary transits' scenario as well as Chiranjeevi's Solar Chart to predict that we may, quite probably, be able to see the senior, illustrious actor acting in a lead role in a prominent movie, in the coming one year or so.

The trusted Astrology portal adds that there surely may be roadblocks and issues, especially after January, 2016, and the release of this very film may not happen, as expected earlier. But, things will materialise, sooner or later, in this regard, and people will be able to see their beloved actor doing his 150th movie. However, it cannot be confirmed, as to whether 'Auto Johnny' or some other movie will be Chiranjeevi's 150th movie.


Jupiter ensuring a smooth ride, but Rahu may play spoil-sport post Jan 2016!
Ganesha notes that Jupiter is transiting over Chiranjeevi's Stellium of planets in the Sign of Leo. This transit remains favourable for his career as an actor and politician, till January 2016. However, as soon as the transiting Rahu enters the Sign of Leo on 30th January, 2016, he may start facing problems in his career as an actor and also as a politician. His public image may get dented, so he will have to be extra careful. He should guard against controversies.


Beware of hidden enemies, Rahu may create many!
Before January 2016, we may see his career graph as an actor and politician – going up even further. After that, the graph may see a decline due to various reasons. He will also have to be very careful of hidden enemies – trying to tarnish his image.



The other areas...
Between February 2016 and August 2017, he should avoid trusting people blindly, else he would be in great trouble. Someone might try to take undue advantage of his kindness and generosity.


He will also have to take great care of his health between February 2016 and August 2017. During this period, he may have to undergo some surgery or may start a long term medical treatment.


Finances? Chiranjeevi doesn't need to worry!
Financially, he will continue to remain strong and comfortable. However, he will have to plan his investments a bit more carefully during the second half of 2016, affirms Ganesha.


May Lord Ganesha bless Chiranjeevi with a great year ahead.


With Ganesha's Grace,
Bhavesh N Pattani
The GaneshaSpeaks.com Team