Bipasha Basu: the sexiest woman of Asia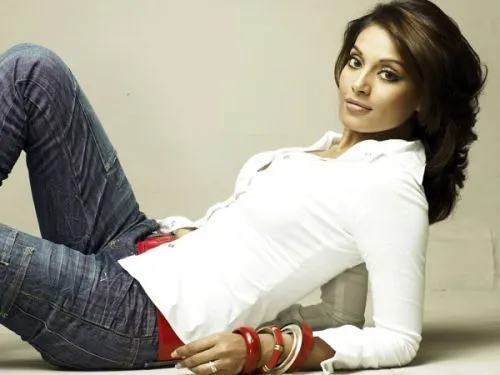 There is good news for Bipasha's fans. She is very glad to have the crown back. Her beauty is not only limited to India. A London based "Eastern Eye Newspaper" has voted this female as the sexiest woman in this world. Legendary actress Madhuri Dixit is the runner up and Priyanka Chopra is the second runner up by this Asian newspaper. Ganesha peeps into her horoscope to get a glimpse of planetary positions that are responsible for such an honour.
Bipasha Basu's Moon Chart: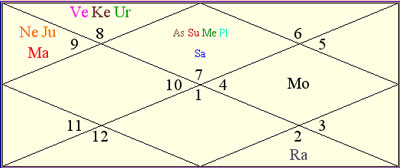 She was born on January 7th 1979 in New Delhi. Subsequently the Basu family re-located to Calcutta. Venus, which is the significator of art, movie and beauty, is placed in her chart. Mars and Venus association gives her fame in field industry and its related thing is situated in the Scorpio sign. This means that there is association between Mars and Venus. Venus rules, amongst other things, the arts, love and romance, beauty and the beautifying process.
Because of this planetary influence in the year 2005, Bipasa Basu was voted as the sexiest woman and now in this year also she achieved the same. Bipasha is a beautiful actress. Venus is in Scorpio indicating romantic and sexual attractiveness. It also gives her magnetic personality. Venus rules attachments to others. It rules attractiveness- both the ability to attract and attraction to others (and things). Venus energy is harmonious and that is why she is a peace-maker. She is such a talented actress who knows her character (in films) and how to perform them. Currently, transiting Sun- the significator of fame is passing over the Natal Venus. This is the major reason of her getting the award of the sexiest woman in the world. Her acting ability, beauty and charm are appropriate of getting this award.
Ganesha notes that in her chart currently she is blessed by transiting Jupiter which is passing over the Natal Sun. Ganesha feels that New Year will be more progressive than previous year for her. She shall have better branding and fame this year. She will get pleasure from the real life fame which she really deserves. The trine aspect between Venus and Jupiter has been giving name, fame & tremendous success. All in all, her entire Natal chart is very good and is promising her creditable gains in life.
Hope that her sexy charm will do the same magic for her movies too. May Lord Ganesha blesses her with more fame in the years to come!
Ganesha's Grace,
Nikunj Suthar,
www.GaneshaSpeaks.com
---
---
Get 100% Cashback On First Consultation