Asin Birthday Prediction: Horoscope of the Multilingual Marvel
Published on September 30, 2020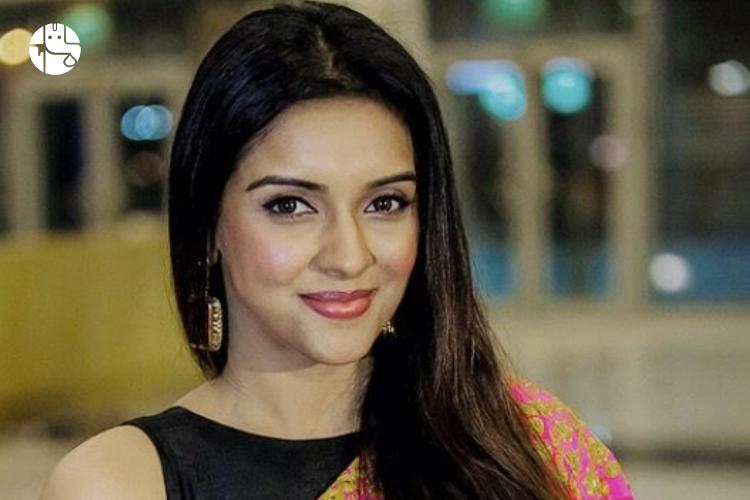 For most of us, the first sighting of Asin Thottumkal was in Ghajini, as the name 'Kalpana' still brings chills down our spine. But for Asin, the journey in the films began back in 2001, when she was just sixteen, with a Malayalam movie 'Narendran Makan Jayakanthan Vaka'. Her first commercial success was a Telugu movie 'Amma Nanna O Tamila Ammayi'. Born in Kerala, she has worked in Tamil, Telugu, Malayalam, and Hindi Cinema.
Fluent in eight languages, she is known for dubbing her own movies in all the languages. Before her Bollywood debut in Ghajini in 2008, she also played the same role in the original Tamil film, for which she received 'Filmfare Best Tamil Actress Award'. She later worked in several successful Tamil movies and became a regular in the industry. In 2013, she was awarded the Proud of South Indian Cinema for her contribution.
Ghajini in 2008 was her debut in Hindi Cinema, opposite Aamir Khan. The movie was the first-ever Bollywood movie to cross the 100 Crore mark, and Asin was all set to repeat her success from the South. Movies like Ready, Housefull 2, Bol Bachchan and Khiladi 786 from her career in Bollywood proves that to be true. Do you know if there is a big break coming in your career? Is there a job change on cards for you? Get a detailed astrological analysis from a personalised career report, written by our adept astrologers.
Asin has also been known for her philanthropic works over the years. What is exceptional about her is, she does not believe in making her charities public, unlike other celebrities. Asin has provided financial support for girls' education over the years, and also runs a school for underprivileged. When she was in Sri Lanka, she became a part of the camps to help Sri Lankan Tamils who were suffering from the Civil War.
Asin Thottumkal Birth Chart:
Date of Birth: 26th October 1985
Time of Birth: Unknown
Place: Kochi, Kerala, India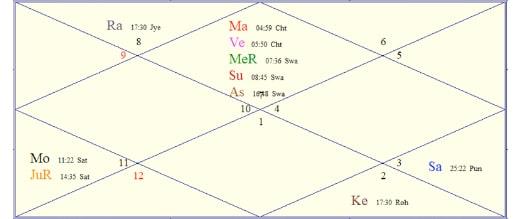 Since we do not have the exact time of birth, we will be analysing Asin's Surya Kundli for future predictions. Though the time of birth is necessary for precise forecast, a Surya Kundali can also help in revealing a lot about the native. Let's see what astrology has to say about Asin's Kundli.
Asin Thottumkal Horoscope by Date of Birth:
Asin's Zodiac Sign is Scorpio, according to her birth chart. The combination of Mars, Venus, Mercury, and Sun in the first house of Asin's birth chart has given her the ability to learn several different languages and excel at them. That has helped her make her way into different film industries of India. Not only that, this conjunction of planets may lead her to take on more responsibilities in the world of filmmaking such as directing or producing a movie.
What does the positioning of the planets at the time of your birth say about you? What are some of your hidden potentials? Know what future holds for you with a detailed analysis of your handwritten Janampatri, made exclusively for you by our expert astrologers.
Going into the further observations into Asin's Surya Kundli, Jupiter's aspect on Sun, Mars and Venus; along with the conjunction of Moon and Jupiter in the 5th house that creates an auspicious Gaj Kesari Yoga, indicates success in all ventures that she may want to take up. This year, she is likely to finish every job with panache. She should, however, be careful about trusting people blindly. Apart from all this, she may also continue with her philanthropic activities as ever.
From November 2020 till March 2021, it would be advisable for Asin to take care of her health due to the effects of Sade Sati. She must do a thorough analysis before investing money into any new venture.
Birthday Wishes, Asin!
As she gets Ready for a new and promising year ahead, we wish her all the best for her health. May 2021 bring her success 'barah mahine me, bara tariko se'!
To Get Your Personalized Solutions, Talk To An Astrologer Now!
With Ganesha's Grace,
GaneshaSpeaks.com