Love may blossom well in the lives of Ashton and Mila, but be cautious till 2017, says Ganesha…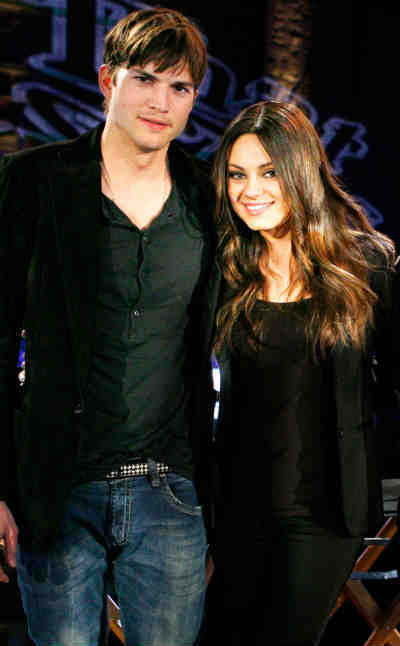 Ashton Kutcher and Mila Kunis are surely a wonder couple, with both exhibiting almost the equal amount of Charma and Charisma. They recently got hitched in a very secretive way in Parrish Ranch in Oak Glen, California on July 4. What do the Planets have in store for the couple? Will Love and Romance bloom in their lives? Ganesha finds out…
Get marriage prediction astrology to know about how will be your marriage life?
Ashton Kutcher
Date of Birth :- 07th February, 1978
Time of Birth :- 12.30 P.M..
Place of Birth :- Cedar Rapids (IA) (United States)
NATAL CHART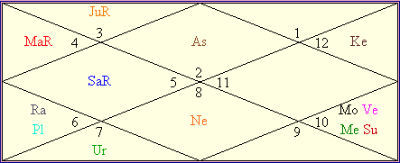 Mila Kunis
Date of Birth :- 14th August , 1983
Time of Birth :- 17.00
Place of Birth :- Chernivtsi (Ukraine)
NATAL CHART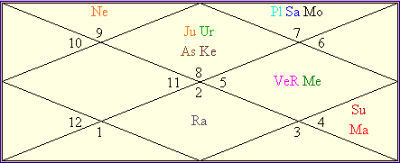 Astrological Predictions:
Is theirs a good match?
Mars is posited in the Sign of Cancer in the Natal Chart of Mila Kunis directly aspects the Natal Venus, posited in the Capricorn sign in the Natal Chart of Ashton Kutcher. Also, Mars is posited in the Cancer sign in the charts of both. The Moon in the chart of Mila Kunis is posited in the sign of Libra and Moon in the chart of Ashton Kutcher is in the Sign Capricorn, which are astrologically considered friendly signs, as the Lords of these signs happen to be Venus and Saturn respectively- who are great friends. All these factors indicate that they both will have physical attraction and great love for each other. Both of them will be enthusiastic and will try to make the relationship click well. As such, the wavelenghts of both will be matching, but at times there may be differences of opinion, which may create distance between them and Ganesha says this is because of Ashton's retrograde Mars aspecting the Saturn of Mila's chart with its 4th aspect in her chart.
Will their marriage be stable?
Ganesha notes that the current transit of Jupiter will be favourable for their marriage but the adverse effect will be given by the transit of Rahu-Ketu and Saturn in the charts of both, may create some bitterness between them. Mila Kunis will be under the 3rd phase of effect of Sadesati for the period till 26th October, 2017 and besides this, Mila will be under the influence of major period of Saturn and sub period of Venus till 25th August, 2015, whereas Ashton will be under the influence of major period of Jupiter and sub period of Rahu till 7th February, 2017. The mixed effects of both positive and negative influences of the planets on their Natal Chart may create some odd situations also, which may compel them to have some distance between them and become and their may be some possibilities of animosity. As such, duo will gradually share positive vibes for each other and Ashton will reciprocate her love and affection whole heartedly, but this will be a gradual process. Some gap between both of them may remain during this period. The period to know each other very closely may take near about two years and then they both will be able to lead a happy married life, Ganesha feels.
Ganesha wishes a great time ahead to Ashton Kutcher and Mila Kunis.
With Ganesha's Grace,
Rantidev A. Upadhyay
The GaneshaSpeaks Team