The Queen Of Music: Asha Bhosle Will Continue To Shine, Predicts Ganesha!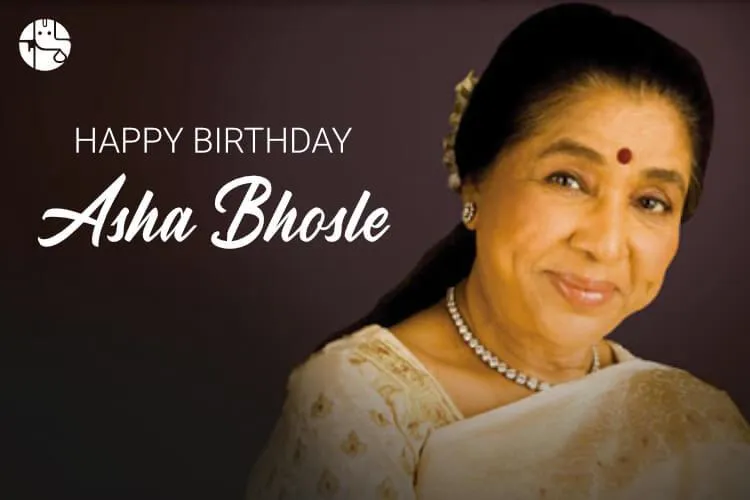 From the rebellious "Dum Maaro Dum" to the sensuous "Aaiye Meherban" to the peppy "Kambakht Ishq", the singer of these songs has been a breathtaking sensation in the world of music in India. So, do you claim to be a die-hard fan of these songs? If yes, then you may have guessed by now, that the voice of these mind-blowing songs is none other than the acclaimed singer Asha Bhosle.
With versatility as her middle name, Asha Bhosle is a sure shot diva. Whether it was a classical ghazal like "Kisi nazar ko tera intezar aaj bhi hai" or romantic songs like "Oh mere sona re", Asha Bhosle can add life to any song. The singing queen may have aged in numbers, but her versatile contribution to the music industry has known no bounds.
Today, when pop songs, party songs, and remixes turned out to be a craze among the youth, the music diva – Asha Bhosle also joined the trend to make people tap on their feet to her mellifluous songs. She proved that there is nothing that can hold her back. Asha Bhosle, you just carved a place in our hearts that will always stay!
Vivacious and Versatile, Asha Bhosle is the legend who has sung over 12000 songs. She was the one to beat out the stiff competition and was immortalised on a UK No. 1 record. Not only this, but she also found a place in the Guinness Book of World Records as the world's most prolific recording artist. Blessed with grace, charm, and melody perfectly intact, she won a multitude of national and international awards.
As this adorable star/diva/wonder-woman celebrates her birthday on 8th September, check out what our expert astrologers have analysed about her based on her Janampatri!
Now, fans of astrology know that alignment of the planets at your exact time of birth shape your unique personality. Hence, birth time is the key to make accurate predictions. Uh-oh! We don't have the exact birth time of Ashaji. Hey, but did we mention that our astrologers can still tell us tons about her year ahead based on Asha Bhosle Surya Kundli? So, be ready to dive into the future of Asha Tai and see what's in store for her:
---
Asha Bhosle Birth Details
Date of Birth: – 8 September 1933
Birth Time: – Not known
Place of Birth: – Sangli, Maharashtra, India
---
Asha Bhosle Birth Chart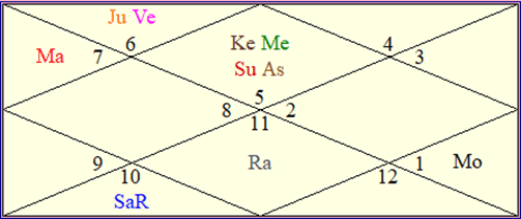 ---
Astrological Observations
As per Ashaji's birth chart, Sun is placed in the Leo sign. It represents extraordinary progress and good fortune. Moreover, it blesses the native to shine in life and to achieve great honour. Besides, she is born with the combination of two top-rank benefic – Jupiter and Venus in Virgo. This combination indicates that she will be versatile and stylish as a singer.
Let us delve deeper to have detailed insights.
According to Asha Bhosle's birthday predictions, Jupiter is favourably placed in her birth chart. This is likely to give a boost to her creative abilities. Moreover, she may get many new creative projects, however, to accept it or not, will purely depend on her wish and availability. Furthermore, she will get good support from music producers and other musicians. They will also emphasize her safety and her health, but still, they may be desperately waiting to collaborate with this nightingale.
Now we know how planetary positions and aspects have influenced her life. Let's find out what the planetary transit holds for Asha Tai's life.
Due to the upcoming Jupiter transit in Capricorn on November 20, 2020, in the sixth house from the Sun, she is likely to be more vigilant about her health. However, there are chances that some existing health issues may get intensified. She is advised to take enough rest. Now, along with Jupiter, the transit of Saturn in Capricorn is also passing in this house, which may help her to conquer over enemies and win personal and professional battles. Additionally, she may easily defeat her rivals in the music industry and reign as one of the best musicians of our era. Anybody who is trying to imitate her may not be successful. In case there are any pending legal cases, there are high chances that she may win existing copyright issues and court battles.
All in all, the main area that she needs to focus on is her health and wellness. Healthy and sattvic diet, de-stressing massage therapy, yoga and meditation, and devotional practices to request God to give her physical and mental strength and everlasting glory, may prove to be beneficial to stay hale and hearty.
---
Birthday Wish!
Overall, the current planetary positions indicate that she may get an enormous public response as well as a tremendous mass appeal and financial growth in the year ahead. But she needs to take care of her health. Ganesha wishes Asha Bhosle a very Happy Birthday and a long healthy life ahead.
Folks, it is the clear example that planets collectively play a vital role in propelling a person towards glory. You too can get your Janampatri analysed by our expert astrologers, and identify your talents and aspirations leading to build a life you are proud of!
To Get Your Personalized Solutions, Talk To An Astrologer Now!
With Ganesha's Grace,
GaneshaSpeaks.com
---
---
Get 100% Cashback On First Consultation