Wait out this tough 2 years period, till January 2017 – Ganesha's advice to Arjun Rampal-Mehr Jessia.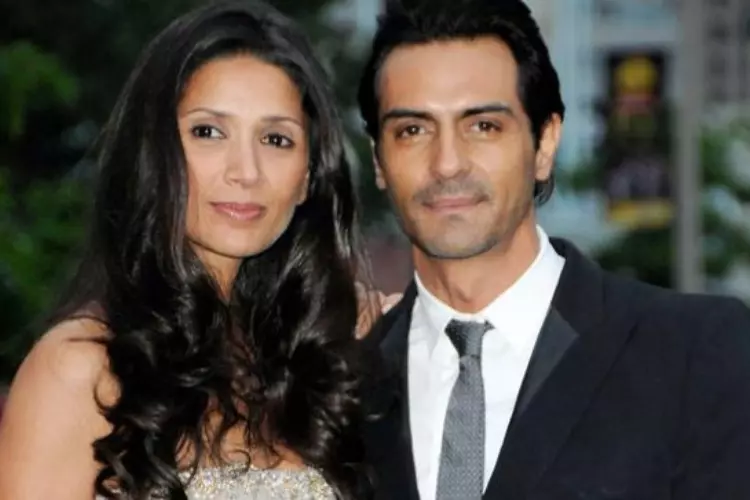 Model, actor, film producer Arjun Rampal and India's first generation supermodel Mehr Jessia have been happily married to each other, since the last seventeen years. However, rumours about the friendship turning to a cozier relationship between Arjun and Bollywood actor Hrithik Roshan's ex-wife, Sussanne seems to have rocked their marriage boat way too much. The alleged relationship is also known to have spoilt the trio's close-knit friendship, which is known to have bailed out Sussane from the difficult days after her marriage with Roshan ended. The whole thing started with Mehr and Sussane being close buddies for over a decade – a friendship that extended when Arjun joined the group, and the trio were inseparable for quite some time, until the news of Arjun's role in Sussane-Hrithik break-up surfaced – an allegation that was denied fiercely. Yet, there has been glam-town buzz about the brewing trouble in Mehr-Arjun paradise.
Here, Ganesha takes a look at the Solar Horoscopes of all the three of them, as per the available Birth Details – to analyse the situation and predict a possible outcome.
Sussanne Khan's Surya Kundli
26 October 1978
Mehr Jesia Rampal's Surya Kundli
30 November 1970 (as per the available data)
---
Arjun Rampal's Surya Kundli
26 November 1972
Arjun-Mehr match
As per the Vedic Astrology System, Arjun and Mehr are born with Sun in the same Sign. In Arjun and Mehr's Chart, Venus – the significator of love – is placed in the Zodiac Sign Libr. But, Mehr's Venus is retrograde Natally, which indicates a possibility of disappointment in love/relationship/conjugal life. The strongest point in their relationship, however, is that both of them are born with Mars and Venus in the same Zodiac Sign. Also, Mehr's Natal Jupiter is in Libra, which indicates that her wisdom shall help her keep her relationships balanced and harmonious.
---
Why the problem?
Before November 2014, Saturn had been transiting over Venus and Mars conjunction in Arjun and Mehr's Solar Charts. Mars is the catalyst of all events, while Venus signifies love. On the other hand, Saturn is the planet of disappointment, distance and slow down. Thus, the movement of two important planets over Saturn seemed to have impacted this relationship heavily.
Post November 2014, Saturn has started transiting over the Sun in both the Charts. Although this is a slightly better situation, truth is that Astrologically Sun and Saturn are enemies, which is why this relationship is still under the dark clouds of confusion and distance.
---
What might happen?
With the transiting Jupiter turning direct in Cancer from April 2015 onwards, things may start to get better for the couple. Jupiter in direct motion shall aspect the transiting Saturn and Natal Sun in Arjun and Mehr's Charts, and this may lead to the things getting back on the track – albeit gradually. The couple may come to terms with the issue, and may decide to take a higher stand and sort out the issues amicably.
Arjun Susanne Khan match…
Although, nothing is confirmed yet, given the speculation in air, Ganesha takes a look at Arjun-Sussane match – as per Vedic Astrology and Numerology.
Both are number 8 natives. Susanne's date of birth is 26 and Arjun's date of birth is also 26 – which totals to 8. This is a strong contact point between both of them. It is likely that they find each other to be pretty similar from many angles, and probably that's why they share a good rapport with each other.
Again, Susanne is also born with Venus in Libra, which is same as Arjun. And, her Venus too is retrograde like Mehr's. This may also be one of the reasons why Sussane couldn't sustain her relationship with Hrithik.
Astrologically, Susanne's Mars is in Scorpio, and it is falling on Arjun's Sun. Currently, Saturn is transiting through the Zodiac Sign Scorpio. This factor indicates that the fire, that is presumably present between both of them, is going to cool down considerably, while Saturn operates its transit through Scorpio, in the next 2 ½ years – largely owing to practical reasons (given Saturn's staid influence). In other words, things will automatically get cold or, euphemistically speaking, pacified, despite the fact that this may be painful and saddening for both the people involved.
Further, as Arjun is born with Guru Rahu Chandaal Yoga, he is likely to be surrounded by controversies, or may be liable to defamed, due to his relationship/s with females.
---
What would be the ideal solution?
Astrologically speaking, Mehr and Arjun's relationship's planetary combinations are way stronger as compared to the Susanne-Arjun relationship planetary combinations. If Susanne and Arjun decide to unite as a couple, they are most likely to face major issues, and it would be pretty fiery too, because Susanne's strong Mars falls on Arjun's Sun (both are fiery planets). There may also be conflict of power, power struggles and authority issues between them.
With Mehr, even if relationship becomes a bit complex, Arjun will be able to live his life more happily, whereas in his relationship with Sussanne, there may also be problems related to expectations in love.
Summarily, Ganesha feels that it would be good, if Arjun and Susanne watch their proximity. Given the fact that the planetary transits during next 2 ½ years are going to be stressful, specifically for Arjun and Mehr, they too must also keep their calm and balance, and ideally should not resort to separation and public outbursts, out of frustration and slow momentum in many matters.
Ganesha wishes everyone well!
With Ganesha's Grace,
Bhavesh N. Pattni
The GaneshaSpeaks Team
---
---
Get 100% Cashback On First Consultation