Are Dev Patel and Freida Pinto destined to be together?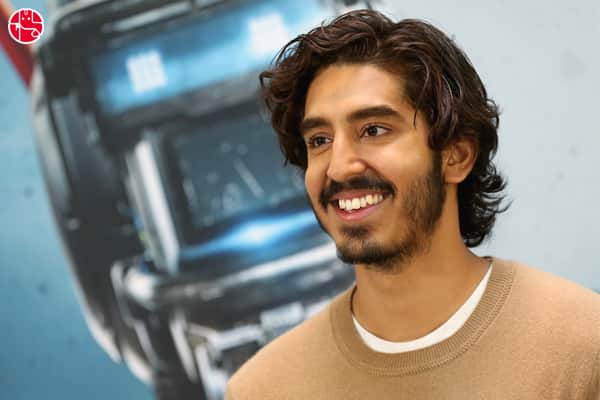 They were brought together by a film on how destiny helped a slumdog become a millionaire. Slumdog Millionaire went on to achieve the unthinkable; it won the Oscars. The lead actors in the film, Dev Patel and Frieda Pinto, were catapulted to superstardom, overnight. So when they two started dating, it was safe to say that they were destined to.
Now, Dev Patel has landed himself quite a few enviable film offers. The actor is currently shooting for M Night Shyamalan's The Last Airbender. Frieda Pinto too has some coveted projects in her kitty. Even as the news reports of an affair brewing between Patel and Pinto are flooding the gossip columns, Ganesha gazes into the future and predicts how long is the couple destined to be together.
Dev Patel
Date of birth:- 23rd April 1990
Time of birth:- Unavailable
Place of birth:- Harrow, Greater London, England
Dev Patel Surya Kundli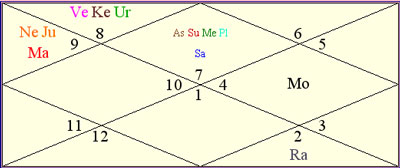 Freida Pinto
Date of birth:- 18th October
Time of birth:- Unavailable
Place of birth:- Mumbai, India
Freida Pinto Surya Kundli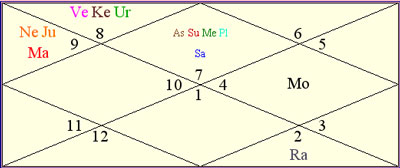 Astro analysis:
Currently, Dev is under the influence of Rahu Ketu Return and this phase will last till November 2009.
In Dev's chart, Venus, the planet of love, and Mars, the catalyst, are in Aquarius. This conjunction is aspected by Jupiter's 9th aspect.
In Freida's horoscope, transiting Saturn is in Square with Venus.
Venus is placed with Uranus and Ketu – two malefic planets in Freida's chart.
Venus in Dev's chart forms Square with Venus in Freida's chart
Both, Dev and Freida, have Sun in an opposite sign.
Dev and Freida's relationship:
Currently, Dev is under the influence of Rahu Ketu Return phase. This planetary configuration may make him build new Karmic connections and end old Karmic connections. While Jupiter remains in Aquarius, between 2nd May and mid-June 2009, their relationship will be in focus because Jupiter will be transiting over Dev's Mars and Venus. On the other hand, in Freida's chart, transiting Saturn forms square with Venus and Ketu. Venus' position with Ketu and Uranus indicates that she may have an unconventional relationship, which may not work out.
Sun to Sun opposition indicates mutual attraction. However, the road to marriage seems long and sinuous. Ganesha doesn't foresee this relationship leading to a wedlock as there are no strong contact points found in both the birth charts. In fact, Venus to Venus square indicates that both Dev and Frieda may find it very difficult to understand each other's needs.
Although Dev and Freida make a good pair in reel life, unfortunately, they don't make one in real life, as per Ganesha's view. Dev is just fulfilling his Karmic bonds in this relationship, feels Ganesha.
Good luck and may Lord Ganesha bless Dev and Freida with a successful career ahead.
With Ganesha's Grace,
Bhavesh N. Pattni
www.GaneshaSpeaks.com