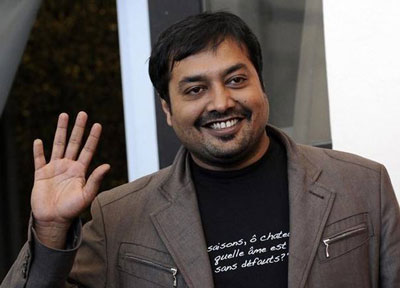 Anurag Kashyap – the man best known for the classy and unconventional cinema that he conceptualises and presents to the movie-lovers, is an inspiration for many aspiring film-makers as well newcomers in the world of cinema, who want their audiences to understand the depth of art and creativity. With wonderful and memorable films like Dev D, Black Friday, Gulaal and the two-part crime drama Gangs of Wasseypur, Anurag has proved to be an exceptional film-maker with great sensibilities and art - that consists of all the intricacies and elements that make for an excellent movie-making brain! Kashyap was awarded the Ordre des Arts et des Lettres (Knight of the Order of Arts and Letters) by the Government of France in the year 2013 for his contribution to films. This naturally talented Leo film genius celebrates his birthday on the 10th September! Check out Ganesha's predictions...
Anurag Kashyap
Date of birth:- 10th September, 1972
Time of birth:- Unknown
Place of birth:- Gorakhpur, UP, India
SOLAR CHART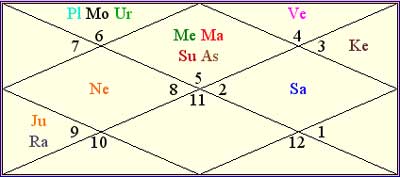 Strong Combination of Sun, Mars and Mercury in the fiery Leo:
Ganesha notes that there is Stellium of 3 planets Mars, Mercury and Sun in Leo sign in Anurag Kashyap's chart. This makes him very energetic. The qualities and traits of the Sign of Leo get magnified and highlighted due to the Stellium in it, so, he is likely to remain in the limelight and he shall always be able to attract the attention of the masses.
Transiting Jupiter's journey over the Stellium in Leo:
Jupiter's favourable transit over his Mercury, Sun and Mars during the year ahead indicates that he will be coming up with very good movies and this will be a bright phase for him. He may also start working on a project that may be a very unconventional or challenging subject and this may prove to be very enjoyable, as Kashyap is always known for a very different and unique style of cinema.

One of the films that he writes/directs or produces during the upcoming year will bag some award, feels Ganesha!
Jan 2016 - Rahu joins Jupiter in Leo : A roller-coster ride in store
Rahu's transit over his natal Sun, Mars and Mercury post January 2016 indicates that he will have to take good care of his health and public image both.
Be careful in relationships with women, warns Ganesha!
He is already born with Jupiter-Rahu conjunction, which is also known as Guru-Chandal Yoga/Dosha. Between 31st January and 11th August, 2016, transiting Jupiter and Rahu will be conjunct in Leo sign, forming Trine with his Jupiter and Rahu. During that particular period, he will have to be extra careful as that period would indicate chances of defamation due to a member of the opposite sex.
Some more bold subjects in the pipeline?
Ganesha feels that Anurag Kashyap is going to come up with some bold subjects and hard-hitting cinema during the year ahead, be it as a producer or as a director. We will get to see something more innovative and different from him during the next one year, says Ganesha.
Ganesha wishes Anurag a most happy birthday.
Ganesha's Grace,