Anil Kapoor will shine in the Comedy genre till January 2016, Assures Ganesha…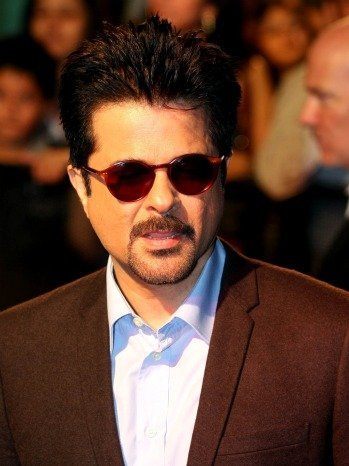 He is not a true movie-lover, who doesn't know Anil Kapoor or who has not seen his movies like Nayak, Mr. India, Ram Lakhan, Tezaab, Lamhe and more such 'Anil Kapoor-esque' movies. He literally ruled the Bollywood in the period of late 80's and early 90's! With very strong and excellent performances, and a typical style that was much appreciated, Anil created a different niche for himself in Bollywood and he concretised his position as a very prominent actor. He made us cry, he gave us reasons to laugh, he made us appreciate love, he inspired us- he did many things which make us like the actor, not only for his acting, but even as a human being. This Capricorn star will be back in the movie – Welcome Back as Majnu Bhai and he seems sure to give us those super laughter doses. But what do the stars indicate about the actor? Ganesha finds out...
Anil Kapoor
Date of Birth :- 24th December , 1956
Time of Birth :- Not Known
Place of Birth :- Chembur ,Maharashtra, India
SOLAR CHART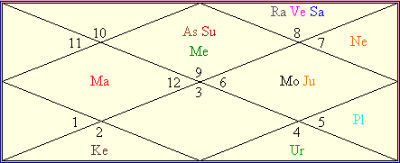 Owing to the unavailability of credible birth-time of the celebrity, the analysis and predictions have been done on the basis of the Solar Chart/ Surya Kundli with the help of his birth-date and birth-place only.
Astrological Predictions :-
How will his coming time be?
Ganesha notes that Anil Kapoor will be fortunate to get new offers for the films from big banners which may even offer him the leading role for their films, as currently, the Jupiter's transit through the Leo sign while aspecting his Sun will be favourable.
Rahu's transit over natal Jupiter till January 2016, indicates that roles that he selects may not be very wise choices and there may be some confusion, when it comes to making the right decisions, as Jupiter represents wisdom and prudence, and his affliction may lead to mistakes in the areas that he represents.
Saturn's transit over the Venus, Saturn and Rahu of the Solar Chart indicates that he should take good care of his health.
His financial planning during the year ahead will remain very vital as there are chances of sudden losses.
What kinds of roles should he do?
As transiting Jupiter will be aspecting natal Sun and Mercury, he should either do comedy films or should select light roles.
Heavy and very serious characters may not suit him much, at least currently.
If he chooses to do negative roles within January 2017, it will be well received.
Will Hollywood happen again?
Ganesha finds that, Hollywood may happen again for Anil Kapoor ,when Jupiter will transit through the Scorpio sign in his chart, post 12th October, 2018. He will again prove that he is still fit for overseas assignments and can even do well.
Ganesha wishes a great time ahead to Anil Kapoor and also for his new film Welcome Back.
With Ganesha's Grace,
Rantidev A. Upadhyay