Amrita Arora and Shakeel Ladak: Kitne Door Kitne Paas?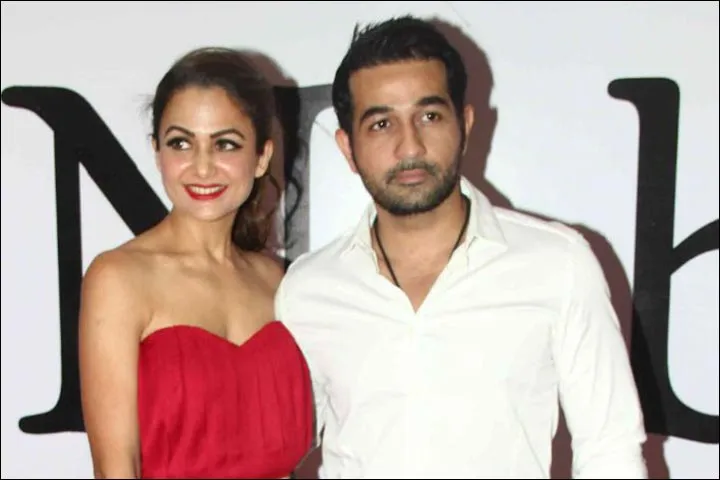 Actor Amrita Arora may not have played any memorable roles since her debut film Kitne Door Kitne Paas, but like her slightly more famous sibling Malaika Arora Khan, she has managed to grab enough eyeballs with her sex appeal.
Though the glamourous ex-model achieved moderate fame with the film Awara Paagal Deewana, she was mostly noticed for the oomph she oozed in her film Girlfriend and item number Delhi Ki Sardi. Her only meaty roles remain those as anchor of 'MTV Chillout' and 'MTV House Full'.
But despite having few films in her kitty, Amrita was the happiest woman on March 04, 2009, when she tied the knot with long-time beau Shakeel Ladak, who is director of a Mumbai-based construction company Redstone Group. Ganesha makes a numerological and astrological analysis of the newly married couple's compatibility and predicts whether they will lead a happily married life.
Amrita and Shakeel's name analysis
(As per Chaldean Numerology System)
Amrita Arora's name adds up to 8 as per Chaldean Numerology System. Number 8 indicates stability, possession, firmness and persistence. As this number is ruled by Saturn, sometimes, people born under this number are more practical than emotional.
Surprisingly, Shakeel Ladak's name also totals to number 8. This is the main reason why both of them were attracted to each other. Number 8 makes Shakeel a good administrator. This number is not so good at initiations as Saturn is a slow moving planet. However, as Shakeel handles the administrative part of the business very well, he is making the right use of his potential, says Ganesha.
Amrita being number 8 may also support Shakeel in his work and it shouldn't surprise anyone if she joins the company sooner or later to use her number 8 characteristics to the optimum.
Amrita Arora's Surya Kundli Analysis
Amrita Arora
Date of birth: January 31, 1978
Time of birth: Unknown
Place of birth: Mumbai
Amrita Arora's Surya Kundli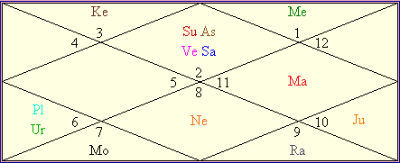 ---
Astrological Observations
Venus, planet of love, is placed with Sun, the symbol of glory, in Capricorn
Retrograde Mars is placed in the 7th House of Surya Kundli
Rahu is transiting over natal Sun and Venus. Ketu is transiting through the 7th House of Surya Kundli.
She is under the influence of Saturn's return phase.
Transiting Jupiter is giving exalted aspect to the 7th House of Surya Kundli.
---
Astrological Predictions
Ganesha notes that retrograde and debilitated Mars in the 7th House of marriage in Amrita's Surya Kundli gives direct aspect to Venus in Capricorn. This planetary position indicates disappointment she faced in her past relationship with England-based cricketer Usman Afzal.
Jupiter's transit over natal Venus and Jupiter's exalted aspect on the 7th House of marriage in the Surya Kundli blesses Amrita with a life partner.
She is undergoing a phase of major shift in her life due to Saturn's return phase and also because of Jupiter's transit over natal Sun. Amrita may keep working in Bollywood for a while but from the second half of 2010, she may take more interest in handling her husband Shakeel's business.
In the long run, Amrita may make her acting career a part-time activity, feels Ganesha.
However, this doesn't mean she will totally withdraw from Bollywood; it's just that she may be less inclined to appear on the big screen. In the next two years, she may also decide to act in serials.
Amrita may need time till the end of the year to adjust to her new routine and it will be a while before she begins to understand her life partner's emotional needs, specifically because Venus is in Capricorn. However, she may remain very loyal and dedicated to Shakeel, which is the high point of this relationship.
Good luck and may Lord Ganesha bless the couple with a happy married life.
With Ganesha's Grace,
Dharmeshh Joshi,
The GaneshaSpeaks Team
---
---
Get 100% Cashback On First Consultation