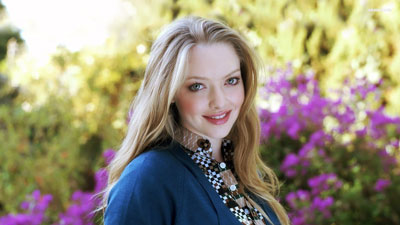 Amanda Seyfreid - Hollywood Actress, Model and Singer
Date of Birth :- 03rd December, 1985
Birth Time :- Not known
Place of Birth :- Allentown, Pennsylvania, USA
SOLAR CHART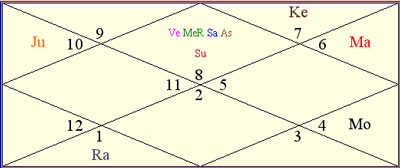 [Owing to the unavailability of credible birth-time of Amanda, the analysis and predictions have been done on the basis of the Solar Chart/ Surya Kundli with the help of her birth-date and birth-place only.]
Important Astrological Predictions:
Transiting Jupiter will be aspecting her Rahu posited Aries, till 11th August, 2016.
Rahu will be transiting over her Mars till 30th January, 2016 in her Chart.
Saturn will be transiting over her Sun, Mercury, Venus and Saturn in Scorpio in her chart during the entire year ahead.
Astrological Predictions:
Amanda Seyfreid will be under the negative influence of transiting Saturn and Rahu in her Chart.
Her performance may not be very impressive and may not be acknowledged too well by the audience in the movies releasing during the year ahead.
She will have to respond well to the opportunities that will come her way in the year ahead. If the opportunities will not be grabbed by both hands, then she may have to face a lull in her career. So, the key words here are opportunities and reaction.
She may have to adopt a cooperative and flexible approach towards her colleagues and friends. Otherwise, relationships with close ones will otherwise get bitter.
She will have to pay good attention to her health unfailingly, as the current period seems very sensitive for her health and well-being.
Owing to Saturn's heavy influence on 4 key planets of her Chart, she will constantly feel great pressure and stress in whatever she does. There will be a feeling of negativity and she may even experience mood swings. The only thing to be kept in mind is that, she should not let this particular aspect affect her career. Emotions and expressions will matter a lot in this phase for her.
She may not be able to cope up with her male co-stars and the flow with which they may perform on-screen.
On the whole, the year may not be vibrant for her career as an Actress, Model or Singer. She may have to concentrate for her singing and acting talent also.
Ganesha wishes good luck to Amanda Seyfreid on her birthday.
With Ganesha's Grace,
Rantidev A. Upadhyay
The GaneshaSpeaks.com Team