Ganesha foresees a slightly challenging yet a successful year ahead for Khiladi Akshay Kumar

Making his Bollywood debut with the 1991 movie Saugandh, the Bollywood actor Akshay Kumar has surely come a long long way. His earlier films were primarily romance and action oriented, including the famed Khiladi series, which justly earned him the Khiladi Kumar title. But, Akshay made a nice detour in his later films and impressed all and sundry with his comic timing in many movies, including the very famous Hera Pheri. Today, most of his films are an intelligent combination of comedy and action – a package that seems to be working rather very well for him. His golden run in the Hindi film industry can be gauged from the fact that the box office collections of Akshay's films till February 2013 have crossed Rs. 2000 crore, and he is the only Bollywood actor to achieve this feat. Akshay Kumar was also awarded the prestigious Padma Shri by the Government of India in the year 2009. Married to Twinkle Khanna, the daughter of yesteryear's super-star Late Rajesh Khanna, Akshay is now a proud father to two. He celebrates his 46th birthday on September 9th, and we wish him best. Ganesha also takes this opportunity to look at Akshay's Surya Kundali to predict the way ahead for the Khiladi.


Akshay Kumar
9th September 1967
Surya Kundali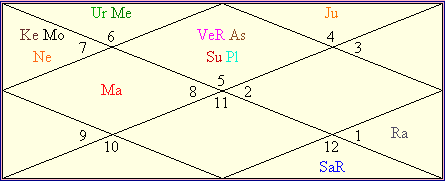 Astrological observations
Akshay Kumar is born with the Swagruhi Mars and Sun. No wonder, he doesn't mind performing action scenes without the help of any duplicates. He is a dare devil by nature – and the credit goes to these two planets.
His Mercury is exalted, which gives him a sharp intellect.
Till July 2014, the transiting Jupiter will be in a Sextile aspect with Akshay's Natal Sun and Venus. After that, he will be under the influence of the 'Jupiter return'.
The ongoing Saturn and Rahu transit through Libra isn't good for Akshay, but post July 2014, when Rahu moves to Virgo, a better time may be expected.
Rahu Ketu half return till July 2014 is also going to be a bit difficult for Akshay.
Astrological predictions
As aforementioned, the Rahu Ketu half return till July 2014 is going to be bit difficult for Akshay, so he will have to be very careful.
However, that would only mean hard work and disassociation with some producers/directors that he might have been working with regularly.
Jupiter's transit through the 11th House from Sun, of course, indicates that some of his films are likely to be box-office hits, even though they release before July 2014.
The transiting Jupiter's semi-sextile aspect with his Natal Jupiter will start giving Akshay positive results, post October 2013. As the transiting Jupiter will be in degreecal semi-sextile with his Natal Jupiter - June 2014 will be an important month for Akshay Kumar.
This also means that despite minor ups and downs in his career as an actor, Akshay is going to keep achieving newer heights.
During the year ahead, Akshay Kumar may also be nominated for an award.

Ganesha wishes a great year ahead to Akshay Kumar.

Ganesha's Grace,
The GaneshaSpeaks Team

Read Akshay Kumar's Horoscope Predictions for 2017-2018.