A challenging year ahead for the confident actress Jiah Khan, says Ganesha.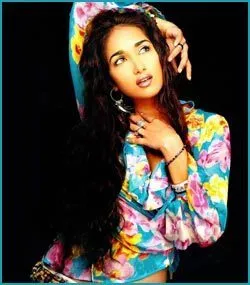 Going against the grain is never easy; being unconventional requires exceptional courage. And, when it comes to the beginning of a career, most would want to play it safe. However, Jiah Khan, the UK based Indian actress, chose to be different. All of eighteen years, she debuted opposite the much-older Bollywood super-hero Amitabh Bachchan in the year 2006. The movie was the very controversial Nishabd! The film failed to work its magic at the box office, but it did bring confident Jiah recognition and limelight, especially in form of a Filmfare Best D?butante nomination. The movie's atypical plot, dissimilar to the usual formula films, did generate a lot of hype. But, did the same result in young and decidedly talented Jiah getting branded for the times to come? Maybe! Jiah, of sensuous curly mane and large, expressive eyes, did feature in a few films including Ghajini and Housefull, but largely failed to make a mark.
Jiah has completed A levels in Film Studies and Literature from London, and it seems that there's much more to her than her sensuous looks. What has stopped her from making it big in the Indian Film industry? Will she be dismissed as yet another pretty young thing? As she celebrates her 24th birthday on 20th February 2012, Ganesha, with the help of Vedic Astrology, looks at the natal chart of this hot actress with immense yet untapped potential.
Jiah Khan
Date of birth:- 20th February 1988
Time of birth:- Unavailable
City of birth:- New York, NY, USA
Jiah Khan Surya Kundli
---
Astrological Observations
Jiah Khan is born with an exalted Venus with Moon. Both are in Revati constellation, and that fact makes her a beautiful and good actress.
Sun is placed with Rahu, so she is born with Surya Grahan Yog.
Jupiter and Mars are in exchange.
Currently Rahu is transiting through the 10th House from Natal Sun and Rahu.
Jupiter and Ketu will conjunct in Taurus post May 2012, and will form Square with her Natal Sun and Rahu.
Saturn will be transiting over Natally retrograde Pluto.
---
Astrological Predictions
Jiah Khan's birth chart indicates that she is an actress with good potential. However, the year ahead doesn't seem to be very good for her.
Grahan Yoga of Surya and Rahu may not allow her to reach the desired position in Bollywood, feels Ganesha.
Saturn's transit over Pluto indicates that she may suffer from depression or inferiority complex during the year ahead as she might come across
people with higher calibre than her, during the year ahead. This may make her feel that she has to learn a lot to achieve her career goals.
As there are many hard aspects taking place in her chart during 2012, she may not find suitable projects or she might be dropped out from films during the year ahead.
During the year ahead, she will have to work very hard to get quality work. She might have to appear for more auditions to keep her name alive
in Bollywood, else she may be lost in time and become Nishabd.
In short, year ahead looks set to be quite challenging for Jiah Khan, says Ganesha.
The only months which look good for her are February and March 2012. If all goes well, then 2013 may bring good news for Jiah's career.
Ganesha wishes Jiah many happy returns of the day in advance.
To Get Your Personalised Solutions! Talk To The Best Astrologer Now.
With Ganesha's Grace,
Bhavesh N. Pattni
The GaneshaSpeaks Team
---
---
Get 100% Cashback On First Consultation