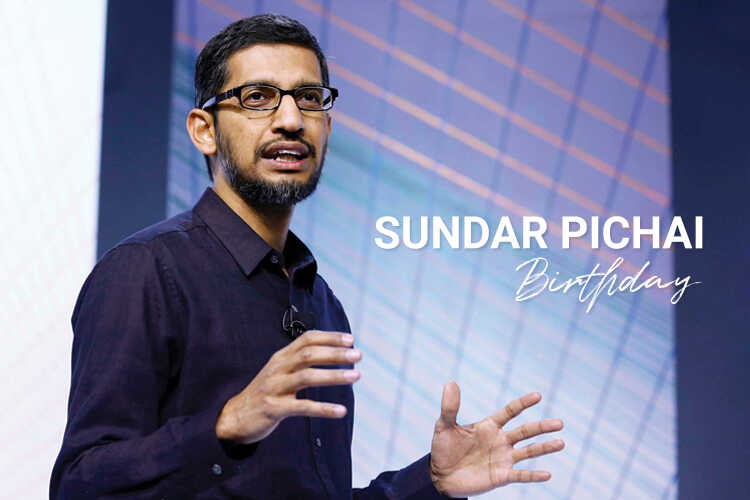 One of the most influential personalities of the youth, Sundar Pichai is an Indian-American business executive. Born in Chennai and an engineer from IIT had made a landmark on an international level, maybe owing to his birth stars.
In less time, he has achieved success which is the main reason for his popularity. So,let's see the reason for his success from the astrological point of view which gave him international status and authority.
As per Sundar Pichai astrology, he is born as Pisces ascendant ruled by Jupiter,which makes him a very imaginative and creative person. His sign is Cancer ruled by the Moon and constellation Pushya ruled by Saturn, which makes him a very organised and hard working person which is the primary reason for his success in his life. Additionally, Rahu in Capricorn gives him tremendous organizing and leadership qualities which helps him to work at his best and influence masses. Taurus Saturn blesses him with the characteristics of groundedness and practicality,and no doubt, these qualities give this CEO of Google immense strength to work harder to achieve desired results.
What are the real strengths of your planets and when will you finally succeed? Get a detailed report based on your Janampatri.
So, let's reveal on his birthday 12th July 2021 what the future has stored for him and how he will be affected for the whole year with transits taking place.
Sundar Pichai Birth Chart:
Sunder Pichai Birth Date: July 12, 1972.
Time Of Birth: Unknown.
Place Of Birth: Chennai.
sundar pichai kundli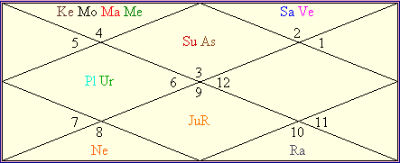 How Will be His Future at Google in the Upcoming Year?
Yes, his time is very good and he will get more opportunities for future business development.Transiting Saturn in the 11th house of the horoscope will bring a new opportunity for him to receive more gains. Saturn transit in Capricorn will force him to do something innovative for Google, which will be quite long lasting and impactful for all over the world. With Jupiter transit in Aquarius,the CEO will bring new ideas to Google to make it more technologically rich and at its best.
He will enter into International tie ups and develop effective  marketing strategies. He will be able to create a lot more connections for future development with powerful Jupiter transit. After September, Jupiter's backward movement in Capricorn will help him to make a strong organizational structure. Saturn and Jupiter in the 11th house will help to move ahead in his life.
As per Sundar Pichai horoscope,this year will bring some new changes in his life as he is going through Venus mahadasha and Saturn antardasha. Also, this period will be quite promising and can bring  some serious development for Google. This will mark a new chapter in his life regarding the search engine giant.The year will be far better than 2020 with a kick-start in his life.
Sure Shot Success in His Dream Project - Ambient Computing
This year is the strong indication for his success in the dream projects like Ambient computing and E-commerce which was in his mind for a long time. Planet of restriction Saturn and planet of expansion Jupiter both are transiting in the 11th house of the natal chart over Rahu that gives him the necessary push to do something grandeur in life which is unbelievable as well. He will build a strong necessary foundation this year for his dreams. Mars transit in Leo will give him amazing leadership qualities as well the courage to move ahead in professional life with full confidence. Mars transit will be very beneficial for him this year. This time his courage and motivation will be at its peak which again brings growth into his  professional life. As he is going through Venus mahadasha and according to the natal position, these will definitely lead to success. Furthermore,Saturn antardasha will bring a lot of solidity and stability.
Which career is suitable for you and which will give you immense success? Know with your FREE Yearly Horoscope 2021 Report.
Many Philanthropic Activities for India During This Pandemic
Yes ,definitely he will do more for his home country as the divine Jupiter transit in the 12th house of the horoscope, which  will give him the necessary ideas to do something for the country. He will become very philanthropic during  these challenging  times and will do more after November 2021 as Jupiter transits in Aquarius will give many more new ways to do it and apparently this year he might become spiritual as well. Rahu transit in Taurus over natal Venus and Saturn will make him very unconventional in his approach but surely will help to do something unimaginable for the country. Whatever things he will do, it will create a huge impact on his personality as well which will again increase his popularity. As he is going through Venus mahadasha and Saturn antardasha his approach towards this pandemic will be very considerable. He will give importance to this situation and will help in every way possible with his resources.
Fruitful Time for Relationship with US Government
As per Sundar Pichai kundli, the coming time is very favorable for him which will make the google relationship with the US Government very strong as the Jupiter transit in Aquarius will surely push him to move ahead. Jupiter transit over natal Rahu will also bring some unknown things in the relationship which can create a huge impact in relationship with the government. There is strong indication that the communication will be at its best because of the Mercury transit throughout the natal chart which will bring new ideas and clear pathway of thought process for him to build strong relationships. Ketu transit in the fortune house will make him fortunate during this time to make relationships very easily as this transit will remove some unnecessary hurdles as well. This year as he is going through Venus mahadasha and Saturn antardasha, he will be very practical which will help him to create long lasting relationships with the government. Saturn antardasha will make him very determined and committed towards this process.
As per the horoscope of Sundar Pichai,overall a very good year ahead and a very positive time for him.The Google CEO can expect really serious professional growth during this time.This year will bring something new from him at career level which will again bring a solid strong foundation for him. Many more creative projects with tremendous profit and gains for him. He is not going to stop here and definitely will surprise us in many extraordinary ways.
Ganeshaspeaks wishes a lot more success for him in future.
Upscale Your Business Growth & Career Prospects With Personalised Guidance - Talk To Expert Astrologer Now!
With Ganesha's Grace,
The GaneshaSpeaks.com Team
Astrologers trained by Shri Bejan Daruwalla.