Chances of Nano going to Gujarat
Introduction: With Tata Motors officially declaring their decision of winding up their project of the small car Nano in Singur in West Bangal, speculation is spreading like wild fire as to where the new Nano manufacturing plant would be established. The governments of Gujarat, Punjab, Haryana, Maharashtra, Andhra Pradesh and Karnataka have reportedly invited the Tatas to set up the project in their respective states. In the light of this Ganesha predicts about the chances of the project finally going to Gujarat.
Chart of Nano Unveiling at Pragati Maidan
DOB – 10th January 2008
TOB – 10:00 AM
POB – New-Delhi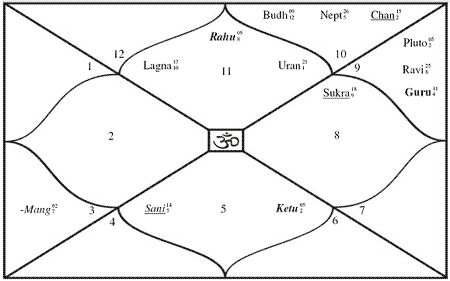 Vital Astro Points
Nano Chart
The Ascendant is in Shattara Nakshatra
The Fortuna and Mandi are in Purvabhadrapad Nakshatra.
Sukra is the lord of the ninth house of long distance as well as relocation placed in the tenth house of Karma.
Rahu the significator of relocation is in the ascendant.
Nakshatras signifying Gujarat
Nakshatras Shattara, Purvabhadrapad and Uttarabhadrapad signify Gujarat.
Nakshatras Jyeshtha, Moola and Purvashadha signify Saurashtra
Aries signify Baroda
Taurus Signifies Surat
Libra signifies Gujarat
Nakshatras signifying Other States
Nakshatras Uttarafalguni, Hastha and Chitra signify Karnataka and Andhra Pradesh
Nakshatras Jyeshtha, Moola, Purvashadha signify Punjab and Haryana
Astro Analysis for Location
The ascendant Nakshatra is in Shattara which signifies Gujarat, The Fortuna of Nano is in Purvabhadrapad, which also signifies Gujarat. However, Mandi in Purvabhadrapad may a play spoil sport.
Surya is in Purvashadha, Guru is in Moola and Sukra the lord of the ninth house of relocation is in Jyeshtha, all three Nakshatras signify Saurashtra, which again, is a part of Gujarat.
Notice that the ninth house of relocation of Nano is in Libra which also signifies Gujarat.
The third house of efforts and manufacturing is in Aries which signifies Baroda, a part of Guajarat, the fourth house of domicile of Nano is in Taurus which signifies Surat, yet another part of Gujarat.
No planet of Nano's chart is in any Nakshatra signifying either Karnataka or Andhra Pradesh- two other Indian states reportedly trying to bring the Nano project to their respective territories.
Surya, Guru and Sukra are in the Nakshatras that signify Punjab and Haryana. These the are astrological contenders for the project. These states do not have the support of the ascendant Nakshatra and the POF Nakshatra which Gujarat has. This makes them weaker contenders than Gujarat.
Astro Analysis for Timing
On 6th October 2008 Chandra is in Moola and on 7th it is in Purvashadha. These two Nakshatras again being significators of Punjab, Haryana and Gujarat, and Gujarat being a major contender as far as astrological indicators are concerned, if the final decision were to be taken on any one or both of these two days it will be more in favour of Gujarat than the other states.
Adverse Factor
It has been widely reported in the national as well as the regional media that the Chief Minister of Gujarat Mr. Narendra Modi is offering land in Sanand, near Ahmedabad, central Gujarat. However, no Nakshatra in Nano's chart stands for central Gujarat or Sanand, which though is to the west to Ahmedabad, it is not in Saurashtra. This may result in Gujarat losing the 'race for Nano'. This clearly means that if an alternative location is also offered by the Gujarat authorities, then Ganesha feels that Gujarat may be successful in getting project.
The other astrological factor is that the name Sanand starts with the consonant (Sa), which is the first consonant in Singur too. Both these names fall in the ascendant of Nano's chart. Both the letters Sa and Si fall in Shattara Nakshatra. Shattara is ruled by Rahu- a separative planet,- and it may not allow the project to finally come to Sanand.
Summary
Summarily, with the location of Sanand in mind, Ganesha feels the project may not land in the lap of Gujarat. However, if any other location either in Saurashtra, South Gujarat or Kutch is chosen for the project then Gujarat leads the pack and may win. Otherwise it could be be either Punjab or Haryana, but neither Karnataka nor AP in any circumstance.
With Ganesha's Grace,
Rikhav Khimasia
www.GaneshaSpeaks.com