Importance Of Yoni Matching For Marriage In Kundali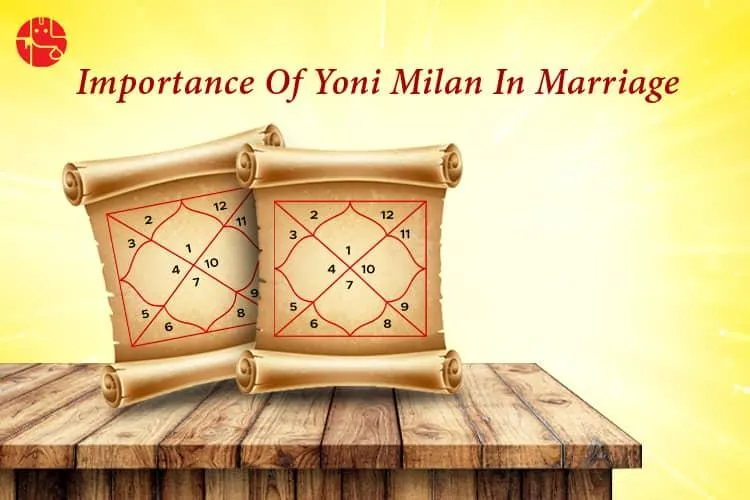 Marriage is one of the most awaited moments in the life of many and Kundli matching, or Janam Kundli Milan plays a vital role in the marriage of two individuals. Kundali matching is the process of matching horoscopes of the prospective bride and the groom. A couple will have a happy and prosperous married life if the Janam Kundli or Janampatri match is made considering all the relevant doshas and yogas.
As per Vedic astrology, there are 36 gunas which are matched to check the compatibility of the two people. However, there are other factors as well to be looked into by astrologers. At the time of horoscope matching for marriage, astrologers would analyze the birth charts of the boy and girl and based on the Dasha periods and gunas, provide appropriate guidance for marriage.
Out of all the above Guna Milan tests, Yoni Milan in Kundli is one of the essential parameters in guna matching for marriage. Yoni Milan is based on 14 animal characteristics and analyzed based on the Janma Nakshatra of a person. It helps to explain the affinity and biological compatibility of partners as per the behaviour and attitude of a person.
Yoni matching is considered to be essential criteria before tying the knot with someone. Let's find out the significance of Yoni matching in astrology:
---
Significance of Yoni Matching For Marriage
While matching the birth chart of both the partners, their mental state, attitude, areas of interest and other such parameters can be predicted from the placement of planets in Kundli. But, in addition to mental compatibility, physical compatibility is also important for the marriage to survive in the long run. Yoni matching helps to analyze the intimacy and biological compatibility of partners.
There are 28 nakshatras in the world which are further divided into yonis. These 28 nakshatras and 14 yonis, thus two Nakshatras belong to each Yoni. Below is the classification of Yoni based on 28 nakshatras:
Ashwa Yoni: Nakshatra – Ashwini, Shatbheesha
Gaja Yoni: Nakshatra – Bharanu, Revati
Mesh Yoni: Nakshatra – Pushya, Kritika
Sarpa Yoni: Nakshatra – Rohini, Mrigsheera
Shwan Yoni: Nakshatra – Mool, Arda
Marjara Yoni: Nakshatra – Ashlesha, Purnavasu
Mushaka Yoni: Nakshatra – Magha, Purvaphalguni
Gau Yoni: Nakshatra – Uttara Phalguni, Uttara Bhadrapad
Mahisha Yoni: Nakshatra – Swati, Hasta
Vyagrah Yoni: Nakshatra – Vishakha, Chitra
Mriga Yoni: Nakshatra – Jyeshtha, Anuradha
Vanara Yoni: Nakshatra – Purvashada, Sharavana
Nakul Yoni: Nakshatra – Uttarashada, Abhijeet
Singha Yoni: Nakshatra – Purva Bhadrapad, Dhanishtha
---
Relationships between Yoni and nakshatras:
Swabhava Yoni: It is considered auspicious for marriage.
Friend Yoni: It indicates harmonious relationships between the couple.
Neutral Yoni: It indicates that married life is likely to be average.
Opposite Yoni: It is considered as inauspicious for marriage.
Enemy Yoni: It indicates that the relationship may create problems in married life.
---
Conclusion:
So this is why Yoni matching is considered essential and relevant in Vedic astrology. Kundli Matching works to pave the way for the couple to have a blissfully married life. If there are any malefic planets or yoni dosha in one's horoscope, astrology can help you with remedial solutions.
To Get Your Personalized Solutions, Talk To An Astrologer Now!
With Ganesha's Grace,
GaneshaSpeaks.com
---
---
Get 100% Cashback On First Consultation