When Will I Get A Job?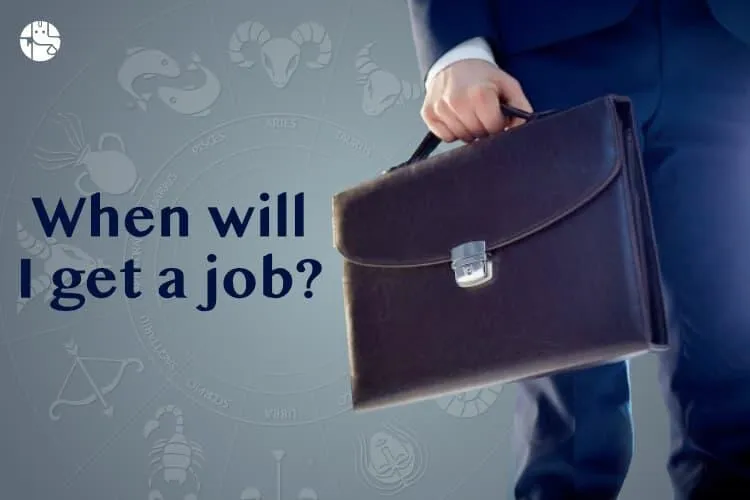 Are you having a hard time finding a job, and starting to feel discouraged? If you're sending out your resume, and filling out applications but not hearing back? If you've been job searching for a long and haven't got the results you wanted, this article is going to help you answer "When will I get a job?"
Career prediction astrology can come to your rescue if you need help with resolving your problems and achieving professional growth through job prediction by date of birth and deciding your astrology career path. With career astrology, you can get answers to all your professional concerns and insight into your professional prospects.
Career astrology is a powerful science that's based on Vedic principles and with the help of which you can get a job. You can turn an adverse situation into a favourable one by following suggested solutions, and it is quite possible to achieve desired progress and create the life that you want.
Based on your horoscope, you can know when will you get a job. Astrologers can predict in advance on the basis of your birth details. While going through your horoscope to find out job opportunities, each and every planet has to be studied with their placement in a particular sign and house, whether the planet is exalted or debilitated, aspect of the related house, etc. Get your horoscope analysed by an expert astrologer and find a way to take off your career: Talk to an Astrologer now!
---
Some important astrological parameters for Job
According to astrology 1st house, 2nd house, 6th house, and 10th house are responsible for job or profession. 2/6/10 houses form Arth Trikon.
First House: It indicates your personality, natural disposition and tendencies, and self-interest.
Second House: This is the house of wealth. It indicates financial affairs, monetary prospects, and liquid cash.
Sixth House: It indicates service, work environment, debts, enemies, etc.
Tenth House: It rules the profession, occupation, honour, fame, promotion, and employer. In fact, the 10th house signifies all careers related questions.
A lot of information regarding your career can be known by analyzing these houses in your Janampatri. The analysis of your zodiac sign and the planets in these houses reveals your various career-related potentials too.
---
Tentative Timeframe To Get Job
Along with this Dasha of planets, the transit of planets – Saturn Transit and Jupiter Transit are also considered. The Dasha of planets creates favourable & unfavourable periods in life. They are important for your career too. The planets also have a lot to reveal about your career path and how you approach your working life. Talk to our astrologer who can help you to find your career strengths and provide some professional guidance. They also study your various character traits influencing your career. Thus, you can know about your favourable and unfavourable attributes and give you the inputs to refine your character and benefits your career growth.
---
Wrapping up:
With the help of career astrology, you can know 'how would be your career', 'what options you can try' or 'when will you get a job'. Career astrology reveals the general flow of your career and the advantages you would get. You can also know about your opportunities, future scopes, fund flow, possible complexities, etc.
---
---
Get 100% Cashback On First Consultation