Browsing Internet Based on Your Zodiac Signs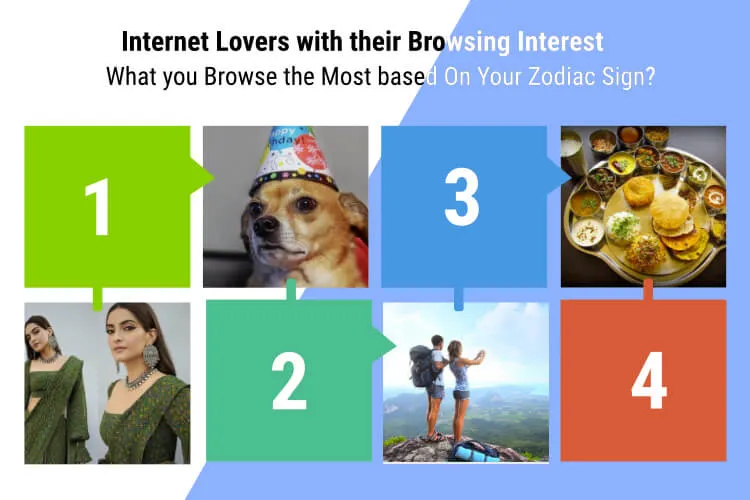 Hola Internet Fam Gems! Tell us frankly, what do you like watching on the Internet? Sarcastic Memes, Fashion blogs, Porn, or People's status. Don't Judge, people use the Internet according to their moods and their Data packs. Needless to say, you can't watch web series all day in 1080 resolution with a 1.5 GB Data pack. Shoutout to all who are having Wi-Fi with unlimited Data. People say that Wi-Fi providers are being treated so nicely that they can actually feel the presence of heaven on earth. Have you ever noticed some of their Wi-Fi names? It goes like, Password is password, no free wifi for you, and so on…
If someone is depressed, that person would watch or read motivational content. If someone is single and ready to mingle, he/she would browse dating apps. Married girls or those who are about to get married would learn different cooking dishes in order to impress her husband's family. Undoubtedly, nowadays, boys too do the same. Welcome to an Advanced or Practical Era! So, today we will be talking about different Zodiac Signs Internet Habits. Without ado, let's get started….
---
Aries
Aries people are impatient ducks. They'll only browse online if it's extremely important. No, we are not talking about auto calls saying, "Sir, take the loans from our bank at xyz% interests." It might happen that they see some interesting thumbnail, like "Man hugs a Wild Lion, You won't believe what happens next!" After clicking on that, you came to know that Lion was the name of a family Labrador. Clickbait Rocks! They usually like watching action-packed content, fitness, or sports. They are neither much active on social media, nor they have a keen interest in watching porn.
Hey Aries, feeling low and get tips to Boost your mood based on Your Zodiac Sign
---
Taurus
Beauty attracts Taurus people. That's one of the reasons they search for decoration tips online. Makeup tutorial videos are always in the loop of their playlist. Reading some interesting food recipes is also one of their part-time interests. As we say, a good writer is a good reader. Not only Taurus likes watching creative content but also they learn from it simultaneously. Lastly, they only prefer shopping online when there is some good sale. The miser would be a wrong word though to describe them. They won't mind watching porn sometimes.
---
Gemini
Curious creatures in the House! They are the most enthusiastic people when it comes to learning something new. Their search history also looks kinda weird. Like, who watches videos such as, 'How to breath', 'Who's going to cry when I die', and so on. However, watching content on OTT platforms is something they enjoy the most. Once you send a message to Gemini, they will consume half of your mobile data by chatting all day.
Opportunities coming your way in 2023. Check your Personalised 2023 Horoscope Now!
---
Cancer
Cancers love watching mouth-watering food blogs and videos. We can give them the tag of being insanely Foodie. Motivational videos heal them when their mood gets off. Listening to their favourite songs, putting their opinions on social media sites, & online shopping is their cup of tea. Interestingly, they are Meme lovers too. They are not much into social media posting and expressing. Watching porn is something not an exciting ride for them.
---
Leo
Leos are always looking for opportunities to grow their aura. Yes, you heard that right. Here or there, growing their personality is what they always look up to. They watch makeup tips, gyming tips, & leadership. We need to ask a very serious question to Leos, why do you guys read psychology blogs in secret? There is nothing to hide about these pals. They won't watch other people's stories and status like nosy people, instead they believe in increasing their own followers.
---
Virgo
Like Twins, Virgins are curious too. It does not mean they are not concerned about their life goals. They probably know what they exactly want to watch. Even if they watch any random videos, they won't watch a series of similar videos. Their best entertainment lies in watching standup comedy, or any humorous content. Ultimately, they are unexcited about porn websites.
---
Libra
Libra people are the fans of fashion, beauty, music, cultural art, & online cooking tips. Sounds so enthusiastic, isn't it? However, their interest lacks in reading blogs. If it's about reading or watching, Libra would love to choose watching. They are also considered as Social media jams. The best thing about them is they not only watch but implement whatever they learn.
---
Scorpio
Scorpions are as secret as Eggy from the film called 'Kingsman'. They are always looking for the answers of their endless deep questions. They would always nod in watching good graphical content. After all, their favourite genre is 'Sci-fiction'. They have a good interest in watching porn, but at the same time, they know not to make it an addiction. Surprisingly, they are very choosy. When it comes to Social media, they won't like any unknown person to comment on their post.
---
Sagittarius
Hola Sagittarius, their browsing interest is something that you should not miss reading. They like watching the content about foreign culture, money saving, or spirituality. They can watch anything which can shower wisdom to their life. However, their motive always remains learning. Being Chatty Cathy in social media sites can also be seen. Last but not the least, they also prefer taking online consultancy, reading food, or travel blogs.
---
Capricorn
Capricorns are hungry for online work. Here, they are a bit more extraordinary as they tend to learn something new. Freelancing suits best to them. In financial planning, they are the masters. Just as you know, 'Sachin Tendulkar' is considered as the master of cricket. This pushes them to watch or read about finance even more. TBH, they don't give a damn about social media and friends too. How simple and easy these words sound!
---
Aquarius
The major interest of Aquarius people are 1) Thinking about Society & 2) Politics. We can say that they are fine stalkers in social media. They like watching friend's profiles and their comments. We must alert you that there is no need to create any bad image. They avoid being linked up with any controversy. Also, they have a sound interest in watching porn. Believe or not, whenever they are alone at home, they like watching these things only.
Facing back to back problems in life? Talk to Our Expert Astrologers Now!
---
Pisces
Pisces loves both the audio and video world. They watch some impactful content in order to gain their own knowledge. Like Scorpions, they too engage themselves in finding answers to their endless deep questions. Remember a Zodiac Sign whose History used to be weird? You guessed it right. Like Geminis, Pisces history too might look kinda weird. Watching porn is not one of their major interests.
To Get Your Personalised Solutions! Talk To The Best Astrologer Now.
With Ganesha's Grace,
Astrologers trained by Shri Bejan Daruwalla
The GaneshaSpeaks Team
---
---
Get 100% Cashback On First Consultation