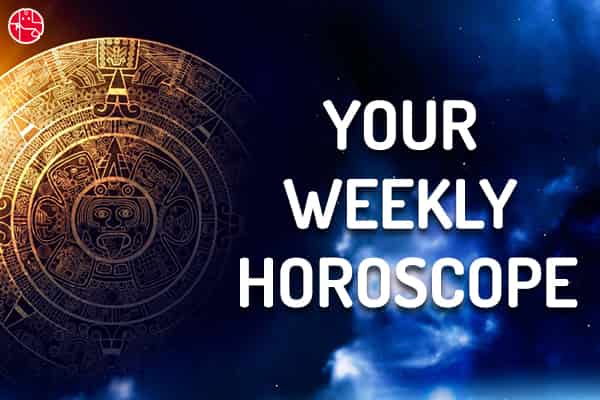 (Image Source Internet)
These are predictions based on SunSign. To get your personalised prediction, as per your birth chart, Talk To Our Expert Astrologer. 
Click here.
Aries ( 21st March to 20th April ) : Relationships are fragile; they need to be handled with care: the sooner you understand this, the better as things may go haywire in meaningful relationships. You may be on a quest for someone who may inspire you, and bring out the best in you. Ruler of your Sign Mars is posited in your 11th House, which is indicative of your relationship status to be a complicated one. The initial charm of new relationships may soon fizzle out, as this new person may be abusive or may be addicted to alcohol or similar intoxication. Such company may harm your social status; so stay away, says Ganesha. Meanwhile, you may think of giving your home a makeover by changing the wall colours, tapestry or upholstery. For businessmen, it is a good time to plan a short-term business trip. Your travel may earn you valued customers from various places. Singles may rekindle the passion for their teenage crush after bumping into them at a social event.
Taurus ( 21st April to 21st May ) : Your ambitions and career-related activities are likely to come to the fore, this week. Businessmen may feel pumped up to explore new avenues for better prospects. Hard taskmaster Saturn is in charge of your 9th House - linked with luck and fortune, as well as the 10th House that corresponds to Karma and occupation, reminds Ganesha. At present, Saturn moves through your 9th House in retrograde mode. As a result, you will have to put in rigorous hard work and be consistent with your efforts - to achieve your goals. Meanwhile, Saturn may constantly remind you of your limitations; work on your weaknesses rather than getting upset. Singles are likely to feel passionate about someone who is much older in age and indulge in physical intimacy. However, committed love birds may find it difficult to meet and enjoy romance, owing to their busy schedules.
Gemini ( 22nd May to 21st June ) : Although your sincere efforts and consistent hard work may not show expected results, you may be far from being disappointed. However, you definitely ponder upon what is stopping you from reaching your goal? As viewed, the unfavourable positions of wily Saturn and malefic Ketu may be coming between you and the lady luck. But, you stay determined to work harder; don't give up; it's just a matter of time before you realise your dreams. Singles may be bogged down by ongoing troubles on the domestic front. Also, unexpected expenses and uncertain financial prospects may leave you stressed-out. Amid all the tensions, your relationship status shall take a back seat as you may not be in a mood to make a long-term commitment.
Cancer ( 22nd June to 22nd July ) : Patience and faith in yourself will reap you benefits in the long run. As of now, the planetary alignment indicates a slow-paced progress at work despite serious efforts. Losing patience will only worsen the situation; wait for the right time. For businessmen, Ganesha advises to plan big, and implement innovative strategies for business expansion. This will definitely take you to the top as well as strengthen your financial position. However, two major planets Jupiter and Saturn in retrogression may tempt you to take up unfair practices; refrain from doing so. Venus moves in opposition to retrograde Saturn moving through your 7th House, which may lead to conflicts and misunderstandings with loved ones, leaving you disturbed. Be calm and tactful in resolving the issue.
Leo ( 23rd July to 22nd August ) : The week may become challenging if you try to hasten the activities around you. It's good to wait for the right time rather than blaming others for the delay. Businessmen are likely to be on toes chasing multiple deals. However, final confirmation of these deals may take time. Also, plans for expanding the business may go awry after differences with the partner/s. Avoid forcing your way of doing things. As Ganesha foresees, it will take some time before things get back to normal, once again. However, good monetary returns give you hope to work harder and achieve your goal. For those in committed relationships, the situation may be slightly tough in the beginning. Married ones too, will have to strive hard to cajole the partner to keep the relationship going smoothly. Career oriented/students may face difficulty in functioning effectively due to some hindrance or glitch, leaving frustrated.
Virgo ( 23rd August to 22nd September ) :  Relationship issues with a dear one are likely to bog you down. Steer clear of all the pessimism by focussing your energies on something more constructive. Venus moves through the eleventh House. This shall help you to repair and revive the fragile equation with your dear one. A possibility of connecting with people of various strata is indicated here. However, be fully aware of their intentions and their past before getting highly cordial. Association with people of doubtful character may tarnish your image; be careful, warns Ganesha. Businessmen may strike gold with loyal customers placing great, profitable deals. For singles, May-December romance is in the offing as they may fall for a person much older in age, and enjoy sensual pleasures with them.
Libra ( 23rd September to 22nd October ) : At the onset of the month, Lady Luck is shining bright for you! Thanks to the crafty Mercury, which is in its own Sign Gemini, along with Sun. This is your 9th House – and is linked with luck. Here, you may have a strong desire to make it big, and your stars will aid you in doing so! You will also concentrate on your appearance. Businessmen are likely to benefit by dealing with valued customers. However, the influence of retrograde Saturn over your Sign as well as the 10th House is not a good sign. An evil thought or a conspiracy by an acquaintance may hamper your path to gains and success; be watchful. Confused about a long-term commitment, singles are likely to feel stressed-out. But, married couples shall enjoy the perks of marital bliss, foretells Ganesha. Health-wise, there is a possibility of you suffering from unexpected seasonal attacks. You must take precautionary measures to prevent further complications.
Scorpio( 23rd October to 22nd November ) : This week, all your efforts are towards saving money, mainly because you may plan to buy a latest electronic gadget, which has recently hit the market. Ruler of your Sign Mars posited in your 4th House has aspect over your 10th House and the malefic Rahu camping therein. Here, there are strong chances of your exploring various avenues at the work front. At the same time, the positioning of Mars and Rahu is such that - it may encourage you to work hard, even aggressively at times – to what result – even you may not know. Don't sit too late at office and neglect your health. Retrograde Saturn will make you wiser and cautious while trading; refrain from taking hasty decisions. Although luck may be on your side during this time, Ganesha stresses on the fact that there is no short-cut to hard-work. Make the most of your potential to reach the peak, stay there and enjoy the perks of success.
Sagittarius ( 23rd November to 21st December ) : Your love for your sibling is unfathomable! But here, you are likely to be at loggerheads with him/her as the week begins. This, eventually, may leave you upset. However, you may find solace in each other by spending more time and understanding each other's perspective. Businessmen need to observe caution while travelling as they may encounter an uneasy situation or suffer from ill-health. Your Sign ruler benevolent Jupiter - as well as the wily Saturn now move in a retrograde mode. This shall hinder your pace of progress. Also, you are likely to spend on a religious activity. Maybe you are wishing to improve your prospects on the work front. Professionals will have to put in extra efforts to compete in the rat race. On the relationship front, you may not be experiencing the best of times. The possibility of dissatisfaction due to differences with your partner cannot be ruled out here. Be patient and tactful while resolving issues, advises Ganesha.
Capricorn ( 22nd December to 20th January ) : All you wish for is a luxuriously comfortable life for yourself and your family! And you are aware of the fact that you need to enhance your financial prospects if you want to fulfil your wish. However, Mars and malefic Ketu are present in your 2nd House, linked with finances and family. Hence, the road ahead is not as easy as you expect it to be. You may need to be patient and put in consistent efforts to reach your goal. Stay undeterred by temptations and confusions. On the relationship front, you shall enjoy good equations with your siblings. However, a discord or misunderstanding with a dear one is likely to bother you. Be careful that you do not hurt the person anymore. Health-wise, issues related to the respiratory system shall rise and become complicated, if you do not take remedial measures well in time.
Aquarius ( 21st January to 18th February ) : This week, your ambitions and thirst for self-growth are likely to give you sleepless nights. The planet Mars, moving through your Sign, shall keep your energy levels high, aiding you to work better and harder. However, hard task master Saturn, which rules your airy Sign may play a spoilsport, as it does not seem very supportive of your progress on the professional front. But, one domain where Saturn can assist you is spirituality. Hence, you may find success and peace, if you decide to take a spiritual activity or move ahead on a spiritual path, foresees Ganesha. Mercury moves through its own Sign airy Gemini along with Sun - in your 5th House. This, for sure, will improve your prospects for financial gains; you may be charged up to implement new ideas with regards to money. On the health front, the adage: a stitch in time, saves nine may work the best to save you from minor health troubles.
Pisces ( 19th February to 20th March ) : Financial matters are likely to remain the focus of the week. You may indulge in a retail therapy or splurge on other pleasurable activities to relax and unwind. However, Ganesha advises you against going overboard with unwarranted expenses. Also, make provision for contingency as family-related expenses are likely to increase. There is a possibility that your plans to save money for the future may go for a toss due to unexpected household expenses. As the planetary alignment suggests, singles are likely to get attracted and intimate with someone who is much older to them in age. On the health front, neglecting a minor health issue may have ill effects on your health in future. So, visit your doctor at the earliest to take remedial measures. Also, give due importance to your fitness and diet routines, says Ganesha.
Subscribe Our Newsletters