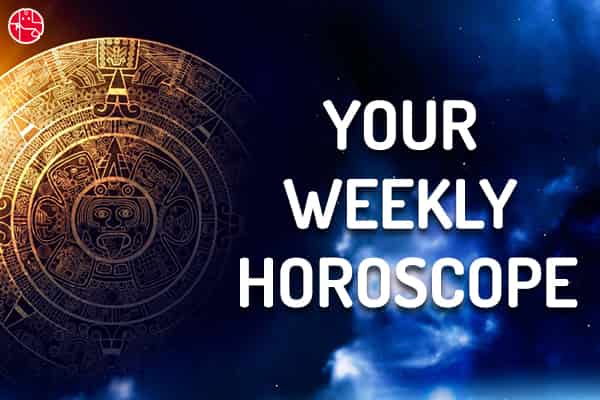 (Image Source Internet)
These are predictions based on SunSign. To get your personalised prediction, as per your birth chart, Talk To Our Expert Astrologer.
Click here.
Aries ( 21st March to 20th April ) : The situation is likely to improve compared to the last week. Moon now traversing through your sign shall prod you to work with renewed zest and great vision. Wily Saturn is now combust. The obstructive influence of Saturn has mellowed down by now, so no force is likely to halt your progress. Therefore, you may want to move ahead, plan and implement new strategies and make it big. At the same time, the presence of Venus ensures a strong monetary position here.
Taurus ( 21st April to 21st May ) : Matters related to family and siblings are likely to be the focus of the week. You will have to put in extra efforts in order to maintain a harmonious relationship with your sibling. Lack of communication and expression gives way to hostility and bitterness. Avoid that. Instead, spend more time and interact with them; know their aspirations so that you can guide them.
Gemini ( 22nd May to 21st June ) : Mars moving through the 10th House shall push you to work tirelessly to realize your dreams. Mars viewing your Sign will add to your vitality. You are likely to come across a lucrative deal to make money. This, in turn, will uplift your mood and motivate you to work hard. Around midweek, you may be tempted to enjoy some pampering and luxury.
Cancer ( 22nd June to 22nd July ) : This week, the situation is likely to improve as Moon is now traversing through the 10th House in a fiery Sign Aries, which in turn, shall prod you to be creative, start afresh and push ahead your prospects in a big way. Saturn too, now being combust shall be less obstructive. Again the positive influence of Jupiter seems to be a blessing for you.
Leo ( 23rd July to 22nd August ) : This week, you may be on a high after meeting an influential personality from the industry. This association can churn out great results, enhancing your professional prospects. Combination of Sun, Mercury and Jupiter traversing through the 5th House shall shower its blessings on you – no wonder you enjoy great monetary gains at this point in time.
Virgo ( 23rd August to 22nd September ) : You are likely to miss a crucial opportunity to make good money during the beginning of the week. This, due to laid back attitude. However, exceptionally for you, the opportunity seems to be knocking twice! Around midweek, you may again come across a promising, lucrative chance to boost your bank balance.
Libra ( 23rd September to 22nd October ) : Two different people can have very diverse thought process and opinions; nothing to worry about it. Yes, the problem may arise when these two people live under the same roof, but the matter can be sorted out. You too can arrive on a mutual decision if you have differences with your spouse. Married ones need to spend more quality time with the partner and understand the domestic priorities.
Scorpio( 23rd October to 22nd November ) : Matters related to finance, career and academics are likely to take the forefront this week. Benevolent Jupiter being out from the state of combustion shall ease out the pressure on your wallet. Although household expenses shall mount, you need not worry much. In fact, you may want the family to enjoy a better lifestyle.
Sagittarius ( 23rd November to 21st December ) : Optimistic as you are, you will be highly charged and determined to think afresh to make way for progress. And here, you have all the reasons to cheer and rejoice as powerful planets traversing through your Sign are supportive of your endeavours. At home front, some unrest or disturbance shall make you unhappy. Take the matter in your hands and try to resolve it tactfully. Be the strong pillar that your family needs; spend more time with your loved ones.
Capricorn ( 22nd December to 20th January ) : Domestic matters are likely to take the forefront this week. Some issue/repair work may demand your attention. As a result, you may need to increase the provision for household expenses. Mars moving through the 3rd House shall prod you to take some risk, if need be, to push ahead of your prospects. Now, with wily Saturn being combust, the road to success is likely to be smooth and hassle-free.
Aquarius ( 21st January to 18th February ) : You shall be beaming with new ideas and fresh strategies as Moon traverses through your Sign at the beginning of the week.. Unleash your imagination and explore new avenues to push ahead your prospects, especially on the financial front. Besides, this is a great period to strengthen your faith in spirituality. There may be times when you are likely to experience inner peace and eternal bliss by practising spirituality.
Pisces ( 19th February to 20th March ) : Energetic, upbeat and cheerful – you define all of these as the week begins – as Mars traverses through your Sign. Exceptionally favourable planetary alignment ensures that money pours in from all sides, strengthening your financial position. Moreover, ruler of your Sign Jupiter and Mercury moving through the 10th House will gradually take your career graph upwards.
Subscribe Our Newsletters