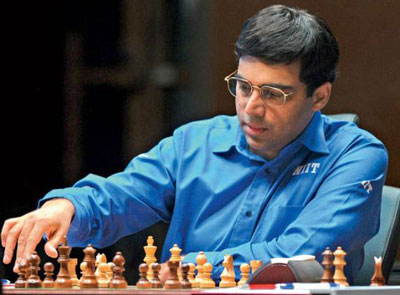 India's first chess Grandmaster Viswanathan Anand, took the game to altogether another level when he became the undisputed world champion in 2007. The following year Anand defended his title against Vladimir Kramnik. He then defended his title in the World Chess Championship 2010 against Veselin Topalov and in the World Chess Championship 2012 against Boris Gelfand. In the World Chess Championship 2013 and 2014 he lost to challenger Magnus Carlsen. In April 2006, Anand became the fourth player in history to pass the 2800 Elo mark on the FIDE rating list, after Garry Kasparov, Vladimir Kramnik and Veselin Topalov. He occupied the number one position for 21 months, the 6th longest on record. Vishy will be celebrating his birthday on December 11 and here Ganesha takes a look at how his form will be in the forthcoming year...
Date of Birth: 11 December, 1969
Time of Birth: 03.05 Hrs
Place of Birth: Mayiladuthurai, Tamil Nadu, India
NATAL CHART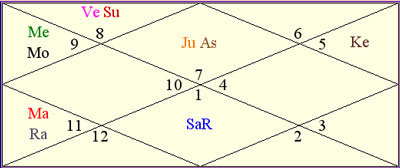 Important Astrological Observations:
Jupiter will be transiting over his Ketu in the 11th House, it will be aspecting his Moon and Mercury in the 3rd House, his Saturn in the 7th House, also his Rahu and Mars in the 5th House in his Chart, till 11th August, 2016.
Rahu-Ketu will be in half return phase post 30th January, 2016. Ketu will also be transiting over his Mars during this period in his Chart.
Saturn will be transiting over his Sun and Venus in the 2nd House, it will be aspecting his Ketu during the entire year ahead.
He will be under the influence of major period of Rahu and sub period of Saturn till 30th September 2016.
Astrological Predictions:
Viswanathan Anand will be under the mix influence of transiting Jupiter, Rahu-Ketu and Saturn in his Chart during the year ahead.
He may find it difficult to remain active, sharp and persistent during the year post 30th January, 2016. Also he may remain disturbed in his domestic life to some extent.
He will have to concentrate on his career and playing techniques to prove his superiority, post 30th January, 2016. This period will be more crucial for him. However he may have some protection regarding his performance and personal life as he would be under the influence of sub period of Rahu in his chart till 30th September, 2016. Jupiter's transit may give him a boost and he may be able to improve his performance.
He may have to be attentive regarding financial matters during the year ahead.
He would be able to maintain good relations with the people around him. He would be cooperative and positive.
He may participate in the tournaments during the year.
He would not be able to avoid stressfulness and remain tension free.
The year may not be progressive for his career. His performance in his forthcoming games may be an average and may not satisfy him.
Ganesha wishes good luck to Viswanathan Anand.
With Ganesha's Grace,
Rantidev A. Upadhyay
The GaneshaSpeaks.com Team