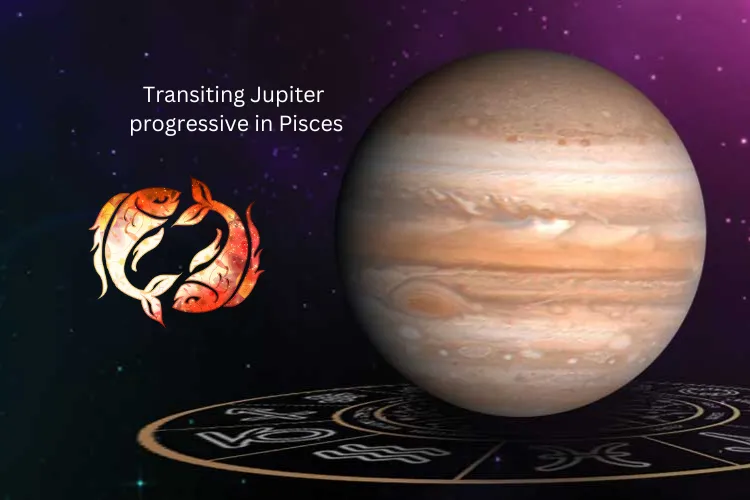 Transiting Jupiter progressive in Pisces
The transiting Jupiter will become progressive in Pisces sign on 24 November 2022, Thursday at 04:31 am. It will be transiting through the Pisces sign till 22 April 2023, Saturday at 05:58 am. 
Now, let's foresee the impact of Jupiter's transit on various Moon Signs.
Aries 
This period will remain very positive and satisfactory for your financial segment. Chances of inflow of money from various sources are also foreseen. The efforts you exerted in the past with regard to money, is likely to reap benefits in this period. New avenues for financial gains will also open as this period progresses. Throw away your worries and get on the Jingle Mood with your 2023 personalised Month Wise Report!
Taurus 
In this period, you will move forward with new enthusiasm and energy in all areas of your life. You will also have new plans and will be able to save money too. Your daily expenses will now move at a slower pace. However, you will need to pay more attention while deciding on real-estate investments. The period post-mid-January 2023 will remain much more gainful to you. To maintain a contingency, undertake long-term investments and financial planning. Get a glimpse of every month of the year 2023 and outlines every event that is likely to happen in the year 2023.
Gemini 
You will be working tirelessly to achieve the desired level of success in your pursuits. Your efforts will be adequately rewarded, and you will feel elated. However, you will need to control your temperament. Trading, dealing, and merchandising activities will be rewarded. Some of your previous pending issues or projects will notice a start-up in this period. Each new relationship needs to be tested before it can be fully relied on. 
Consult our expert astrologers and know if your sign will be affected by Jupiter's transit.
Cancer 
For you, this period seems good for business activities. However, it will require more hard work and systematic planning for the desired success. You will be delivering consistent performance this time around. You can expect steady growth in your business. Jupiter will help you implement some pending plans. As this period progresses, Jupiter will help you plan the road map of progress.
Leo 
This period will help you gain vitality and vigor. However, you need to keep emotional outbursts under check as the slightest provocative things may burst out. In this period, avoid frozen food or reheated food and maintain dietary discipline for overall good health. This period will enlighten your spirit and will also help you reach the destination with minimal effort. So, it's the right time to move on in life with higher hopes.
Virgo 
This period will be good to participate in social activities. The stars will allow you to attract much more harmonious interactions with others at this time. Your cooperative and agreeable side will manifest more strongly, and eventually, you will be liked by all. Continuing with this attitude is going to be favorable to you. You would like to take the initiative to achieve harmony and fulfillment in your life. 
Libra 
This is going to be a positive period for your career. You are likely to strengthen your position. During this period, you shall feel pretty excited and would feel fresh at your place of work. This will be the best period to undertake those tasks/projects which require physical labor. Find the best auspicious Muhurata to perform the personalized Puja to enhance your resistance level against the odds. 
Scorpio 
During this period, you will feel better than before. Romantic and emotional words will be your key to getting love and intimacy. The ray of hope for love will be surely there. Apart from anger and heated arguments, nothing else is to worry about. During this period, your self-confidence will increase which will help you reap extra benefits while dealing with others. 
Does transiting Jupiter affect you? Know by talking to our expert astrologers now.
Sagittarius 
During this period, a deep and intimate connection with your beloved ones can be felt, which will help you boost your relationships. On some days, hypersensitivity and lack of mental discipline may also not allow you to understand the equations of your relationship, so work towards your emotional stability. You will assert yourself more prominently and you will want to address the problem areas more positively. 
Capricorn 
Under this transit, you are likely to remain active on the occupational front to achieve your objective. You will be in the mood for experimenting with new ideas and for conceptualization. Take adequate steps to make up the lost ground. Major parts of this transit shall remain hectic for all business transactions. Interact patiently and politely with your coworkers, partners, and dealers, as you may unnecessarily argue with them. Your personalized and handwritten Janampatri will reveal many hidden aspects of your future. It is just one click away. 
Aquarius 
For you, this will be the best period to do financial planning successfully as this is a convenient and auspicious time. However, this time does not look good for making real-estate investments. The rise in your income and business is indicated. You will be happy to spend on social services and national interests. On the whole, this period will call for building new financial strategies and reviewing existing financial planning.
Pisces 
By the grace of Jupiter's transit, you will enjoy a positive attitude and confident mindset throughout this period. You may be inclined towards spiritual practices and wellness reforms. You will be doing activities that will keep encouraging you. Hence, this will be the best time to invest your energy in some serious projects. Your emotional and mental states will be very good. Most of your plans will be carried out very well. This is actually the time to stir up passion with some objectives.
What happens when Jupiter will transit in your sign? Talk to Expert Astrologers to know more.