Sun- the king of the stars
In Vedic astrology, Sun is considered as the 'king of the stars'. Sun or Surya, according to Hindu mythology, was born to sage Kashyap and Aditi. Also acknowledged as one of the eight forms of Lord Shiva, the Sun is deemed as the lord of excellence and wisdom.
In Hindu mythology, the description of Sun is as given below:
The Sun or 'Surya' moves in a chariot drawn by seven horses, which represent the seven rays of light. Even music has its scale of seven. Matter from the sky to earth is also considered to be of seven densities. The Solar system floats amid the seven Lokas, the seven planes of consciousness. There are seven days in the Hindu calendar representing the seven planets named in the Solar system. The wheel of Sun's chariot represents the year and its twelve spokes are the twelve months. The Sun is short in stature, and has a prominent, shining appearance, has two arms, a curly mane of hair and shining, golden-brown eyes that are the exact colour of honey. His mind is incisive and His complexion coppery or golden, and He wears clothes of dark saffron. In both His hands, Surya has two red lotuses.
In a horoscope, Sun is the Lord of the zodiac sign Leo, exalted on Aries, debilitated on Libra and Moon, Mars and Jupiter are Sun???s friend, and Saturn, Venus, Rahu & Ketu are Sun???s enemies. Mercury is considered to be neutral.
An astrologer, practicing Vedic astrology, may predict the native's relationship with the government and his/her father according to the placement of the Sun in the native's horoscope. Sun represents the soul of the native.
According to Ascendant, Sun's positions are given blow:
Ascendant
Swagruhi
Exalted
Debilitated
Controlling
Area of life
Aries
5th
House
1st
House
7th
House
Mind,
Romance, Education, Children
Taurus
4th
House
12th
House
6th
House
Mother,
Property, Peace of mind
Gemini
3rd
House
11th
House
5th
House
Sibling,
Friends, Bravery
Cancer
2nd
House
10th
House
4th
House
Family,
Finance , Communication skills
Leo
1st
House
9th
House
3rd
House
Nature,
Physique, Character
Virgo

12th
House
8th
House
2nd
House
Expense,
Travel, Moksha
Libra
11th
House
7th
House
1st
House
Profit,
Business, Gain through investment
Scorpio
10th
House
6th
House
12th
House
Job,
Father, Relation with government
Sagittarius

9th
House
5th
House
11th
House
Luck,
God's grace, Religious life
Capricorn
8th
House
4th
House
10th
House
Death,
Research skills, Daily routine
Aquarius

7th
House
3rd
House
9th
House
Spouse,
Partnerships, Relation with wife, Marital life
Pisces
6th
House
2nd
House
8th
House
Enemy,
Health, Debit
Other things related to the Sun include:
Gemstone – Ruby
Donation – Wheat
Fast – Sunday
Metal – Gold
Number- 1 (According to numerology)
Mantra – 'Om Gharini Suryaya Namaha'
Yantra –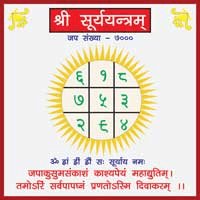 Ask a question to our celebrity astrologer
Pt. Ameesh Sharma
Celebrity astrologer,
GaneshaSpeaks.com
---
---
Get 100% Cashback On First Consultation