Unfold Janampatri – Shield Your Testing Times This Raksha Bandhan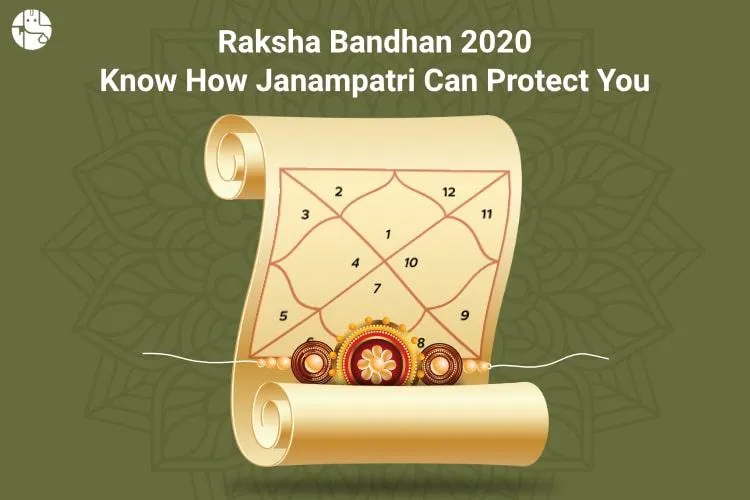 Rakshabandhan 2023 is just a couple of days away! We all know that it is the festival celebrated to embrace the sweet and spicy bond that brother and sister share and everlasting memories they create during their journey. Having a brother in life means a playmate by default and the strongest bodyguard to save you from your enemies. The very thought of having a strong brother who is always there to have your back gives a lot of strength to a sister. With a brother, you can get help when you are in need.
As Raksha Bandhan 2023 is round the corner, we would like to introduce you to your own built-in brother, i.e., Janampatri. Now it's time to know how Janma Patrika can lend a hand in every stage of your life just like your brother:
---
What Is Janampatri And How It Can Protect You?
Janampatri is a graphical representation of planets at the time of one's birth. It provides you in-depth analysis of your characteristics, personality, temperament, strengths, and weaknesses, also your favorable and unfavorable phases of important aspects of life. It gives you insights into events that are likely to happen so you can always be ready and plan accordingly. It additionally gives you an elaborate understanding of the different aspects of life like finance, love, marriage, career, family, and relations. Moreover, it empowers you to make smarter decisions and excel in all aspects of life.
Online Janam Kundli can help you at the time of making important decisions in life like choosing the appropriate field of education, right career path, compatible life partner, etc. Additionally, it helps you to prepare for the difficult times and optimize the upcoming opportunities. You can take better-calculated decisions with your Free janam kundali.
Sounds like your brother, right? Yes, undoubtedly, Janampatri will stand right there next to you through thicks and thins just like your brother. The few pages of Janampatri can be the most important guidelines for your life. Now, it's time to reflect on the ways how Janampatri can enrich your life:
---
Multiple Benefits Of Online Janam Patrika
While Making Important Decision:
Whether it is your career, finance, relationship, or your business and family, your personalized Janampatri can help you to make important decisions and guide you towards the right path. Same as your brother does! It can help you to select the education field, the right time to change your career, your upcoming financial opportunities, etc., based on birth chart analysis. Janampatri will help with the next step –creating an action plan to put your strengths to good use.
Helping you to become your best self:
Your brother never lets you forget how rare you are and inspires you to take off for a life that is less than you deserve. Likewise, Janampatri can help you realize the magical power you have been given. Janampatri will help you, not only to know the ups and downs of life but also to see yourself as you truly are. You can reveal your potential and get an in-depth analysis of your characteristics, personality, strengths, and weaknesses through Janam Patrika.
Gives a glimpse into your destiny
Your Janampatri can reveal some secrets! Understanding your birth chart helps you to understand yourself and give you a glimpse into your destiny. You can get a more detailed analysis of your past, present, and future. It gives you insights into events that are likely to happen so you can always be ready and plan accordingly.
Protects you from the upcoming challenges
Your brother is your shield who protects you from enemies and helps you to overcome the challenging situations. In the same way, online Janam Kundli alerts you and informs you about the upcoming challenges and obstacles that you may face. Hence, you can be future-ready and manage complex situations efficiently.
Show you the right path
Brothers are said to be a pillar of life, they show you the right path when you are wrong, stand by your side when you are in trouble. It is rightly said that there is no Buddy like a brother. On the other hand, your Janam Kundli prepared with the help of your date of birth is the blueprint of your life and a roadmap that shows how your life will shape up. It helps you in making productive decisions for the future, guides you to be on the right track, alerts you for upcoming challenges, and offers insights and support to be ready for the testing times.
Nutshell
Janampatri will not only protect you like your brother but will also inspire you like your mother, support you like your father, help you like your sister, and guide you like your best friend. Wishing You All A Very Happy Rakshabandhan!
To Get Your Personalized Solutions, Contact Astrologer Now!
With Ganesha's Grace,
GaneshaSpeaks.com
---
---
Get 100% Cashback On First Consultation