Quick Feng Shui tips for your home
Introduction:
A healthy and good environment enhances our well being. Feng shui is one of the ways to secure this kind of environment. Literally 'Feng' means wind and 'Shui' means water.It is an ancient Chinese practice believed to utilize the Laws of both Heaven, (astronomy) and Earth, (geography), to help one improve life. It is the practice of arranging the objects to achieve balance in the environment.
The entrance of your house should be North facing or East facing. Entrance area of your house should be inviting and welcoming to the visitors. Keep the entrance of the house clean and without any obstructions.
Arrange your Kitchen place in South-East corner. Your kitchen should not be in front of the toilet. If it is, then keep the door closed and the toilet lid down.
You are advised to keep the toilet lid down while it is not in use. It stops the money from going down the drains.
Fill up the dead area in the living room with plants, colorful pictures, and pleasant sceneries.
Decorate your house with fresh or silk flowers instead of artificial ones. Artificial flowers can have negative impact on the wealth flow of the house.
Keep brooms, mops and trash bins out of sight. It is important for family's well being and keeps intruders out.
Fountains, plants, birdbaths along the curved pathway through the garden to the house will bring in balance and determine the qualities of Chi.
Wind chimes outside your house will distract the negative energies from entering the house.
Avoid staircase right in front of the main door, as it will direct Chi to the next floor ignoring the ground. If you are already in the situation then solve it with a mirror or chime.
Your bedroom should be a private room, hence not visible to guests and visitors, says Ganesha.
Ganesha advises you to have windows in North direction or East direction.
Keep your bedroom exercising equipment. The ideal placement of these kind of heavy equipments is in South West direction.
Avoid having too many electronics in your bedroom and keep nothing under the bed.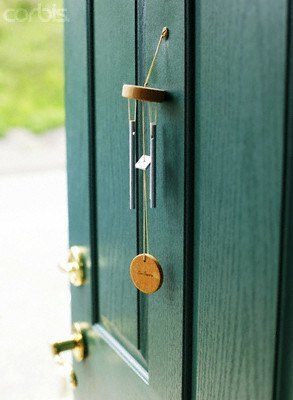 Conclusion:
Let your welcoming entrance face the north or east direction. Enliven your house with plants, colorful pictures, natural flowers and beautiful sceneries. Free your bedroom from any exercising equipment, and away from the eyes of visitors. Don't let your main door view any stairs. Shove away the negative energies by placing the wind chimes outside your house.
With Ganesha's Grace,
Malav Bhatt,
www.GaneshaSpeaks.com