Mercury In Scorpio: The Intellectual Enters The Sign Of Mystery – What To Expect?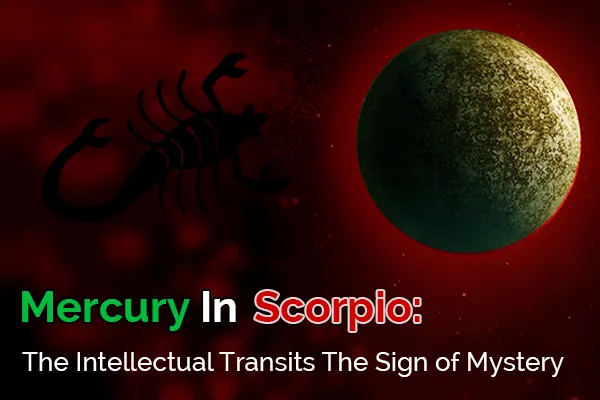 The planet of communication and technology – Mercury will be entering the Sign of Scorpio. Mercury will be staying in this Sign ruled by Mars for around 19 days, before he enters Sagittarius. During this time, you may develop a strong liking for subjects related to the occult and mystery. Moreover, this can be a very good time for those into research and investigation. In the Moon Sign based predictions, Ganesha explains how things may shape for all the Signs.
---
Aries
"Patience will be the key to greater success at the workplace."
The scenario at your workplace may get a bit worse, if you become unnecessarily excited and impatient. Be patient and maintain a harmonious relationship with people at the workplace. Unfortunately, you won't be able to maintain a good rapport with your siblings. It would be better to avoid arguments with your in-laws, warns Ganesha.
---
Taurus
Ganesha's Astro-snippet for the Bulls:
"This is the time to express yourself freely to your partner."
Communication in the professional as well as personal sphere is likely to increase and you may be able to present your ideas well. Your performance will be recognised by people around you and they may seek your help in some tasks. You are likely to turn social this time and there may be increased interactions in general. There may be some changes in your relationship with your spouse or business partner, but if you don't listen to their suggestions, you will certainly face differences or arguments.
Also Read: Mars Ascends Its Throne – Capricorn: Which Area Of Your Life Would Get Affected?
---
Gemini
Ganesha's Astro-snippet for the Twins:
"You will be ready to go the extra mile this time and may take up additional responsibilities in professional life."
You may be surrounded by a lot of activity and you may try to put in great efforts to achieve a certain number of important projects under your belt. A lot of brainstorming sessions seem to be awaiting you. Be prepared for some electrifying discussions with peers and friends in this period. You are advised to be careful, as there chances of joint or muscular pain. Moreover, it would be better if you maintain a balance between your personal and professional life, or otherwise you may face some issues in your married life.
---
Cancer
Ganesha's Astro-snippet for the Crabs:
"A fantastic period for students and writers."
Your written communication is about to get a solid boost. To prevent any misunderstandings, it would be better to avoid talking in a sarcastic manner with others, advises Ganesha. This transit will be very favourable for students and good progress in academics is indicated. You are likely to be more vocal about your feelings with your partner.
---
Leo
Ganesha's Astro-snippet for the Lions:
"Expect guests at your place in the coming few days."
During this phase, you will feel like changing or renovating your house, or making some changes to your conveyances. If you are planning to purchase a new property, then you are likely to be confused. There may be a sudden spurt of new conversations and discussions with your family members. It's better that you avoid arguments with guests at home.
---
Virgo
Ganesha's Astro-snippet for the Virgins:
"Intellectual pursuits and creative endeavours will be fruitful."
Virgos, exciting times seem to be awaiting you! Get ready for some memorable trips and short journeys. Interactions with your old friends or relatives are likely. If the relationship with your siblings had been under a cloud from sometime, then you will be able re-connect well. Also, it's time to set your social media accounts on fire with those nice snaps from the trip that you will be setting out on! Adding to this, you are likely to be at your creative best, coming up with new ideas by the dozen. During this transit of Mercury, you may be given the chance to present your views and ideas at your workplace.
---
Libra
Ganesha's Astro-snippet for the Scales:
"A great period to work on creating financial strategies and savings plan."
Financial matters will especially draw your attention. Though your luck will support you in matters related to wealth, your spending habits may cause concern. Ganesha says this is a good time to review finances and boost your wealth status. Your communication may get enhanced, but you will have to avoid getting into meaningless talks. It would be wise to make smart financial strategies.
---
Scorpio
Ganesha's Astro-snippet for the Scorpions:
"Good time to earn quick profits and explore new options."
Your mind will be more alert and super-active in this phase. Plus, by the blessings of versatile Mercury, you may become more talkative, experimental and calculative than ever before. Therefore, it is a good time if you are a trader. You will start looking at things from the logical perspective, rather than getting carried away by emotions. You are likely to make some solid business and financial decisions this time.
Do Not Miss: Venus In Sagittarius: What To Expect From The Artist's Transit Through The Sign Of The Optimist?
---
Sagittarius
Ganesha's Astro-snippet for the Archers:
"Be careful of your professional status and social prestige."
During this period, there are higher chances of travel indicated. If your spouse is also a working professional, then traveling for them is indicated and this may cause you both to stay away from each other. You will have take care of your relationship with your spouse, as some misunderstandings are indicated. You may remain upset with the way people look at you. Your social or professional image may be at stake.
---
Capricorn
Ganesha's Astro-snippet for the Goats:
"New friends, new contacts and increased social networking."
This is a wonderful period for forming new friends and meeting new people, says Ganesha. You are likely to remain online for long hours with your new friends or groups. Eventually, you will try to make the best use of your contacts and broaden your professional horizon. This transit of Mercury will bring more avenues your way.
---
Aquarius
Ganesha's Astro-snippet for the Water Bearers:
"Gear up for a lot of professional meetings in the coming days."
You will be busy in several meetings at the workplace and your ideas and inputs will be given importance at the workplace. Though there will be faster growth in your career and business, you may remain confused about the right method to adopt and thus may prefer to adopt the trial and error method. Avoid arguments with your father or superiors, advises Ganesha.
---
Pisces
Ganesha's Astro-snippet for the Fishes:
"Firm decisions regarding career will help."
There may be increased interactions with people living abroad and you may connect to your relatives now. You will remain indecisive regarding career, business and relationship. You will be confused during this period as there will be a conflict between heart and mind. If you really want to fall in love, you may need to take some practical decisions during this period.
With Ganesha's Grace,
The GaneshaSpeaks Team
Have some queries in your mind regarding certain areas of life? Then, why continue to remain in doubt. Talk To Astrologer now for expert guidance and smart solutions!
---
---
Get 100% Cashback On First Consultation