Effects of Mars transits through Cancer in Moon Signs!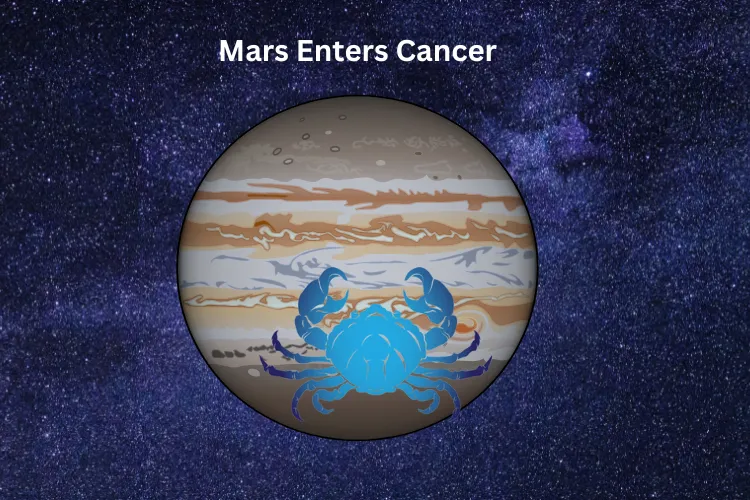 Externally, Mars represents the people who are executors.
Internally, Mars represents our strength, assertiveness, boldness, will, motivation. On the negative side, we can be impulsive, rash, impatient, aggressive, and forceful.
The placement of Mars in a birth chart shows the areas of life where we apply our drive and express our enthusiasm. It also shows how we express our energy or anger.
Cancer is a cardinal & water sign which is represented by the crab symbol. Cancer is emotional but highly intuitive and also has psychic abilities.
The transiting Mars will move in Cancer sign during 10 May 2023, Wednesday to 01 July 2023, Saturday. 
So let's see the main effects of this transit on the different lunar signs. Take expert advice now to know how this transit affects your moon sign! 
---
Aries
Growth is expected during this period, but how you respond to certain challenges determines how they affect your life. The appearance of Mars in your tenth house might help you to establish a solid foundation. There might be a positive boost in your career, but the influence of Mars indicates that at first, you might have some uncertainty about your decisions and abilities. 
Read more about Aries.
---
---
Gemini
Your financial strength might gradually increase. The formation of meaningful and interesting new relationships might help favour you. Your intelligence and hard work might help you improve in everything you do. A busy work schedule might cause fluctuations in your health. Those looking for a new job might find good job opportunities during this transit. There might be a mood problem in your relationships.Get Business Guidance With 2023 Business Report 
Read more about Gemini.
---
Cancer
When Mars transits your Ascendant, you might see many opportunities for growth and earnings during this time. Positive emotions might prevail. New ideas and new colleagues might lead you to success in your endeavours. Your business approach might help you here, so you need to put your plans into action. You might be able to develop a solid, action-oriented plan for your career.Plan Your Year Smartly With The Help Of 2023 Detailed Yearly Report
Read more about Cancer.
---
Leo
This transit might be a particularly difficult time for your professional and tax departments. During this time, you could be pushed into situations that could lead to conflict with your superiors but your wisdom and patience might help you through this difficult time. Sometimes you need confidence and courage. Just write down your goals and focus on them.
Read more about Leo.
---
Virgo
This transit might bring you promising opportunities. Favourable planetary influences might help you progress smoothly and your efforts might bring you rewards and accolades. The money stars might shine, but some unavoidable expenses create stress. This transit might also help you develop a romantic relationship. You might be inclined towards creative and leisure activities.Know About Your Finances In 2023 WIth The Help Of 2023 Finance Report
Read more about Virgo.
---
Libra
This time, you might have a good cash flow, but it might require you to keep tight control of your spending. Some long-awaited career opportunities might arrive at this time. Your enthusiasm and awareness of fitness might help you increase your productivity.
Read more about Libra.
---
Scorpio
During this period, Mars might transit your ninth house, giving you good times that you might consider suitable for professional and financial interests. During this time, you are likely to earn money from your business and career. During this phase, you might also gain valuable ancient knowledge. You might defeat your enemies. Avoid any foreign travel as the expected results might not appear during this period.
Read more about Scorpio.
---
Sagittarius
Mars transit indicates that excessive work pressure might cause some fluctuations in your health. So this time you need to pay attention to your body. The Mars transit also shows that you need to avoid rushing to start a new project, both personally and professionally. You might have good financial flow as the transit progresses but you need to take a long view and increase your savings.
Read more about Sagittarius.
---
Capricorn
There might be hurdles on the career front due to  Mars transit, but with a confident attitude, you might be able to handle stressful situations effectively and possibly advance in your career. There might be expenses for personal, social or religious celebrations, but you must have sufficient resources to attend to them without difficulty. You might need to put in more effort before the project achieves the desired results.Purchase The Career Prospects Report And Avail Career Advice
Read more about Capricorn.
---
Aquarius
Mars transits the natal moon in the sixth house heralding good times. This is the time when you might become rich, take on old debts and make unprecedented profits in your field of work. Most of you might see success in all your endeavours. This is also the time to defeat the enemy. You might also gain more respect and honour in the community. Some of you might also be doing charity work at this time. 
Read more about Aquarius.
---
Pisces
Mars transiting your fifth house might give you mixed results. Avoid fights of any kind between you and your loved ones. Be careful of your enemies and make sure you don't make new ones. Some of you might also experience changes in your behaviour during this time. Developing unnecessary needs and urges to engage in unethical behaviour might lead to problems. 
Read more about Pisces.
To Get Your Personalized Solutions, Talk To An Astrologer Now!  
With Ganesha's Grace,
---
---
Get 100% Cashback On First Consultation