Marriage Problems and Married Life Astrology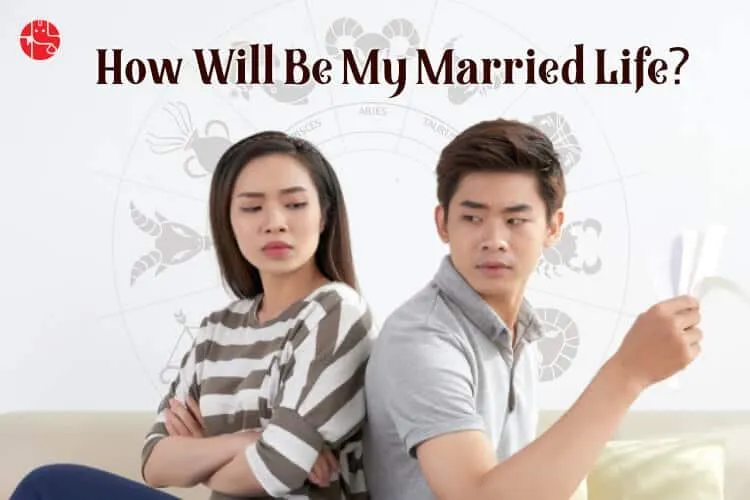 Are you having that fluttery butterfly feeling of excitement and thinking about how your married life will be? Everybody wants to have a happy marriage. All that dancing and laughter – weddings are a lot of fun, but being married isn't always a piece of cake and many face challenges and troubles in marriage. There's actually a lot of work that is needed for "happy married life", so whether you've been married for years or just tied the knot, marriage astrology can help you to have a happy marriage.
If you are worried about when you will get married, whether it will be a love marriage or arranged marriage and how will be your married life? then marriage astrology can help you to answer these questions. Your Marriage Horoscope has an important role in your married life. Let's know about the planets, which affect your marital life and see how your birth chart can predict major shifts in your married life!
Are you worried about your married life? Talk to an Astrologer and clear all your doubts and worries regarding your married life.
---
Kundli Matching is the first step to a happy married life
Kundali matching or matching horoscope is the key to a successful and harmonious married life. Kundali matching is basically the process of matching horoscopes of the prospective bride and the groom. A couple will have a happy and prosperous married life if the Janam Kundli or Janam Patrika match considering all the relevant doshas like Manglik Dosha and good yogas. As per astrology, there are 36 gunas that are matched to check the compatibility between couples.
However, there are other factors as well to be looked into by astrologers. They would analyze the 7th house in your birth chart as it is connected to marriage.
---
7th House Analysis:
The 7th house is the house that rules marriage and all committed relationships. Therefore, it is very important that a naturally beneficial planet is placed for marriage in the 7th house. Planets like Venus, Jupiter and Moon are naturally beneficial for marriage and planets like Mars, Saturn, Rahu, and Ketu are considered as malefic for marriage. So firstly, you need to find out which planet rules your 7th house. You can know it with the help of your Free Personalized Janampatri.
The presence of troublesome planets like Rahu or Ketu in the 7th house makes that house very weak and the situation of marriage in your life becomes very turbulent. The presence of Saturn in the 7th house disrupts love in the married life and creates unnecessary frictions & struggles.
Similarly, the aspects of Saturn, Rahu, Ketu, and Mars on the 7th house weakens the love/marital harmony prospects in the married life of a native. If there are any malefic planets in your horoscope, astrology can help you with remedial solutions for marriage.
Ask an Expert if you are facing problems in your married life and get better insights.
However, the transits of planets in different houses cast their own cumulative influence which is also to be considered.
---
Conclusion
The decision to marry someone cannot be taken in a few meetings. For a relationship to be successful, you need to understand your partner well and spend time to know them better. But, you may not always have sufficient time for it or sometimes it is difficult to analyze the person in a few months. This is where marriage astrology and to ask an astrologer service to come to your aid. You can follow their helpful tips for a stronger, healthier and more blissful married life.
---
---
Get 100% Cashback On First Consultation