Jupiter Transit through Gemini – Effects on Moon Signs and Ascendants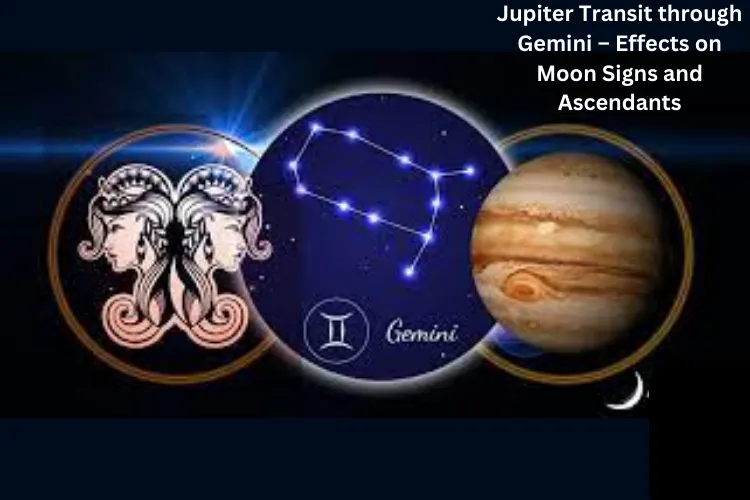 Jupiter transit through Gemini
These predictions have been written as per the Vedic Astrology System. Thus, the readings will be applicable to the ones born with the said Moon Sign or Ascendant (First House Sign).
---
Ganesha feels that, owing to the benign influence of this Jupiter transit, you shall remain very focussed on two things – academics and communication. Expect these areas to get a Libraboost. Short distance trips will become more frequent around this time. Your relations with your neighbours, siblings and colleagues shall improve, says Ganesha.
---
This Jupiter transit shall give a nice boost to your finances and financial zone, which cannot be a bad thing at all. You may start looking at your talents in a new light altogether, and may work towards getting better monetary returns by putting your skills to use. Your family may expand around this time; this is a good time for conception. Auspicious family functions are likely too, says Ganesha.
---
Jupiter transits through your own Sign, so expect good news. You will be full of optimism and enthusiasm. You will be expanding your horizons. This is the best time to learn new things, develop new hobbies and aggregate your skills. You will experience a positive change in your way of thinking. Since things shall be so good, you will eat out, and may even put on weight, chuckles Ganesha.
---
This transit is set to increase your overall expenses. In thoughts you will be noble, but may not be able to spare extra money or time to spend on others or for charity, something that you would be willing to do. The effect of this transit shall make you rather selfless in approach. Avoid being charitable, though, unless you are sure of your own financial strength. Your interest in spirituality and metaphyiscal shall surge. Foreign trips or long distance trips are likely.
---
Social gatherings and group activities will attract you. You will be outgoing and gregarious, and this shall make you charming in your dealings. Your friend circle will expand, and you shall go all out to network with just the right people. Many new avenues shall open up, and this broadening of horizons shall leave you pleased. Projects that you have been working on since long shall bring you gains.
---
The Jupiter is meant to bring advancement in your career. If you are in a business, expect the turnover to rise, while if you are a salaried employeee, you shall see your efforts bringing you the due financial rewards. It is a good time to expand your business or work avenues. If taking up a freelance assignment in an alternative line of work has been on your mind, time is ripe, says Ganesha.
---
Ganesha gives a nod to any of your endeavours related to higher education and further studies. Jupiter's benvolent presence and transit through Gemini shall also favour foreign education and trips for your Sign. This will be a good time for travel – you may travel to distant places or foreign shores. Pilgrimages are also likely. Success in legal issues is foreseen, adds Ganesha.
---
Joint bank accounts, loans and inheritance related matters will remain in focus, under the influence of this transit, for your Sign. You will now be able to manage your finances well. Ensure that you keep your life partner or business partner in loop, whenever it comes to the financial matters. Also, this is a good time if restructuring of your finances or modification of your investment plans has been on your mind, says Ganesha.
---
Owing to the benign effects of this transit, you may now expect partnership matters to get a boost. Any kind of tie-ups, joint efforts and partnership plans shall prove to be beneficial. If you are unmarried, you may come across suitable proposals or matches durig this time. Fame through work and general activities is also likely to come your way, says Ganesha. Expect legal battles to go your way. All PR-related activities, legal matters and social events are favoured now.
---
This Jupiter transit shall augur good results for your career. If a job change has been on your mind, this is a good time. You may come across interesting opportunities. Be careful, though, as debt may increase around this time. Keep your credit card spendings in check! Good thing is that you shall soon manage to pay back the most of it. If in business, try and get some good professionals on board, says Ganesha. On the personal level, expect things to get more streamlined.
---
Academic endevaours shall zoom into focus, and you shall see your concentration levels getting a boost. Research, studying and education shall interest you. Ones planning to conceive or expand their family have this transit in their favour, says Ganesha. Romance and creativity also get a boost under this transit. Overall, at work, you shall perform well in almost all areas, says Ganesha.
---
If buying something big – a house or a vehicle – has been on your agenda, time is good, as this transit is likely to boost such endeavours for your Sign. You may also look to renovate your property – a home or an office. Domestic issues shall reach an amicable solution, and your relations with your parents shall improve. You family may expnad, under the influence of this transit, says Ganesha.
Speak to an Astrologer to know what this Jupiter Transit will bring for you!
With Ganesha's Grace,
Bhavesh N. Pattni,
GaneshaSpeaks.com
---
---
Get 100% Cashback On First Consultation