Is a diamond ring suitable for engagement according to astrology?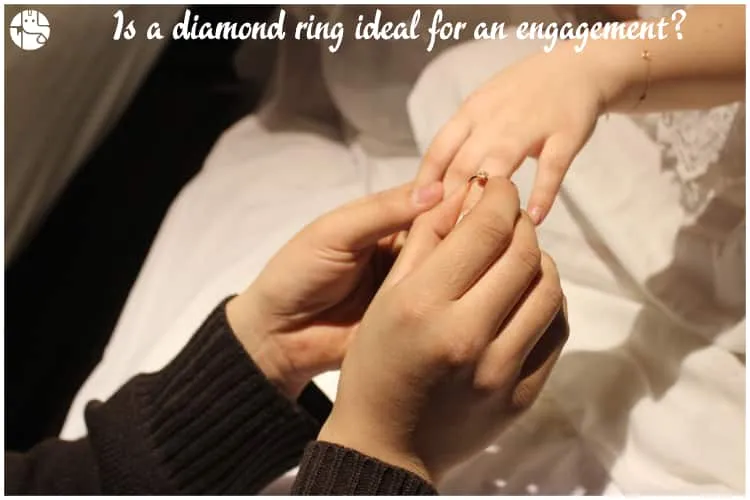 You might have heard the phrase that marriages and matches are made in heaven! You can not guarantee that, but can surely know it when the right partner is just in front of you. Is it that time of your life that you're looking for the perfect ring to propose your special someone or for couple engagement rings? The excitement to give the best ring, especially if it is a diamond, is uncountable and can not be expressed in words. It's like those little butterflies in the stomach, isn't it!!
You would probably be reading about the best way to propose and give the most beautiful of all. Being drawn to those little diamonds studded in a ring on the online site or a jewelry store is unavoidable. It is also one of the most expensive and valuable stones. But what if the diamond ring is not an ideal one for you or your partner as per astrology? You might want to re-think as this decision can be a life-changer for you and your significant other. Let's read whether a diamond ring is beneficial for you and your partner according to astrology.
---
Astrological benefits of wearing a diamond ring
The gorgeous diamond is a gemstone that represents the Goddess of love and romance, Venus. Hence, a diamond is also considered as a symbol of love and affection. So the reason behind wearing the diamond is to boost the strength of the Venus present in one's natal chart. That results in eternal love and bliss in your relationship. It will also make your relationship cherishable and you will feel more happy and beautiful. In the end, it influences your receptivity and wholehearted acceptance to love and attraction. It will allow you to appreciate and to feel appreciated by others around.
---
Diamond negative effects in astrology – is it possible?
When it comes to wearing gemstones that represent a planet as per Vedic Astrology, it is always good to see how it affects you. The birth chart from your Janampatri can give a clear picture of a planet and its associated gemstone's effects in astrology. If the planet Venus is placed in a malefic house or affected in your chart then you should avoid wearing a diamond engagement ring. Otherwise, it may impact negatively on your love life.
---
Positive and negative impact of diamond engagement ring on ascendant signs
Every element or object around us have certain energies which can affect an individual positively or negatively. A particular object which can have a positive impact on a person can also have a negative impact on another. Hence, it varies from person to person who is in close proximity to that object or element. Similarly, diamond engagement rings can also have positive as well as negative effects in astrology. The impact of a diamond engagement ring is based on your ascendant sign. It will have a positive impact on people with ascendant signs Taurus, Gemini, Virgo, Libra, Capricorn, and Aquarius. Whereas, negative impact can be seen on natives with ascendant signs Aries, Leo, Scorpion, Sagittarius, and Pisces.
---
Is a diamond engagement ring ideal for a person?
No particular stone, in general, can be an ideal one for a group of people. The way a gemstone affects one person can be different from the way it affects another. Hence, diamond is not an ideal gemstone for every person. So it is not necessary that the diamond engagement ring suits everyone. The best thing in this situation is that you wear any stone by consulting with expert astrologers who can suggest the best-suited stone for you.
---
Why should we consult an astrologer before wearing a diamond engagement ring?
For more precise prediction you should consult the astrologer who can guide you the best-suited gemstone according to your horoscope. The fifth house in your horoscope can have an influence on your love and relationship. If you consult an astrologer then they will suggest a personalized stone which will boost your love life and intimacy. Talk to our expert astrologers for clear guidance on choosing the perfect gemstone for you.
Astrology is the key to resolving any issues pertaining to life. It helps us know how a diamond ring affects one and whether to wear it as an engagement ring or not.
To Get Your Personalized Solutions, Talk To An Astrologer Now!
With Ganesha's Grace,
GaneshaSpeaks.com
---
---
Get 100% Cashback On First Consultation