Favorite Ice Creams as per Zodiac Signs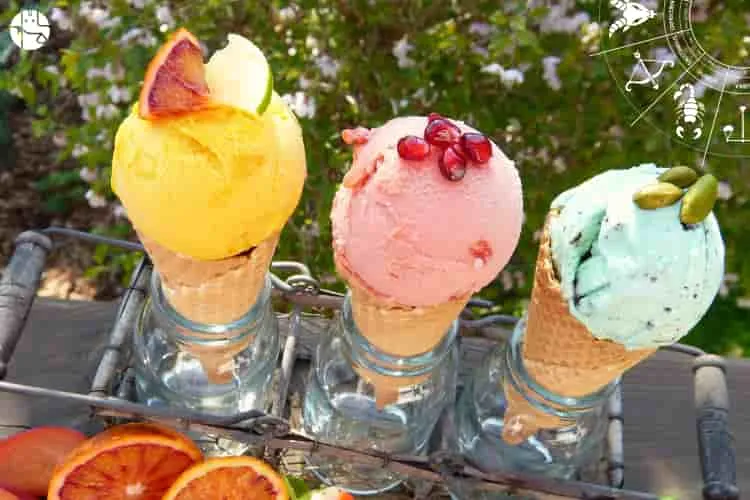 What on Earth can make you feel so delighted and cooler than these soft and yummy ice creams! Isn't it a great feeling to get immersed in the essence of these frozen desserts? You might feel a little indecisive while choosing the perfect ones each time. As it's not just about the taste but a treat to ourselves. It has to be the ultimate delicacy after a tiresome day, a treat with our significant other or simply a reason for celebration with family or friends.
With so many varieties out there, how would you choose the favorite one for you or your loved one? Well, you can let your stars decide this time and relax with your fun treat. It may turn out to be an interesting experience based on ice cream astrology. Read more to find out the suitable ice cream according to zodiac sign.
---
Aries – Mint Chocolate Chips, Rocky Road
Being natural leaders and trendsetters, Ariens love to find uncommon flavors. They are not afraid to try something new and unique in its own way. After a day filled with intensity and spark, all they need is something to cool them down. This is why mint chocolate chips is considered great. Rocky road, on the other hand, is an ice cream which gives intense happiness to these people. They simply enjoy crunchy nuts and chocolatey flavor in it.
---
---
Gemini – Chocolate-Vanilla-Strawberry Sundae, Mocha Almond Fudge
These twins can not take away only one flavor of ice cream. They have a long shopping list and so this applies to the ice creams they choose too. When it comes to selecting, they get a bit confused with a lot of options to try and so chocolate-vanilla-strawberry sundae is perfect for Geminis. It refreshes their mood with a mixture of flavors at a time. Additionally, they also take the joy of mocha almond fudge to keep them energized.
---
---
Leo – Triple Ice Cream Sundae, Birthday Cake Ice Cream
Leos are all about party and variety, and so should be their frozen delicacies. They make it a point to celebrate their life to the fullest as if each day is their birthday. A birthday cake ice cream will surely pour immense ecstasy into their taste buds. Another treat is the combination of all – chocolate sauce, pineapple and strawberry sundae with whipped cream and a cherry on top. This will just take them to yet another dimension of royalty.
---
Virgo – Mango, Strawberry
The dedicated Virgos reward themselves with a cold treat more often. They want to have some leisure time after being exhausted with work and that's when they step out for the perfect ice cream date. Mango and strawberry ice cream give them the sweet fruity taste and help them unwind after fulfilling their responsibilities for the day.
---
Libra – Chocolate, Vanilla
Librans want balance in everything and hence they want their ice creams to be simple and all-time favorites. They won't mind trying new flavors though, chocolate and vanilla ice cream are the preferable options that win over their heart. They enjoy these whether they are in a get together of friends or family.
---
Scorpio – Dark Chocolate Brownie
When it comes to having these yummy cold delights, Scorpions prefer to have them with their special someone. They do not go plain but rather go for the dark and deep flavors which go really well with their intense and mysterious nature. Dark chocolate brownie ice cream does the work and gives the ultimate experience to leave the Scorpions spellbound.
---
Sagittarius – Coffee, Peanut Butter
Always on-the-go in search of awesomeness, a Sagittarian's wanderlust never ends. They would explore the entire city to find those delicious food and snacks they heard about. How can they stop when it comes to the most reviving frozen treats! Their search ends with a familiar yet refreshing coffee ice cream and peanut butter as the other option. These would keep them going on their journey ahead.
---
Capricorn – Vanilla Softy with Rainbow Sprinkles
The ambitious and responsible Capricornians prefer something simple yet playful in their cold treats. These people want an ice cream that they can find anywhere as long as the quality is good. They won't mind trying something new but the ideal one for them is plain vanilla softy with rainbow sprinkles. This will give them a soothing yet fun moment out of a day loaded with work.
---
Aquarius – Blueberry, Cherry
As individualistic as they are, Aquarians love almost everything in their life to be unique and unpredictable. They enjoy the sweetness of frozen treats along with a hint of surprise which can comprise of natural flavors. To sum these up in one ice cream may be difficult, yet blueberry and cherry ice cream do their job of adding fun quite well.
---
Pisces – Rainbow Sorbet, Neapolitan
When it comes to choosing an ice cream, Pisces do not just go with taste. The color, flavor and how beautiful it looks, they want it all. Add more colors, different shapes and some decorations, and these fishes would simply love their treat. Hence, Rainbow Sorbet and Neapolitan ice cream would be the best in giving a wholesome goodness of taste and refreshment.
So what are you waiting for? Go on and grab those delicious scoops to relish the moment.
To Get Personalized Solutions, Talk To Our astrologers Now!
With Ganesha's Grace,
GaneshaSpeaks.com
---
---
Get 100% Cashback On First Consultation