Invite Good Fortune on this Gurupushyamrut Yog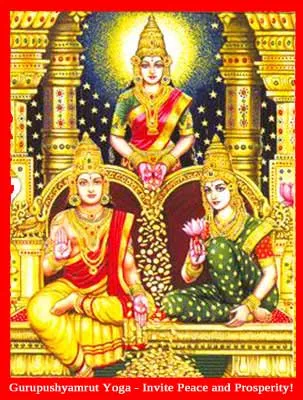 According to religious scriptures, Pushya Nakshatra (constellation) is one of the most auspicious nakshatras. It is believed that the Goddess of Wealth, Lakshmi was born on this nakshatra. When Pushya Nakshatra coincides with a Thursday (Guruvaar) or a Sunday (Ravivaar), the Yog is known as Gurupushyamtrut Yog and Ravipushyamrut Yog respectively. These Yogas are as pious as tithis like Akshay Tritiya, Dhan Teras, Diwali etc., if not more.
The Lord of Pushya constellation is Jupiter and its dasha Lord is Saturn. In other words, Pushya Nakshatra is a combination of Jupiter's expanse and Saturn's basic attribute- patience. Anything that's started during the auspicious Pushya Nakshatra is bound to bring desired results. The chances of steady progress and success in a new endeavour, initiated on this day, are much higher.
This is an excellent time for starting new projects, initiating new investments and making new beginnings. Buying gold and silver on this day is believed to bring good luck, prosperity and wealth. You may also buy gemstones on this occasion to make your life much more comfortable. It is also an auspicious time to buy Yantras, especially the Shri Yantra and Guru Yantra, worship them and install them at your home.
Maximum benefits can be extracted out of the positive energy of Gemstones and Yantras on this occasion.
---
How to install or perform pooja on gemstones, gold, silver and yantras during Gurupushyamrut Yog
First of all, clean the gemstone/ gold/ silver/ yantra with Gangajal or milk.
Place it in a clean area in your pooja ghar or place of worship.
Chant the appropriate mantra or stotra and consecrate it with Saubhagya Dravya (a mixture of Abeer, Gulaal, Kumkum, Turmeric powder and Sindoor)
Offer Naivedya to the gemstone/ gold/ silver/ yantra.
Offer Aarati to the installed gemstone/ gold/ silver/ yantra.
Worshipping an energised gemstone/ gold/ silver/ yantra on a regular basis helps to expand the positive energy field created by it.
Visit our store section to buy authentic Gemstones, Rudraksh and Yantras
You can also Talk to an Astrologer to know how you can make the most of this very auspicious Muhurat.
With Ganesha's Grace,
Dharmeshh Joshi,
The GaneshaSpeaks Team
---
---
Get 100% Cashback On First Consultation