Fate of Saudi super-tanker 'Sirius Star' still on tenterhooks
Introduction
The giant Saudi super-tanker, the Sirius Star, was hijacked by Somali pirates on 15th November 2008. Off late, they have demanded some 15 Million USD as a ransom, half of the original sum demanded. Nonetheless, the fate hostages is still on tenterhooks. Ganesha studies the heavenly designs of the planets, to know the ultimate outcome of this seizure.
Event Chart Details
DOB – 15th November 2008
TOB – 0855 to 0902
POB – between Mukulla (Yemen) and Suqutra (Yemen) 13:32 N – 51:06E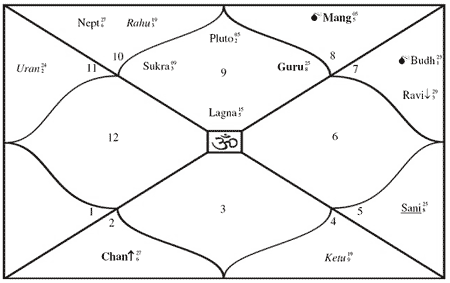 Is their scope of freedom
Venus, is the lord of the sixth house. The sixth house here would stand for freedom as it is opposite to the twelfth house of captivity. Venus is at 09 degrees in Sagittarius, applying to the degrees of the ascendant and applying to the degrees of the ascendant lord Jupiter. Venus as such being in Sagittarius is in a compromising position.
In contrast, notice that Mars the lord of the twelfth house of captivity and the captors is though strong, by being in own sign, it is actually weak as it is combust.
Further, Jupiter the lord of the ascendant is powerfully strong as it is in its own sign and in its own positive sign Sagittarius.
This indicates that there are good possibilities of freedom of the victims.
When?
Notice that by daily progressing the Moon, which in Vedic astrology is the most used planet for creating events, by one degree per day, has today on 26th November 2008 come opposite to Venus degrees (09). Today, the hostages had communicated with news agencies, saying that they are being treated well, the hijackers have come down from the original ransom amount they had demanded. This is pure indication that the movement towards freedom has started.
Now, when as per daily one degree progression rate of moon, when moon will come opposite to the ascending degrees (15), the stronger stage and final decisions will be taken, which comes on 2nd December 2008. The firmer process will start from here, if the hostages are not freed on this date.
In case of unholy event, when the hostages are not being freed on 2nd December 2008, however, the process of freedom will catch pace, this is when Moon will come in exact trine to Mercury, the lord of the seventh house of freedom too, at 23 degrees, that is on 10th December 2008, the hostages will be set free. Or during 2nd December 2008 and 10th December 2008, they may be freed. Additionally, when Jupiter will be opposite to natal Jupiter on 12th December 2008, the final possible date of freedom, they ought to be released.
Summary
To sum up the whole thing, the period from now onwards, to the 12th December 2008, is when the hostages will be freed, eventful and most likely dates are the 2nd December 2008, the 10th December 2008, and the 12th December 2008.
Wishing the hostages, good luck and freedom
With Ganesha's Grace,
Rikhav Khimasia
www.GaneshaSpeaks.com